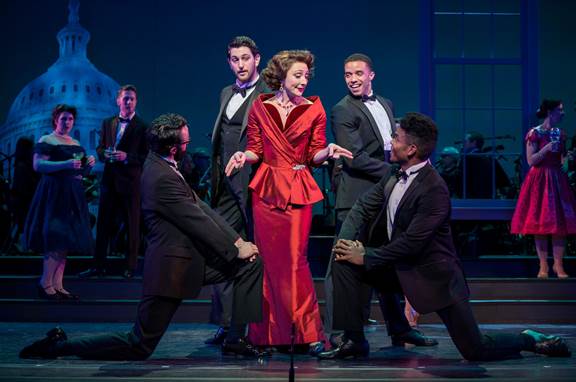 By Arney Rosenblat



Call Me Madam holds the unique status during City Center's diamond jubilee year of being a revival of a beloved revival which highlighted the second season of Encores1 and "put the series on the map."
The 1950's musical itself, Call Me Madam, also brings with it a unique history, which artistic director, Jack Viertel, spotlights in the program. "The show was the brainchild of playwright Howard Lindsay, who with his partner Russel Crouse, had a decades-long track record of writing for the theatre in many genres, among them....Life With Father,..State of the Union..The Sound of Music. Lindsay, a keen political observer, was intrigued by the elevation of Washington society doyenne Perle Mesta to the position of Ambassador to Luxembourg - an appointment that was largely seen as a political favor, yet one which allowed a woman access to a world usually reserved for men. Lindsay apparently thought it was ripe territory for a lightly satirical musical, because he had the idea while watching Ethel Merman sitting by a swimming pool...Lindsay and Crouse seduced her by bringing the project to the man who had given her that glorious Annie Get Your Gun score -- Irving Berlin. The resulting show was an irresistible blend of topical comedy, typical romance, wonderful tunes and lots of Merman...The public adored it."
Forty-five years later in 1995, after a critically acclaimed but financially spotty first season, Encores! sought a star vehicle to open season two in the hopes of engaging not only the critics but the public to what it viewed as "The People's Theatre." Their choice was Call Me Madam. Their star was Tyne Daly, who had become a national celebrity during the eighties in Cagney and Lacey and won a Tony for her role as Rose in Gypsy in 1990. The public flocked to see the debut of Encores!' second season, a tradition still maintained to this day.
Though the 2019 revival of Call Me Madam pokes fun at a far more polite and benign political world than the one we live in today and its current star, Carmen Cusack, doesn't have the bigger-than-life brassiness of an Ethel Merman or Tyne Daly, but the elegance of a real ambassador, it allows the beautiful Berlin score to shine in all its glory.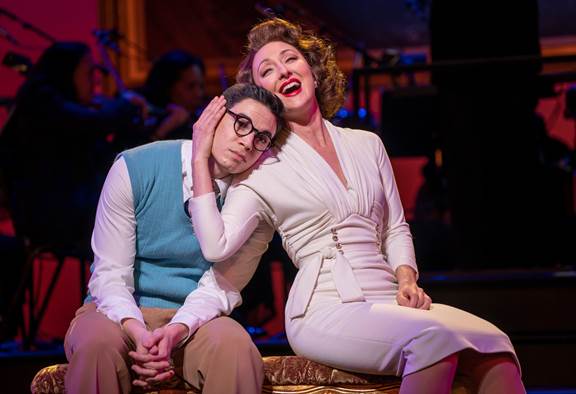 Jason Gotay and Carmen Cusack                             photos by Stephanie Berger
Just some of the chestnuts it includes are the famous counterpoint duet "You're Just In Love,." It's A Lovely Day Today," "Something to Dance About," "The Hostess with the Mostes' On the Ball," and "The Best Thing for You." A fun sidebar about the song "You're Just in Love, which spent fifteen weeks on the hit parade, is that Berlin wrote it during the show's out-of-town tryouts and was so excited and eager to share it, that when he couldn't find Ethel Merman or the director, he decided to sing it to the assistant stage manager, who turned out to be the then 22-year-old Hal Prince.
What the Encores!' Call Me Madam of 2019 did have was an old school heart warming story and a delightful cast to bring it to life.
Embroidering on the Harry Truman appointment of Perle Mesta as Ambassador to Luxembourg. Call Me Madam tells the tale of oil-rich Sally Adams, portrayed with the utmost grace and charm by Carmen Cusack ( a shining light from the Broadway musical Bright Star) who was such a significant donor to the proxy Truman campaign that he grants her the patronage post of Ambassador to the tiny duchy of Lichtenburg, whose chief export cheese keeps the country afloat and where she mistakes its citizens as being Dutch because it's a "duchy."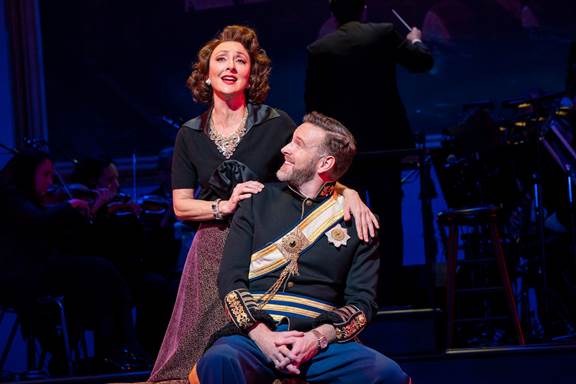 Carmen Cusack and Ben Davis
From here the story unfolds in typical operetta fashion. Sally Adams and the foreign minister Cosmo Constantine, embodied by Ben Davis, whose silken voice could coax birds out of the trees, fall in love as do Sally's diligent aide-de-camp Kenneth Gibson, a pitch perfect Jason Gotay (Spider-Man Turn Off the Dark), and Lichtenburg's beloved princess Maria, an irresistible Lauren Worsham (of A Gentleman's Guide to Love and Murder fame) There's a whole lot of courting that takes place, an ample number of faux pas by the under-informed American Ambassador, a misunderstanding over America's typical attempt to throw money (up to $200 million) to address duchy problems and then as hoped and expected all resolves happily in the end.
A brief appearance by Darrell Hammond and Carol Kane as Lichtenburg's batty duke and duchess drew warm applause and laughter across the house, as did Randy Rainbow in his role as Sebastian Sebastian the devious local prime minister but that was likely for his sly political videos on You Tube.
The actors are beautifully supported by Director, Casey Hushion, Choreographer Denis Jones, music director Rob Berman and costume d designer Jen Caprio.
Brad Oscar, Adam Heller, Stanely Wayne Mathis
In these times of rude political discord, Call Me Madam's gentle satire where Democratic and Republican congressmen ( the absolutely delightful Stanley Wayne Mathis, Brad Oscar and Adam Heller) square-dance and do a soft shoe routine "They Like Ike" ( a mantra which the Eisenhower campaign adopted in the 1952 elections) provided a welcome respite for all.
Now, though the curtain has come down on Call Me Madam, the first of Encores! 75th Anniversary season of shows, you still have the opportunity to catch Rogers and Hart's I Married an Angel. March 20-24,
and High Button Shoes, May 8-12.
Encores!
City Center
131 West 55th Street
212-581-1212