(left to right) John Douglas Thompson, as Hamm, and Bill Irwin, as Clov, in the Irish Rep's revival of Samuel Beckett's Endgame.
Photo:  Carol Rosegg
Endgame
By Deirdre Donovan
Samuel Beckett's Endgame is back!  And, with John Douglas Thompson and Bill Irwin terrifically acting in tandem as the blind tyrant and his stumbling servant, theatergoers who typically steer clear of Beckett's nihilistic play may well find this new revival at the Irish Repertory Theatre worth a visit.  Sensitively directed by Ciarán O'Reilly (Producing Director of the Irish Rep), and now playing on the Francis J. Greenburger Mainstage, this color-blind mounting is both visually and verbally exhilirating.
On Charlie Corcoran's suitably dingy set, lit by Michael Gottlieb, the play tells the story of the aging Hamm, who has been reduced to living in a single room in a makeshift wheelchair, with only the spaniel-like Clov to attend to his whistle.  Hamm's legless parents, Nagg and Nell, played by Joe Grifasi and Patrice Johnson Chevannes, respectively, are tucked into nearby garbage cans.  Remarkably, the ancient couple seem to have kept alive their mutual affection for each other in this Armageddon-like wasteland. 
That said, the inevitability of death is everywhere in this play's world.  And Thompson's narcissistic Hamm, not one to suffer in silence, issues his relentless commands to the hapless Clov, unwittingly underscoring his pathetic lack of authority in the world: "I feel a little too far to the left. . . Now I feel a little too far to the right. . .Now I feel a little too far forward. . . Now I feel a little too far back."  The absurdity of Hamm insisting that Clov precisely position him at the center of the room turns into an old vaudevillian routine between Thompson and Irwin.
John Douglass Thompson as the blind tyrant Hamm in Endgame, directed by Ciarán O'Reilly at the Irish Rep.
Photo:  Carol Rosegg
While the Irish dramatist Beckett purposefully avoided tethering his 1957 one-act play to a specific time and place, there's no question that the threat of international nuclear warfare that followed the end of World War II is present in the look and feel of this work.  Written in French (Fin de Partie) and translated into English by the playwright himself, Endgame premiered in a French-language production on April 3, 1957, at the Royal Court Theatre in London.  Although his other bleak drama, Waiting for Godot (initially composed between 9 October 1948 and 29 January 1949 and also in French), enjoys more notoriety than Endgame, Beckett actually considered the latter play to be his masterpiece.
The charismatic acting of Thompson and Irwin as the principals makes this production unforgettable.  Thompson, decked out in grand robes and an imperial cap (costumes by Orla Long), is, as his name suggests, a ham through and through.  Thompson's rich mellifluous voice simultaneously delivers both the austerity and poetic richness of Beckett's language, and makes his Hamm altogether convincing.  Irwin, dressed in workman's overalls, also delivers the goods as Clov, with his impeccable physical comedy (Yes, he's a world-class clown who first learned his craft, courtesy of the Ringling Brothers Barnum & Bailey Circus College).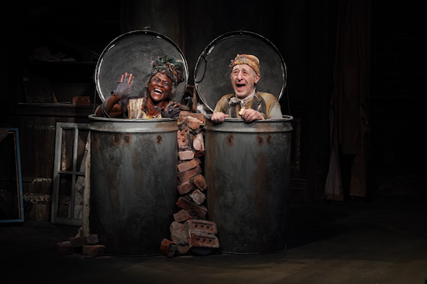 Patrice Johnson Chevannes, as Nell, and Joe Grifasi, as Hamm's parents in the Irish Rep's new revival of Endgame.
Photo:  Caroll Rosegg
That's not to say that Patrice Johnson Chevannes' Nell and Joe Grifasi's Nagg are put in Thompson and Irwin's shadow.  Grifasi and Chevannes, in fact, brilliantly punctuate the drama's grim proceedings with their quirky retellings of old tales and rekindling their romantic feelings of yesteryear. Whether it's when they struggle to kiss each other from their garbage cans (Unfortunately, the dustbins are just a little too far apart for a smooch!) or when Nagg admits that his storytelling is getting "worse and worse" with age, these two seem to represent, in turns, hope and despair, lucidity and confusion.  What's more, Chevanne's Nell also has the delicious honor of delivering the play's most famous line: "Nothing is funnier than unhappiness."
On the Thursday evening I attended, there was a post-show talkback, in which the director O'Reilly was joined by the entire cast.  The lively discussion that ensued among the artists, not only provided much insight into Endgame, but Beckett's entire canon.  The company frankly discussed their personal acting history with Beckett, with Irwin immediately being singled out by O'Reilly as being the company member most at ease with Beckett's oeuvre (On Beckett, Waiting for Godot).  Thompson, on the other hand, good-naturedly admitted to everybody that the thought of performing in a Beckett play truly intimidated him.  Thompson, who has been hailed by the New York Times "as one of the most compelling classical stage actors of his generation," added that, in spite of strenuously declining Beckett roles in the past, he now finds playing Hamm at the Irish Rep to be both enlightening and rewarding.  Thompson also shared that the sunglasses that he wears during the performance are totally blacked-out, which means that his personal experience of playing Hamm on stage is an intensely auditory one. 
O'Reilly wrapped up the talkback by quoting from Sean O'Casey, who, he remarked had a deep affinity with Beckett.  (O'Reilly presented the critically-acclaimed O'Casey Cycle a few seasons ago at the Irish Rep.)  O'Reilly pointed out that O'Casey, like Beckett, was a true master of tragicomedy.  Both writers, he said with a mischievous twinkle in his eye, keep us "laughing at the edge of the grave."
Extended through April 9th.
At the Irish Repertory Theatre, 132 W. 22nd. Street, Chelsea neighborhood of Manhattan.
For tickets and more information, visit  www.irishrep.org