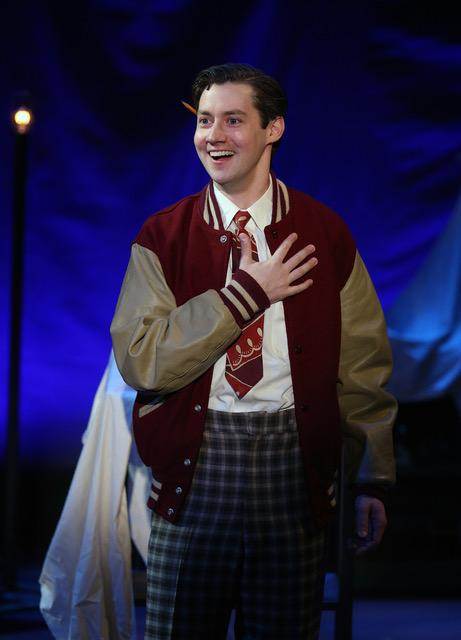 Chris Dwan in Enter Laughing     Photos: Carol Rosegg
Enter Laughing
                           by Deirdre Donovan
The York Theatre Company is well-known for bringing new musical theater works to its boards. But in celebration of their 50thanniversary year, the company delves into their past and dusts off one of their sparkling gems: Enter Laughing.
With a book by Joseph Stein, and music and lyrics by Stan Daniels, the musical is wearing its age well. Stuart Ross, who directs, gets it right with a talented cast, assembling a number of veteran actors and some up-and-comers. No, not everything is seamless in his blocking. But considering he's staging ten musical numbers in Act 1 alone, he manages to keep the action going.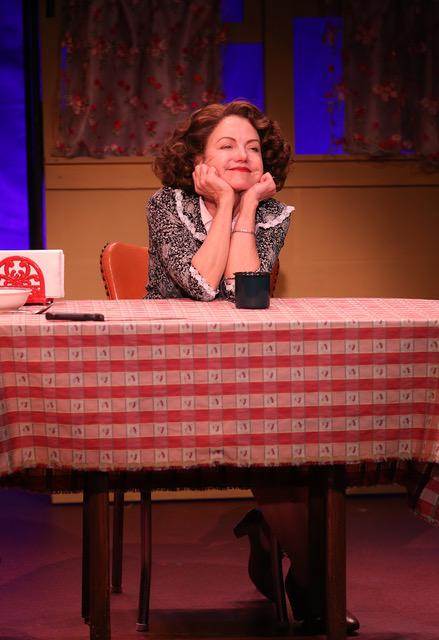 Alison Fraser
If you missed its former runs at the York Theatre-- twice in the Mufti series and twice more on the main stage--and need a refresher, here's the story in brief: Set in the late 1930s, a young aspiring actor David Kolowitz (Chris Dwan) attempts to free himself from his over-protective parents who want him to be a pharmacist. He has delusions of becoming a famous actor, and when he auditions and actually lands a part in a show, he finds himself in over his head and in the arms of attractive women. As rehearsals begin, so does the hilarity. And David's geekiness can only be outdone by his faith in show business and its magical power to lift spirits, detonate laughs, and bring joy to audiences.
Chris Dwan has few New York stage credits but his present performance suggests that we'll be seeing him on many more Gotham stages. He delivers a rib-tickling portrait as a wannabe actor who suddenly finds the door opening to a possible career in show business. With 15 wacky songs to fuel the fun, one can only lean in and enjoy the ride.
The musical began its life as So Long, 174thStreet in 1976, a flop that closed after 16 performances. In a New York Times review, Clive Barnes resisted the temptation to say "So Long!" to the new musical but dismissed it as a formula show with music and lyrics that didn't work. It wouldn't be the last word on the entertainment, however. Thanks to the York Theatre Company's 2008 production—with a few tweakings to the original—it became the darling of the critics, renamed as Enter Laughing.
David Schramm
Why such a reversal of opinion on the musical? Who knows. But there's no question that Daniels' music and lyrics are delighting audiences in its current iteration. David Schramm's bawdy rendering of the "The Butler's Song" is the real show-stopper. But several other numbers are appealing too, among them Alison Fraser's guilt-inducing "If You Want to Break Your Mother's Heart" and the duet by Fray DeMattis and Robert Picardo "Hot Cha Cha" that wittily scolds youth for kicking up its heels too often and failing to confront the more serious realities of life.
The romantic duet "It's Like" by Dwan and Allie Trimm is another funny number, as David reveals how romantically inexperienced he is with women. His awkwardness will be more evident later as he meets up with his heart-throb Miss B (Dana Costello) and the leading lady Angela (Farah Alvin) who's cast in the same downtown production as he is.
The creative team shines with realistic scenery by James Morgan (and surprisingly adept surprise onstage appearance), lighting by Ken Billington and Jason Kantrowitz, and snappy choreography by Jennifer Paulson-Lee. The vintage costumes by Tyler M. Holland look right out of the 30s, and visually enhance each characters' idiosyncrasies.
All in all, this revival of Enter Laughing is, if not perfect, a good investment of two hours of your life. If it comes with a message, it surely must be that a flop can turn into a success—if the right artists get behind it and Lady Luck smiles.
Through June 23rd.At the York Theatre Company, at St. Peter's Church, 619 Lexington Avenue, Manhattan.
For more information, visit yorktheatre.org. or phone box office (212) 935-5820.
Running Times: 2 hours and 30 minutes including intermission.