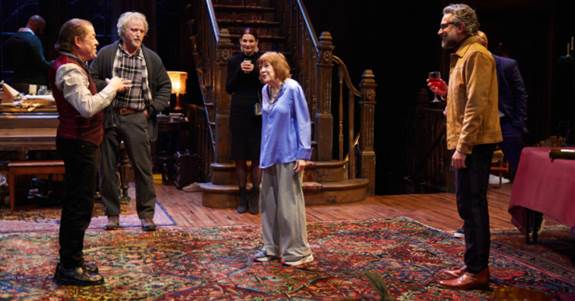 Jonathan Hadary, C.J. Wilson, Heather Burns, Marylouise Burke and Omar Metwally star in Brian Watkins' Epiphany. (Jeremy Daniel)
Epiphany
By Fern Siegel
There are epiphanies and the Epiphany.
One is a sudden realization of the essential meaning of an idea or event. The other is an often-forgotten holiday celebrated on Jan. 6 that commemorates the coming of the Magi. Epiphany, now at Lincoln Center's Mitzi E. Newhouse, aims for both.
The backdrop is a dinner party — but the excuse is to gather nine people together in a kind of fellowship. It's a chance to recreate the tradition of community, while discovering the essence of existence.
That's a tall order, but it's nurtured by Morkan (Marylouise Burke), an impish woman with a distinct vocal delivery. She is sweet, but never deliberately funny, yet her comic timing is uncanny. And her quest — to find solace in others — is moving, even though the dramatic tension is sparse.
The big question is: Why are these people coming together? They are not all known to each other, but all know Gabriel, Morkan's nephew, who, like Godot, never arrives.
Ostensibly, they gather for dinner. But what Morkan intends is to serve up discourse. The themes are meaty: technological obsession, loneliness, social isolation and disconnection. Playwright Brian Watkins tackles big topics in a seemingly comfortable setting. But what becomes painfully — and occasionally comically clear — is that comfort is relative. Can the guests — as their host hopes — experience the impossible?
Or, will they, like the psychiatrist (Omar Metwally), become overly pedantic, relying on intellectual tropes to avoid emotional confrontation. Or is Watkins suggesting we overthink to avoid the more primal, revelatory moment when epiphany strikes?
The setting is a bit overwhelming — an old Gothic-style mansion with an impossibly steep staircase and snow gently falling outside its massive windows. Lights keep flickering unexpectedly. There is even goose for dinner, which prompts one guest to declare: "We're in a time machine."
The stage is slightly ghostly, much like an Agatha Christie locked-room mystery: Guests are thrown back on their own resources in hopes of surviving the evening. In this case, it means watching couples snipe and unfulfilled longings and personal fault lines revealed. That may be because Watkins is channeling, in part, James Joyce's short story "The Dead," set at a Christmas party in the early part of the 20th century. Gabriel and his wife visit the home of his aunts, Kate and Julia Morkan, in Dublin. (In Epiphany, Julia is a late mention.) Joyce bemoans a life without passion. Morkan laments a life without connection, while noting all the reasons for disconnection.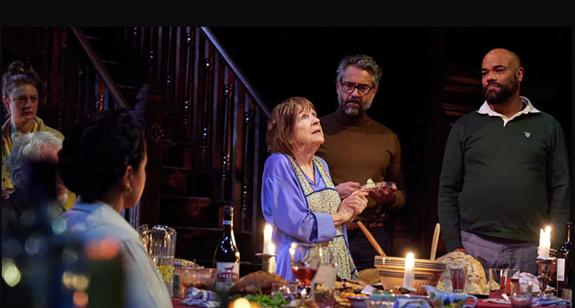 Marylouise Burke is the centerpiece of Epiphany. (Jeremy Daniel)
This proves to be a comic moment, as Morkan has sent attachments to navigate the evening. The trouble is — no one could, or did, them. Either excuse underscores her larger point: We are losing our personal attachments. Literally. Technological snafus are frustrating — they also keep us locked in our own worlds. That's why she insists her guests surrender their iPhones before dinner. She can't compete with them.
The cast also includes Francois Battiste, Heather Burns, Jonathan Hadary, Colby Minifie, David Ryan Smith, C.J. Wilson and Carmen Zilles, Gabriel's partner, who explains: "He's lost his hope."
In some sense, Epiphany loses its way, too.
The drama, such as it is, is uneven. Everyone wants to see Gabriel, but he's not coming. Morkan wants to celebrate a holiday, but she's not sure of its genesis or meaning. There's some debate about the Magi, but it's just conversation filler.
The comedy is based largely on Burke's responses, or the occasional zing when one member of a couple attempts to put down his/her mate.
Still, the ensemble is uniformly good, under the direction of Tyne Rafaeli, who keeps the action moving, though there is little that actually happens. Epiphany is a play about interior life and its external repercussions. The big reveal comes at the end — and its impact is touching.
Epiphany – Lincoln Center/Mitzy E. Newhouse – 150 West 65 St
Running time: 1 hour, 50 minutes, no intermission
Tickets: www.lct.org/shows/epiphany/