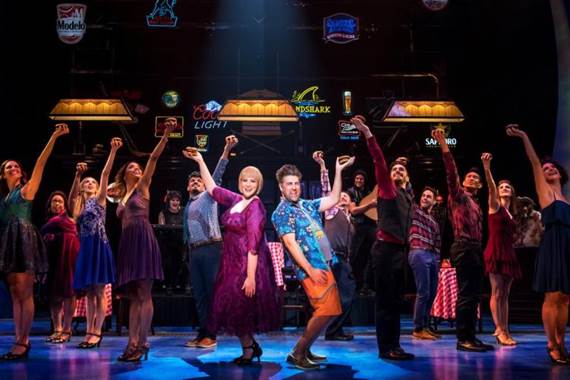 Tammy (Lisa Howard) clicks with barkeep Brick (Eric Petersen)        (© MATTHEW MURPHY)
                                                     By Eugene Paul
Director Christopher Ashley will be reveling in having two hits on Broadway at the same time, one from the heart, Come From Away, and  one from Margaritaville. a great big confection,- make that an alcoholic confection -  so cleverly manufactured, from the oversized bar in the Marquis Theatre lobby to the beachy tables and the beachy lounge chairs and the swinging balloony lights  taking over the third floor of the Marquis,  so showbiz savvy, the palm trees waggling out over the huge Marquis house luring you into Walt Spangler's  son of a beachy settings, so media  tricked out with the ever present  100 proof Jimmy Buffett songs that it's all but irresistible. And when everybody is finally bombarded with hundreds of beach balls  to tuck under your arm as a final memento, you're a goner. Completely Margaritavile conquered. Disney, move over.
The party starts before the curtain.  Jimmy Buffett's hordes of serious Fans!
In just my corner of the vast Marquis theatre, -- I was in the long haired blondes section by accident, bevies of long haired blonde mothers and daughters , prime territory, (two $16 drinks apiece before the show started) actively sought out by septuagenarian Parrot Heads – that's long time Buffett devotees --  handsomely garbed,( especially the beach shirted one printed all over with "Cheeseburger in Paradise") (yep, there's racks you can buy before, or at intermission, or after the show, on the way home with your beach ball).Who sang along with every one of Jimmy Buffett's twenty-seven songs in the show.  Did all the moves, too.  Kind of two shows in one from where I was sitting.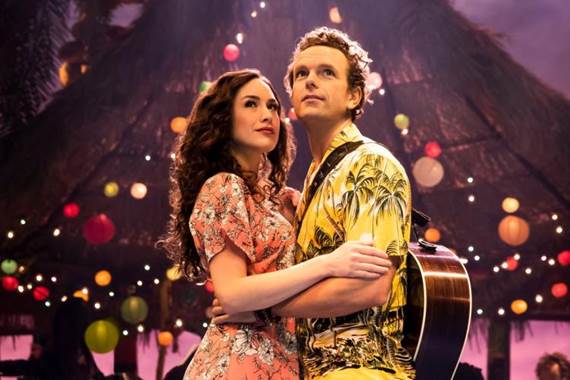 Rachel and Tully (Alison Luff and Paul Alexander)                                                        
The big show up on the stage starring amazing Paul Alexander Nolan – does he get extra pay for not only singing but playing guitar? – delicious Alison Luff, equally tasty Lisa Howard,  terrific Eric Petersen, Rema Webb, Don Sparks, Andre Ward  all absolutely top flight and a  fabulous company of dancing singers, singing dancers dazzling in lots of costumes with tickles of  tricks in them by designer Paul Tazewell.
Oh, the story? Beach bum sex object Tully (Paul Alexander Nolan) works for Marley (Rema Webb) who runs a bed and breakfast – make that liquid breakfast – designed to completely entertain the visiting  weekly boatloads of tourists  to her island, Margaritaville, where they have a fab time of sun and fun and sex and booze for a week  and then are gone.  Everybody likes change, don't they? Tully does. He sings and plays and romances and gently lets the latest infatuated down when their forever romance is up at the end of the week.  Suits him. On to the next boatload.
Until he meets and gets smitten by  bioengineer Rachel (Alison Luff) who is not only stunning and sings like a dream and is only there because her best friend, Tammy (Lisa Howard) had to have a getaway before she got married to a schlub. Rachel's real desire is to get a venture capitalist interested in her design for turning potatoes into energizer bunnies, but in the meantime, she succumbs to Margaritaville and to Tully's charms for a  week.
Okay, it's not brain surgery. Nevertheless, Greg Garcia and Mike O'Malley, long time skilled television writer producers, who wrote the book have touched every base: in Margaritaville, everybody's equal, all races, all sexes, all ages, everybody's colorful. Garcia and O'Malley have enlivened the show with enough one liners to get from one Buffett song to the next painlessly so what's the big deal. Some tweaky borrowings.  I did love their dead insurance salesmen ghosts, though.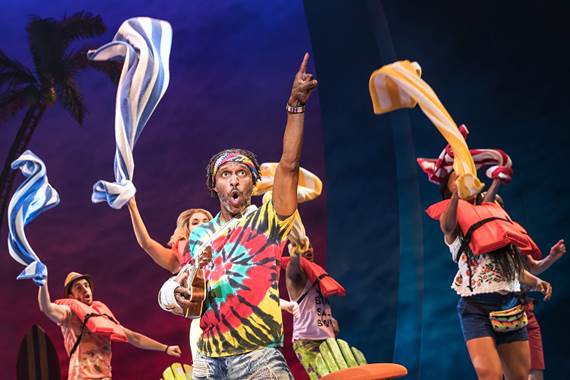 And choreographer Kelly Devine's dancers  burst with exuberance practically from start to finish of the twenty-nine scenes so there's never a moment of just mellow go with the flow Buffettry but who cares, it's the whole package  that matters.
 Let's see, a volcano that blows up, a buried treasure, a trip in a plane, a bar in Cincinnati (huh?!) and a wedding on the beach, just to give you a rough idea of the fun. All expertly expertly done. Oh, and just because it's a big old musical comedy darned if there isn't a great tap dancing show stopper.  Which makes no sense but by then you are under the Jimmy Buffett spell. And our friends nearby and around have sung through not only "Cheeseburger in Paradise" but "Son of a Sailor", The Tin Chalice", "We are the People our Parents Warned us About", "It's Five O'Clock Somewhere", "Let's Get Drunk","Breathe In, Breathe Out,Move On" and so many more…
                                                          *
Escape to Margaritaville at the Marquis Theatre, 210 West 46th Street. Tickets: $59-$249.877-250-2929. 2hrs,25 min. Open run.
                                                          *