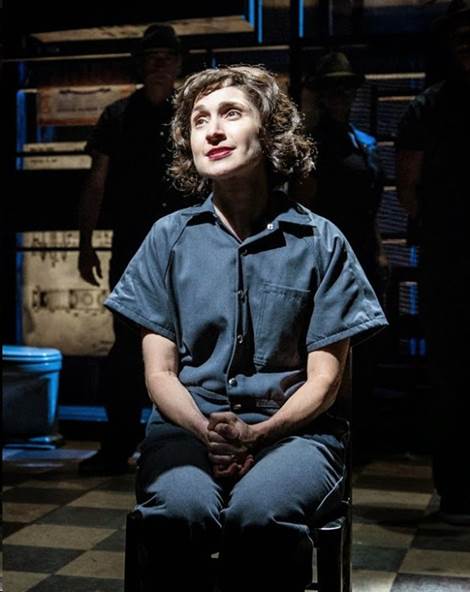 Tracy Michailidis as Ethel Rosenberg           photos by Russell Rowland
By Joel Benjamin
Joan Beber, the author of Ethel Sings, The Unsung Song of Ethel Rosenberg has to be commended for taking on the still hot issue of Ethel and Julius Rosenberg's controversial trial and execution for treason in the early Fifties.  Mention of these two can still cause heated arguments, or worse, despite the sixty-plus years that have passed.  Unfortunately Ms. Beber has decided to turn the story into the stage equivalent of a graphic novel:  unsubtle pseudo-psychology, anachronistic expressions and music, plus multi-racial casting that simply don't work because of a reliance on dated archetypes.  (The Jewish accent and gestures used by Tanesha Gary who plays Ethel's mother, Mrs. Greenglass were so awful as to verge on the offensive.)
For those who know nothing about the tragic saga of Julius and Ethel Rosenberg, Ethel Sings could possibly serve as a primer.  Ms. Beber does dramatize—albeit heavy handedly—the actual historical events from  Ethel Greenglass's meeting Julius Rosenberg while singing at a left wing rally, to their arrest, trial and execution in a post World War Two America teeming with anti-semitism, left-bashing, McCarthyism and fear of the Soviet Union.   Ms. Beber voyages uncomfortably into the absurd with her use of a character called Loraine, played by a good-humored, tough Adrienne C. Moore who serves as a narrator, conscience, entertainer and all-around camp counselor for the cast, rousing them in song, including at one point, "The Battle Hymn of the Republic."  Using songs and language from decades beyond the period of the plot is now a common technique to give the drama modern jolt, a false sense wit.  Here, it just diminishes the impact of what should still resonate as a sad tale of mass hysteria and its consequences.   
The constructivist set by John McDermott was dark and foreboding with its scaffolding, oversized electric chair and what looked like a mini-electrical plant.  The costumes by Whitney Locher evoked the period and the prison outfits, but were also flexible enough for the many quick changes demanded by the play.  The sound design by Drew Levy made the most ambient prison noises, the music and the lighting by Joyce Liao made the most of all the nooks and crannies of the set.
Will Pomerantz, the director, kept the action flowing but should have pulled deeper interpretations from his cast however stymied he was by the writing. 

Kevin Isola as Roy Cohn, surrounded by the cast (© Russell Rowland)
Kevin Isola as Roy Cohn cut a smoothly oily figure, but was a clichéd villain without context or psychological insight.  What motivated Cohn to collude with the judge (played imposingly by Serge Thony) was never explored, nor, in any depth, was the hysteria of the period or its causes.  The Rosenberg's sons were played by adults, Kenneth Lee and Serge Thony who whined irritatingly.  Even as thinly written, these two boys' real fears and anxieties should have come through.  David Fierro's David Greenglass, Ethel's cowardly brother, was sitcom obvious.   As his evil wife, Ruth, Sheria Irving tried to make something of the one dimensional part, but more talked about than seen.
Julius and Ethel were portrayed by Ari Butler and Tracy Michailidis.  Mr. Butler was a bit bland but earnest while Ms.  Michailidis made Ethel a solidly believable human being, her face mirroring all the inner turmoil and horror of a life spinning out of control.  She was the solid center of Ethel Sings which could have used more of her depth and subtlety.
Ethel Sings, the Unsung Song of Ethel Rosenberg (through July 13, 2014)
Beckett Theatre – Theatre Row Theatres
410 West 42nd St. (between 9th & 10th Aves.)
New York, NY 
Tickets:  212-239-6200 or www.Telecharge.com
More Information:  www.EthelSings.com