By Ron Cohen
Deborah Johnson, a central character in Patricia Ione Lloyd's impassioned drama, Eve's Song, has a prominent corporate job as a vice-president of acquisitions. She lives in a well-to-do suburb, and at dinner time holds polite conversations with her two children, Lauren, a college student, and Mark, a smart high-schooler, about the happenings of their day. Before they begin dining, they shake out in unison their pristinely white dinner napkins before placing them on their laps, and there are plenty of automatic "pleases" and "thank yous," as bowls of food are passed around,
But Lloyd, who's an alumnus of the Public Theater's Emerging Writers Group, is delivering a lot more than a satirical look at the lifestyle of upper middle-class America. Deborah is a black American woman, recently divorced by her husband who has, as it's said, "fallen out of love" with her. Along with the self-doubt this has engendered, she is trying to keep the chaos of the outside world from penetrating the walls of her home. It isn't easy. While news of black men being killed in the streets by police officers as well as others keeps popping up on cell phones and televisions, the perils facing black women seem to be spreading equally dark or even darker undercurrents through her home. Adding to her unease, although Deborah tries to accept it even-handedly, is the fact that Lauren has announced she's gay, and as Deborah sees it, this will only add to the precariousness of Lauren's journey through life.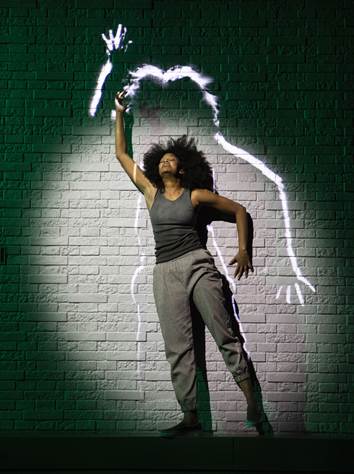 Rachel Watson-Jhi photos by Joan Marcus
The uneasiness is also affecting the physical nature of Deborah's house. Floor boards in the dining room are becoming loose, A wall is cracking. The prescient dining room painting of a New Orleans funeral procession has to be rehung to partially cover the crack, which keeps getting larger.
And here's the corker. The house is haunted by a group of "spirit women," the ghosts of three black women – a gay woman, a transgender woman and an ancient – all of whom met violent deaths. While unseen by the family, each of them takes stage to tell their fatal stories.
Meanwhile, in the real world, things become more pressurized as Lauren begins a lesbian relationship with a community organizer and activist, who has taken the name of Upendo Haki Supreme. When Upendo is brought home for dinner, things do not go well.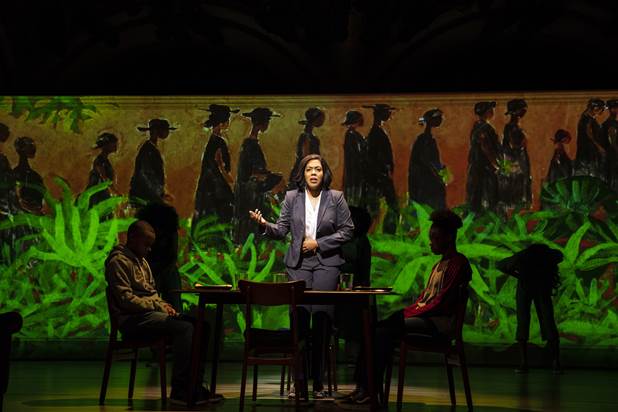 De'Adre Aziza
Still, It's Upendo who brings a dimension of black spirituality and legend to the proceedings, telling us that "all people came from one African woman who lived 200,000 years ago…Scientists nicknamed her Eve."
Explaining the title, Upendo further relates, that "since the first African woman, the one we all come from, everyone was born with a song and you could sing it to yourself when you needed it… This oppressive society has made us all forget our song…"
But she continues, "Black women – we remember our song when we die and we sing it with the spirits that come to take us in death."
With all this going on, Lloyd's play is a sometimes uncomfortable mix of the surreal and the all-too-real. Nevertheless, the perspicacity of Lloyd's writing together with Jo Bonney's sure-handed direction of an appealing and dedicated cast should keep you engrossed until things pull together for an especially moving finish, with everything that Deborah has tried to obscure closing in around her.
De'Adre Aziza, who won a Tony nomination for her work in the musical Passing Strange, brings an impressive variety of shadings to Deborah, from the satirical "perfect mom" wannabe to the outraged spouse deserted by her husband and a woman holding on to a career despite the ravages of racism and sexual harassment as well,
As Lauren, Kadijah Raquel – with the help of Lloyd's colorful writing -- captures the freshness, wonder and surge of ecstasy that comes with a young woman exploring her sexuality for the first time, while Ashley D. Kelley nicely seasons Upendo's self-assurance with vivacity. Karl Green convincingly limns the smart-mouthiness of Mark, while giving him more than a smidgen of vulnerability and even a touch of nobility when he describes a series of racial incidents at his school.
Rounding out the cast with notable turns are the three "Spirit Women," Vernice Miller, Rachel Watson-Jih, and Tamara M. Williams. Their stories heighten the meta-theatricality, with flashy assists from Stefanie Batten Bland's movement direction, Riccardo Hernandez's fluid set design, Lap Chi Chu's lighting, Elisheba Ittoop's sound and Hana S. Kim's projections.
Despite all the technical dazzle, though, the play is at its most effective when it takes a measured, clear-eyed look at the stresses and indignities that black women can face in their daily lives from an almost unconscious ingrained racism. When Deborah explains how she has been able to hold her place on the corporate ladder, it's like a well-tempered battle cry. "I have to do my job perfectly every single day. I have to be meticulous and impeccable in my work. And I do it and I excel. I excel."
While Lloyd's dramaturgy may be just a trifle jumbled, there's no mistaking the passionate depths, veracity and importance of her storytelling.
Review posted November 2018
Off-Broadway play
Playing at The Public Theater
425 Lafayette Street
212 967 7555
publictheater.org
Playing until December 9