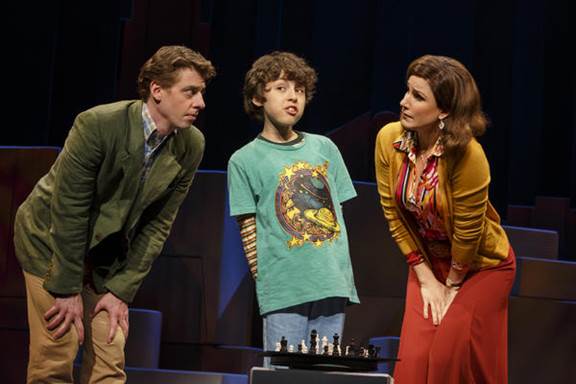 Christian Borle, Anthony Rosenthal, Stephanie J. Block           photos by Joan Marcus
                                            by Eugene Paul
Somewhere you've heard that Theatre is the collaboration and fusion of hearts, minds, talents, money, good intentions, love, hate, egos, wisdom, beauty, ugliness, foolishness, brutality, compassion, hindsight, foresight and joy.  Sorrow, too.  And once in a blue moon, everything works. Come to Falsettos. Everything works.
And why shouldn't it.  The original pieces themselves, March of the Falsettos, Off-Broadway back in 1979,and a couple of years later, the follow-up show, Falsettoland, both laden with awards, then,  in its new birth, both together to make up Falsettos, cheered on Broadway twenty-four years ago,  now richer, deeper, truer today, somehow its characters, its craziness, its cockeyed whimsies grown to three dimensions. It grew up. Yet at its heart, is a child.
Ten year old, undersized, already a nerd, Jason, (phenomenally talented Anthony Rosenthal) is the wunderkind apple of their eye, Trina (stunningly good Stephanie J. Block) and Marvin (utterly praiseworthy Christian Borle), his parents, have produced.  They are so family a Family.
  Christian Borle, Andrew Rannells
 Except that dad Marvin, has fallen in love with Whizzer (spot-on good Andrew Rannells).  He didn't want to.  He didn't mean to.  It just happened.  And Marvin wants to keep his family. But he wants to keep Whizzer, too.  Shrink time.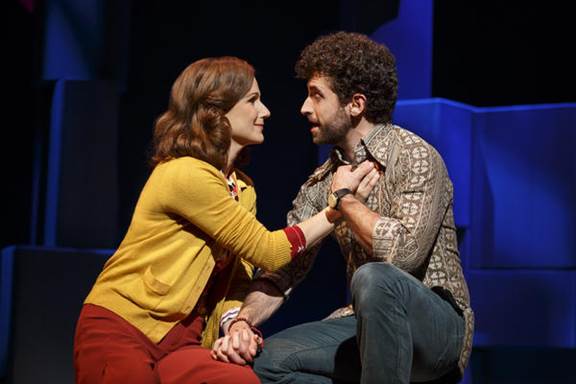 Stephanie J. Block, Brandon Uranowitz
Shrink Mendel (just the best Brandon Uranowitz) ends up having as his patients the whole family. Which is not exactly kosher but necessary.  Except that at his advanced age – he's forty-one – he falls like a ton of bricks for Trina. And he's unmarried, can you imagine, a nice Jewish boy and a doctor?
Are you surprised when Marvin and Trina divorce and Mendel marries Trina? I wasn't. It seemed, foreordained, you might say.
(Steep aside: the very opening number in the show spun out of  marvelous William Finn's bizarrely rich mind is set 2000 years ago entitled "Four Jews in a Room Bitching".  If this song and dance lunacy doesn't set a tone, nothing will, especially when the four bitchin' Jews shed their wildly nutso beards and turn out to be today's  Marvin, Mendel, Jason and Whizzer. It's a perfectly directed hoot. And though you're in cosmopolitan contemporary land, you've just had its roots planted.  Marvelous.)
And the marvels never cease.  Much touted set designer David Rockwell has designed his best ever acting set: a big puzzle cube which becomes everything  everybody needs, a table, a chair, a sofa, a bed, a doorway, a hidey hole, a bleacher, you name it,  it's a giant child's jungle gym and every adult in the audience wants one. It works, wittily, quickly, easily, winningly, shaping the opera. Because that's what Falsettos  is, a chamber opera,  almost every word sung, and splendidly sung,  throughout its more than forty vignettes, the words and music so attuned it's as if they were true human communication. To pick out a favorite song is oh, so challenging.  At a favorite scene?  There are so many – maybe it's that kooky "March of the Falsettos". But there is no doubt at all that when stupendous Stephanie Block conjures up  Trina's aria, "I'm Breaking Down"  she is wildly cheered and applauded, a giant show stopper, the biggest in town. Well, maybe it's the baseball game, when everybody comes to see Jason play. It's such a heart tugger, warm, funny, touching, so many layers of meaning and feeling. Oh, they are just wonderful.
They become even more wonderful when, two years later, Marvin and Whizzer reunited, after the inevitable falling out Whizzer collapses during a rough, competitive game of squash with Marvin and Dr. Charlotte, (just aces Tracie Thoms) sings "Something Bad is Happening", presaging the onslaught of AIDS. The marvels compound.  Wonderful director James Lapine – he also worked on the book – weaves and shuttles all the elements at his command into the warp and weft of William Finn's deeply human masterwork building on the strength of his superb company.
 He uses Spencer Liff's inimitable choreography as part and parcel of the lives and feelings of his people.   Jeff Croiter's sensitive lighting is part of his older and wiser direction.  Dan Moses Schreier gives him the best sound engineering for his vitally important delivery to his audience. Vadim Feichtner as musical director keeps ever fresh and buoyant William Finn's iconic score. There had to be a dozen magicians backstage to help with miraculous lightning changes that work so smoothly for all those innumerable scenes.
The unexpected bonus in all this theatrical witchcraft is the sheer humanity of all the characters.  Christian Borle is bursting with as much unexpressed feeling and emotion as the feeling and emotion as he brings to the stage.  His is a performance to cherish as the core of the show. Playwright creator Finn gets as good as he gives from this marvelous company. I adore Stephanie Block, forever forward a fan, and love Betsy Wolfe as Cordelia, Dr. Charlotte's lover, and her endless trays of something good? to eat, love them all, Andrew Rannells,  Brandon Uranowitz, Tracie Thoms, Christian Borle, and especially Andrew Rosenthal as bar mitzvah boy Jason. What a bar mitzvah. Heartbreaking.
Falsettos. At the Walter Kerr Theatre. 219 West 48th Street.  Tickets:$79-$204. 212-239-6200. 2 hrs, 40min. Thru Jan 8, 2017.
Achingly funny, achingly sad, witty, clever, beautiful, nuts, layers and layers of feeling and meaning.  Unmissable.