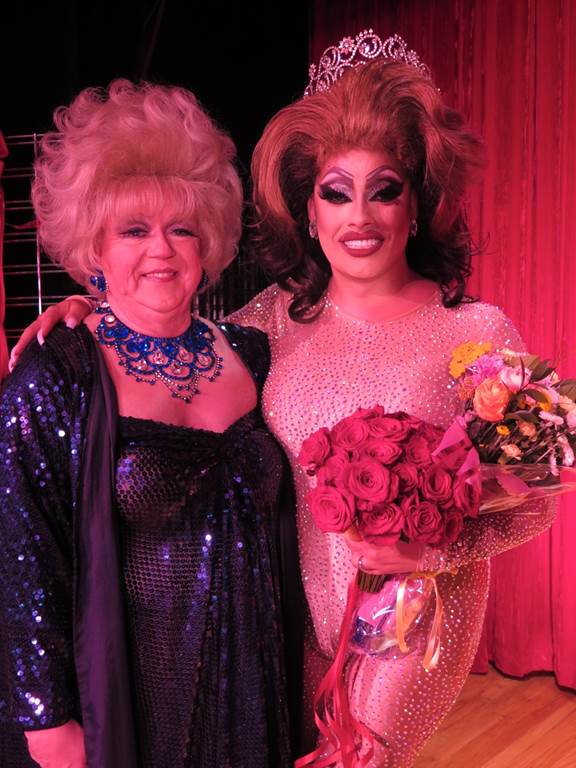 Photos by Just Lorraine
                               By Jeannie
Members of the Cherry Grove Arts Project gathered in their new Community House/Theater (now an official U.S. Landmark) to continue their long standing tradition of electing a new Homecoming Queen for the year.
Among her duties are to bless community events, appear in her royal regalia at the opening of every fundraiser and theater performance and perform community work throughout the year.
It is a prestigious and "sacred" honor much sought after. Contestants are not only judged on their persona and appearance but their standing in the community.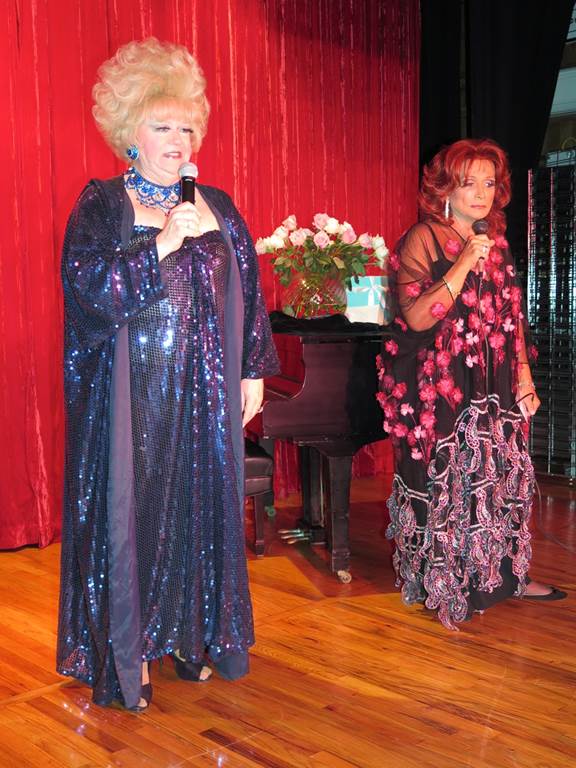 Panzi and Bella preside over the ceremony with a few of their "flavorful" comments before inaugurating the proceedings in which the contestants are judged by the house response after answering a few well chosen questions guaranteed to make them feel uncomfortable as part of the fun. The winner is crowned by crowd applause - and cheering. (Bella & Panzi being the noise meters)
This year the enthusiastic crwn was admonished that foot stamping and noise makers were not allowed! "No whistles" exhorted Bella.
The event was preceded by last year's HCQueen Demi Tasse, "one of our best" among murmurs circulating through the crowd, as she appeared in her final official performance.
An emotional Demi Tasse mouthed "I Love you" to the crowds over and over during her song.
Kraven Moorhead, Logan Hardcore, Mother, JoJo Gerard, Bella and Sunny Shores
The Contestants:
Kraven Moorhead
Dignified in a stylish strapless, appropriately bedecked and bewigged, she told the crowd
 "16 years ago I danced on a table at Cherry's". She's come a long way since then! (She was so nervous she took the wrong exit offstage and had to return to the cheers of the crowd to choose the correct way out.
Logan Hardcore
Despite the glamour of a long sequined sheath she had to sing a notably unmusical song (these gals rarely if ever use their own voices – lip-synching their shows) She later returned fir her final walk in a flesh colored sparkly unitard, more her style.
Mother
A long time beloved member of the community swooped onto the stage in a voluminous black organza cape over her black ball gown, as always a larger than life presence. Having to comply she said "I've been here 14 years and I don't know what to sing" then good naturedly complied with a brief but lusty "O Sole Mio' in keeping with her Italian heritage
JoJo Gerard, another familiar face in the community, also looked very sincere, impeccably dressed  in a black evening gown and impressive jewels, delivered a hip hop tidbit "from the 30's, 40's. 50's" (Hamilton beware!) 
Last up was the mustachioed Sunny Shores.
Breaking with tradition he explained  "I do not look good in a dress, I look good in hair" sporting a black pompadour wig over a flashy tuxedo jacket and pants, huge rings, and sunglasses. The result was rather a sleazy but impressive pimp rather than Elvis or Liberace.
The stumped emcees admitted they had trouble determining what question to ask him, coming up with "Why isn't Norway in the European Union?" He responded with "I will build a wall and make the Pines pay for it".
Ivana Cocktail donated one of one of Billie Ann's crowns to be used on the new queen.
The usual raffles, dispensed by the ever adorable Anita, were awarded to  ticket purchasers: $25 from the market (which will cover the NYTimes without the magazine section" quipped Panzi). $100 from Island Breeze "for 2 bowls of onion soup".
The crowd was star studded with former HCQueens, Margo, Ariel Sinclair, Urban Sprawl, Ivana Cocktail, Lola, the effervescent duo Uneeda Dunes &  Beach DeBris, Donna Piranha, Good 'N Plenty, haoily reunited n the scene this summer.
For their final showing the contestants lined up. Despite Mother trying to block them behind her black cape.  It became a tie between Sunny Shores and Logan Hardcore. She won!
Outgoing Queen Demi Tasse re-appeared n perhaps her most gorgeous creations, as an imperial goddess, as she ceremoniously placed the new crown on winner Logan Hardcore's 3 foot high wig.
Long Live the new Queen!
Pictures form Joyce Rogers's camera: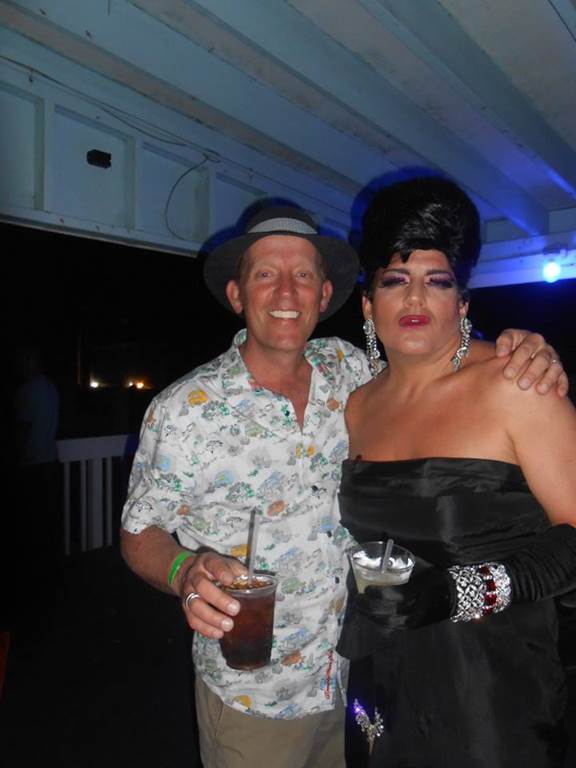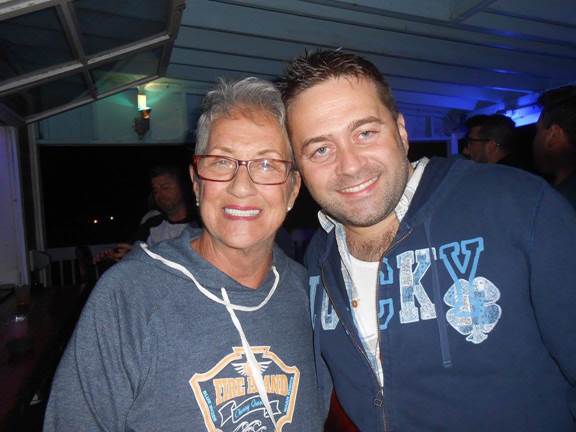 Barbs Cerrone and Kevin Walsh.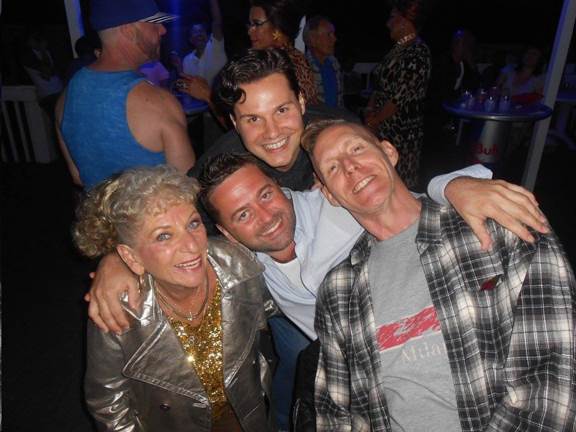 Joyce and her entourage