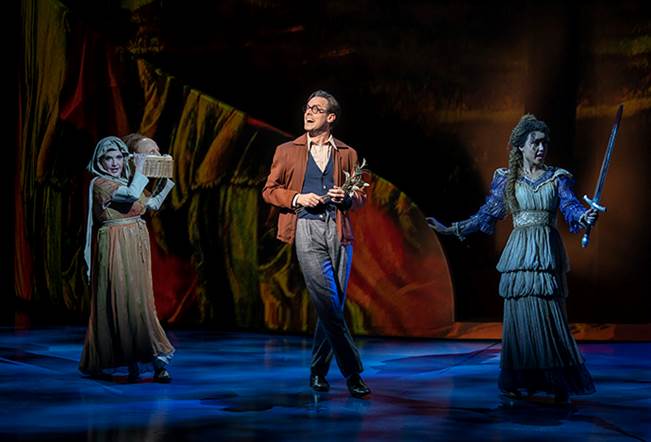 From L to R - Michele Ragusa, Harry Hadden-Paton and Kanisha Marie Feliciano. Credit to Joan Marcus
FLYING OVER SUNSET
Broadway musical review by Marc Miller
What is it with James Lapine and second acts? The playwright-librettist authored Sunday in the Park With George, a first act about an artistic masterpiece that many considered an artistic masterpiece itself, followed by a second act even many Sondheim fans found irrelevant, stilted, and too wide a turn to mate companionably to the first. Into the Woods, a delightful, cheeky mashup of tales we all grew up with, after intermission became an excursion into darkness, symbolism, and moody negativity. And now, with Flying Over Sunset, Lapine uses the second act to restate the character quirks he already introduced, albeit in different, phantasmagorical terms. The drop in elevation isn't as precipitous this time, though, and there's much to like and admire in both halves of Flying Over Sunset. Its author just needs an editor, and maybe a dramaturg.
It's a rarity among new Broadway musicals: an original, not from a well-remembered movie or rock songbook, and without an ounce of hip-hop or meaningless soul-inspired vocal pyrotechnics. Lapine, along with composer Tom Kitt and lyricist Michael Korie, has taken an actual phenomenon of life in 1950s Hollywood and embroidered it with whimsical what-might-have-been speculation. This much really happened: In that far-off decade, West Coast denizens Cary Grant (Tony Yazbeck), Aldous Huxley (Harry Haddon-Paton), and Clare Boothe Luce (Carmen Cusack) all experimented with LSD, which was then legal, and recommended by some prominent doctors and psychiatrists as a means of expanding consciousness and furthering self-discovery. All three had good trips, which they recounted in essays and/or interviews. As far as we know, they didn't know each other, and they certainly didn't trip together. But what if, aided by spiritual scholar and "guide" Gerald Heard (Robert Sella), who was Huxley's good friend, they did?
Thus the stage is set for a series of hallucinogenic expeditions, punctuated by prosaic book scenes, where Lapine's dialogue, while well versed in the real-life histories of the four principals, is rather flat. His basic three-part formula is: set up the central conflict in the subject's head; bring on the drugs; and resolve that conflict through insights gained during the psychedelic journey.
Which is all somewhat rote. Grant can't reconcile his transition from a miserable Cockney childhood—a brutish father who institutionalized his wife, though she was quite sane, and lied to his son that she had died—to urbane, much-envied screen sophisticate. Huxley, having authored Brave New World and The Doors of Perception (itself a ringing endorsement of mind-altering substances), is adrift, and mourning the loss of his wife, Maria (Laura Shoop), who here seems fascinating enough to merit her own musical. Luce, having led a charmed existence as beautiful debutante, celebrated playwright (The Women), and Republican congresswoman and U.S. ambassador to Italy, suffers from a failing marriage, to magazine tycoon Henry Luce, and the devastating loss of both her mother and daughter in separate car accidents a few years apart. And Heard, guilt-wracked over his homosexuality, as most gay men were in that era, has vowed celibacy and sought raised consciousness through LSD and other substances, which he once described as "the sober certainty of waking bliss."
It's all rather schematic, isn't it? And Lapine, having set up the orderly suffer-hallucinate-heal triptych, doesn't embroider it with a whole lot of psychological insight. What he does do, thankfully, is lay out the framework for a truly dazzling visual and aural feast.
God bless Beowulf Boritt. His set, at first a vast, empty blue cyclorama (lighting, and it's stunning, by Bradley King), aided by fellow designers Toni-Leslie James (costumes) and 59 Productions (projections), can turn the Vivian Beaumont stage into simply anything he wants, from a Hollywood Rexall drugstore to Luce's leafy Connecticut estate to the Pacific Ocean. The hallucinogenic episodes, dressed in wild Technicolor hues, keep coming up with new tricks, which won't be divulged here. And the visual beauty is partnered with something many recent musicals have lacked: music. Kitt's work, wrapped up in Michael Starobin's string-and-harp-heavy orchestrations, is pretty, tuneful, and period-accurate, from Grant's drug-induced music-hall turn with his younger self (a superb Atticus Ware), an authentic show-stopper, to the lush, hummable title tune, to the finale, "The 23rd Ingredient," which posits, in Korie's polished lyric, that the 22 basic ingredients of the human body are supplemented by one more, the soul.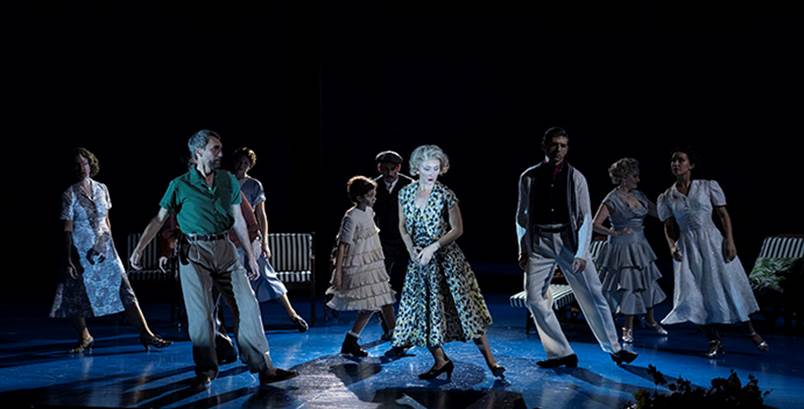 The company of Lincoln Center Theater's FLYING OVER SUNSET. Credit to Joan Marcus
Good work, too, from Michelle Dorrance, whose choreography includes not only that astonishing music-hall tap duet but a smooth ballroom turn for Grant and Sophia Loren (Emily Pynenburg), after whom he lusted (though a few years later than depicted here). Yazbeck is probably the best Cary Grant 2021 can offer: He's as outwardly debonair and inwardly conflicted as the real thing, and he doesn't over-peddle the accent. Cusack, though sometimes unintelligible in her lyrics, sings gorgeously and paints a three-dimensional Clare Boothe Luce, one we're not always encouraged to like. Haddon-Paton, asked to play little more than an unhappy British intellectual, does so persuasively, and Sella, whose Heard is somewhat underwritten, squeezes genuine sympathy out of what he's given.
There are odd touches: a mystifying echoing-feet motif, with characters marching around that big stage to no apparent purpose, and Grant's goofy LSD episode envisioning himself as a "giant penis rocket ship," and a pointless 11th-hour blowup between Luce and Heard that's quickly resolved and forgotten. And Lapine's direction, which stretches the playing time out to almost three hours, could be zippier.
But let's not quibble. Whatever it lacks in drama or logic, most of Flying Over Sunset is quite wonderful to look at and listen to. And while I'm no expert on LSD episodes, what shows up onstage seems pretty evocative of them. Hooray for a new musical that is rich in imagination, isn't refurbished goods, and will yield a cast album you'll actually want to buy.
Flying Over Sunset
Broadway musical
Playing at the Vivian Beaumont Theater, 150 West 65th St.
Through Feb. 6, 2022
Tickets: Telecharge.com