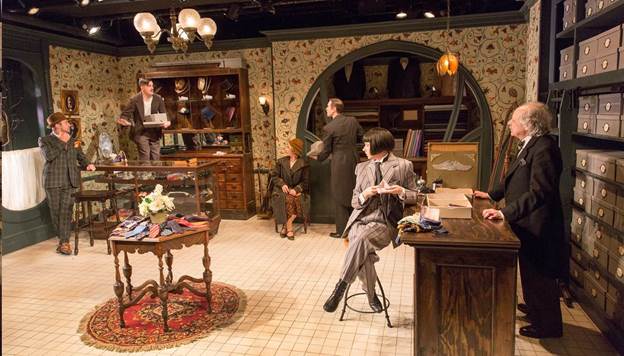 †††††††††††††††††††††††††††††††††††††††††††††† by Joel Benjamin
As you enter the Mint Theater for Fashions for Men re-set your high speed 21st Century timer to the slower, more elegant pacing of the early 20th Century when plays had three (or more) acts and characters had the kind of moral convictions that seem slightly eccentric to our modern sensibilities.†† Ferenc Molnarís comedy/drama, Fashions for Men at the troupeís Times Square space has been given a manicured, lovingly detailed production, directed by Davis McCallam who lets every luscious detail unspool at a delectable tempo.
Young, handsome Peter JuhŠsz (Joe Delafield) is the soft-hearted owner of a menís and womenís fashion boutique in Budapest.† †Unfortunately, he allows haughty deadbeat customers to run up huge debts; gives his employees too much leeway; and keeps his wife on a pretty, but passion-free pedestal.† His kindness and permissiveness has allowed the store to founder into near bankruptcy.† He is losing his beloved wife, Adele (Annie Purcell) to one of his clerks, the slick, ambitious Oscar (John Tufts).† Peterís backer, the Count (Kurt Rhoads) has his eye on Peterís pretty, dutiful secretary, Paula (Rachel Napoleon) who secretly longs for Peter.† Wise, old clerk Philip (Jeremy Lawrence) floats about the haberdashery like an owlish Greek chorus, seeing everything and knowing all.
Peter does lose the store, at least temporarily, until he can raise some cash (which he would have had if his unfaithful wife hadnít given it to her soon-to-be husband, Oscar).† Bereft, Peter is forced to work at the Countís cheese farm, joined by loyal Paula who has to fend off the Countís lascivious advances.†
Peter proves himself just as hopeless an overseer at the Countís farm as at his store.† The Count and Paula concoct an outlandish plan to reunite Peter with his beloved haberdashery leading to many unforeseen twists and turns that eventually tie together all the plot tendrils into a pretty, satisfying bouquet. †Peter to keeps his store, his morals and his old-fashioned romantic notions while still getting even with those that did him wrong.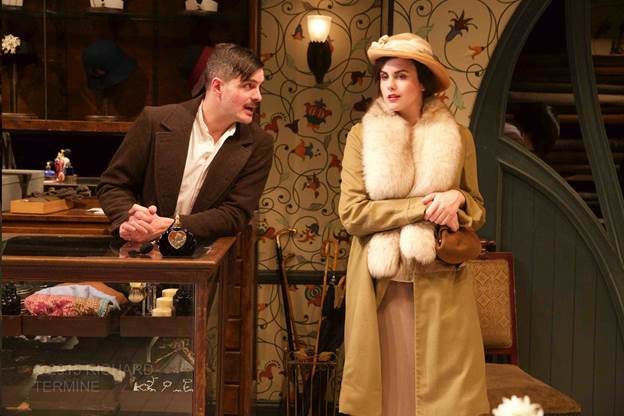 John Tufts & Rachel Napoleon
The acting from the leads to the character parts was excellent.† Mr. Delafield has a boyish handsomeness that he used to his advantage.† His angelic demeanor helped make his over-the-top courtesies more palatable.† Ms. Napoleon made Paula a young woman with a strength and intelligence.† As the Count, Kurt Rhoads exuded upper class privilege without descending into mustache twirling.† Mr. Lawrenceís Philip was wise but not lacking in self-mockery while John Tuftsí Oscar just avoided being unlikeable with his youthful ardor and ambition.† Annie Purcellís Adele was unpleasant, but not without redeeming features.
Jill Tanner made a colorful impression as an imperious, but impecunious customer as did Mark Bedard, Michael Schantz, Maren Searle, John Seidman and Gabra Zackman in multiple parts.
The production was quite extravagant by off-Broadway standards, with every element creating not only beautiful stage pictures but keeping to Molnarís period and style.† The sets (Daniel Zimmerman), costumes (Martha Hally), wigs & hair (Robert-Charles Vallance), props (Joshua Yocom) and even the incidental music (Jane Shaw) were all in service to telling this story with all its period grace and ambiance.
Fashions for Men Ė through March 29, 2015
Mint Theater Company
311 West 43rd St., 3rd Floor (between 8th & 9th Avenues)
New York, NY
Tickets:† 866-811-4111 or www.minttheater.org
Running time:† 2 hours, 40 minutes, two intermissions