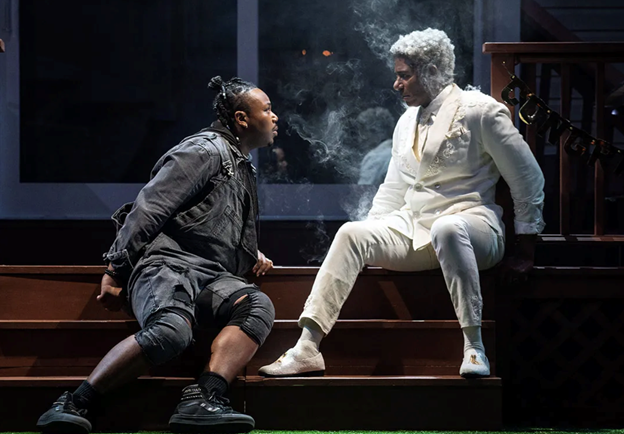 Marcel Spears and Billy Eugene Jones in Fat Ham.
(Photo: Joan Marcus)
Fat Ham
By Deirdre Donovan
Those theatergoers who have hungered for a spicy new take on Shakespeare's Hamlet need look no further than James Ijames' comic tragedy, Fat Ham, at the American Airlines Theatre.  Directed by Saheem Ali, it is both a rollicking homage to Shakespeare's masterpiece and a profound look at Black masculinity and queerness.
No matter how you dramatically slice it, Fat Ham is not your garden-variety play.  It won the Pulitzer Prize in 2022, without ever having an in-person production.  Audiences first glimpsed the play when the Wilma Theater released a filmed version In April 2021, and a subsequent production at the Public Theater in 2022 gave it its sturdy stage legs.  Now, in its Broadway premiere, with its original Public Theater and National Black Theatre cast, the show clearly has seasoned well.
Set at a Southern barbecue in North Carolina, the play revolves around Juicy (Marcel Spears), a queer Southern college kid who's grappling with identity questions, the ghost of his father, and the opportunity to break his family's cycle of trauma and violence.
All the action takes place on Maruti Evans' realistic set design, where the audience sees a 70s ranch-style house with glass doors that open onto a patio and backyard.  Juicy, appropriately dressed in all black (costumes by Dominique Fawn Hill), is blowing up balloons for his mother Tedra's (Nikki Crawford) wedding reception; his cousin and oldest friend Tio (Chris Herbie Holland), wearing a loud multi-colored shirt and monochromatic shorts, is stretched out on a folding table, watching porn on his cellphone.  As Juicy urges him to help with the festive preparations, Tio steers the conversation to his aunt's—and Juicy's mother's--hasty second marriage to uncle Rev (Billy Eugene Jones).  Rev, a pig farmer and restaurant pit master, married Tedra less than a week after her husband Pap's murder at the family restaurant.  Or as Tio bluntly remarks to Juicy: "You're daddy ain't been dead a week and he already Stanley steamering your mom. Cold. "
Things ratchet up even more when Pap's ghost (Billy Eugene Jones again) appears first to Tio and then Juicy in the backyard.  Indeed, not only does it bring another dimension to the drama, it strikingly contrasts Juicy's mindset with his father's.  Pap's ghost is a torchbearer for vengeance, and demands that Juicy seek revenge against Rev, who, he reveals, "shanked" him with a pointed toothbrush at the restaurant.  Stunned and overwhelmed, Juicy temporarily freezes at the ghost's report of fratricide, his conscience telling him that he shouldn't perpetuate the multi-generational cycle of violence in his family.  Yet, he still is his fathers' son and can't shut out what the ghost intones to him: "We supposed to be one beating heart. You and me. You my son. You my namesake."
The struggle between father and son over conflicting visions of Black identity, aspirations, and values is the play's narrative fulcrum.  But, unlike Shakespeare's character Hamlet, Juicy doesn't hero-worship his deceased father.  After all, Pap slit his employee Boogie's throat at the restaurant one day, simply because he had bad breath.  Moreover, his father is Old School as it gets.  Pap's ghost, in fact, jeers at Juicy's pursuit of a "digital degree" and majoring in human resources.  In the first ghost scene with Juicy, he recites the names of Black educational institutions, both distinguished and not-so-distinguished, that he would approve—and then scoffs at his son's choice for enrolling in an online college program.  Or as Pap's ghost puts it: "Howard, Morehouse, hell, Caldwell Community College. . .You going to school on a laptop."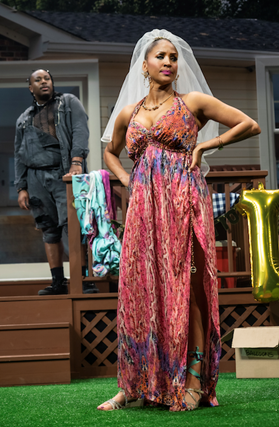 Marcel Spears and Nikki Crawford in Fat Ham. (Photo: Joan Marcus)
Fat Ham is ingenious in how it does--and doesn't--hold a mirror up to Shakespeare's masterpiece.  One of its more conspicuous similarities is in its nomenclature.  Many of Fat Ham's characters are nods to those who populate Shakespeare's Hamlet.  Ijames notes in his script, in fact, that several of his characters are close cousins to Shakespeare's:  Tio is "a kind of Horatio," and Opal, Larry, and Tedra are the creative descendants to Ophelia, Laertes, and Gertrude, respectively.
What's fascinating about Fat Ham is that it effectively puts a comic spin on the serious themes and motifs in Shakespeare's Hamlet without diluting their meaning.   For instance, Gertrude and young Hamlet's strong emotional bond is playfully reflected in Juicy's t-shirt that bears the logo "Mama's Boy."  The court's grand wedding reception for Claudius and Gertrude in the original is suitably scaled down to a Southern cookout in Ijames's play.  And the wanderlust of Laertes for France is reinvented as Larry's military stint in the United States Marine Corps.  What's more, in the closing scenes of the play, Ijames pokes fun at the tragic genre itself.  In his reinvention of Hamlet, nobody is killed onstage, and only one character dies by accident.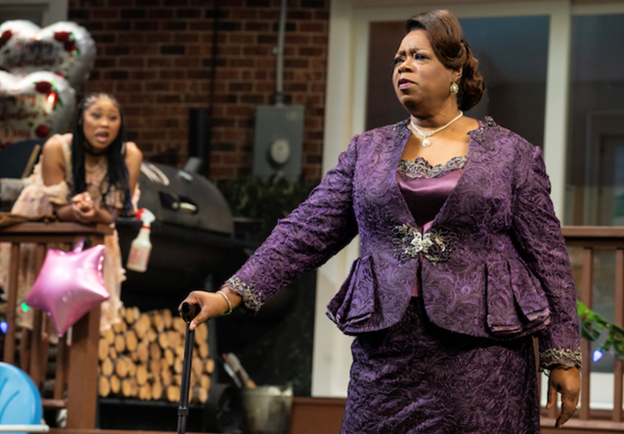 Adrianna Mitchell and Benja Kay Thomas in Fat Ham.(Photo: Joan Marcus)
Under the exemplary direction of Saheem Ali, the entire cast is impressive, including Nikki Crawford as the sexy Tedra, Billy Eugene Jones as the opportunist Rev, Holland as the drug-indulging Tio, Adrianna Mitchell as the street-smart lesbian Opal, Calvin Leon Smith as the closeted gay Marine Larry, Benja Kay Thomas as the traditional-minded Rabby, and, of course, Marcel Spears as the indecisive Juicy.  This is truly an ensemble effort, but Spears' Juicy deserves a special shout-out for his naturalistic acting.  He never overreaches himself in his role, and masterfully breaks the fourth wall several times during the proceedings to keep the audience in the narrative loop and to share his evolving world view.
Leave it to Ijames to make a hilarious comedy out of Shakespeare's haunting domestic tragedy.  His Fat Ham brings an immediacy to a 400 year-old play and shines fresh light on its psychological depths.
Through June 25.
At the American Airlines Theatre, 227 W. 42nd. St., midtown Manhattan.
For more information and tickets, visit FatHamBroadway.com
Running time:  95 minutes with no intermission.