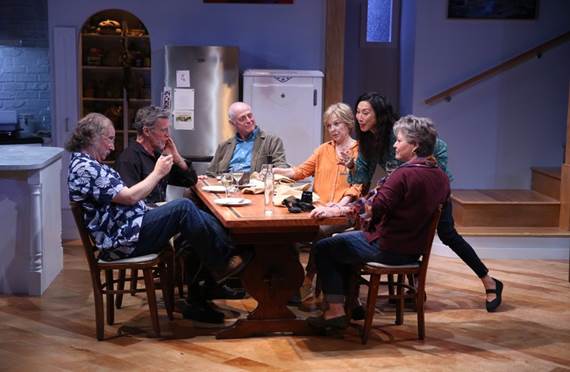 Mark Linn-Baker, Jon Glover, Mark Blum, Jill Eikenberry, Jodi Long, Ellen Parker,
 photos by Carol Rosegg
Fern Hill
              By Barry Bassis
 "Grow old with me, the best is yet to be" says Rabbi Ben Ezra in Robert Browning's poem. Change the "me" to "us" and you have the gist of Michael Tucker's new play, Fern Hill.
The setup is three couples contemplate moving in, and spending their declining years, together. The rustic house they want to live in—many New Yorkers would give their souls for the spacious kitchen (Jessica Parks is the set designer)—is owned by Jer (Mark Blum) and Sunny (Jill Eikenberry). (Eikenberry is married to playwright Tucker and they are most famous for starring in "LA Law"). Jer is the least enthusiastic about the plan and his marriage is endangered by his cheating.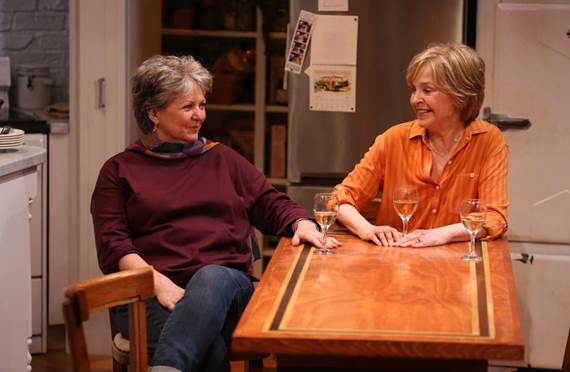 Ellen Parker and Jill Eikenberry
Vincent (almost 80 years old and the oldest in the group) (John Glover) is a famous painter. In the course of the play he gets a hip replacement. His wife Darla (Ellen Parker) is a photographer whose career is taking off thanks to an exhibition in Germany. Billy (Mark Linn-Baker) is a 60 year old rock musician whose career is declining. His wife, Machiko, is significantly younger but sensible.
The indisputable highlight of Fern Hill is a lengthy monologue delivered by Billy (the self-styled gourmet chef of the group) on how to prepare the best clam sauce he had ever tasted. This was the only time the audience broke into applause during the play.
The friends are a garrulous, intellectual group and they discuss the prospect of aging together. This involves, for example, hiring a caretaker to empty the bedpans.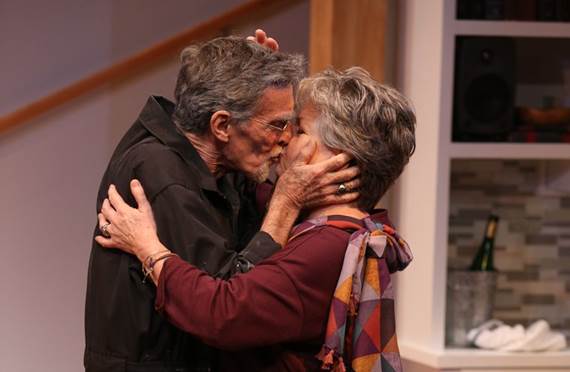 John Glover and Ellen Parker
An even more painful discussion ensues when the group joins for an impromptu session intended to heal the breach between Jer and Sunny. The friends make their own revelations about infidelity. There is also a frank discussion about sex. (The play reflects some of Michael Tucker's key interests; he has written about food and he and Eikenberry have lectured on Tantric sex.)
The play is highly literate and witty even if the basic situation is unconvincing. Are these three couples going to move in together? For several, it means leaving New York for an isolated house in the country. And while they have the best of intentions about dealing with illness, will they sacrifice their own financial security for their buddies? Finally, the property is owned by Jer and Sunny, the most likely couple to split up. Thus, to this reviewer, the plan seems like a pipe dream.
Nadia Tass's direction is impeccable and the cast is superb, especially the magisterial John Glover.
Through Oct. 27 at 59E59 Theaters, Manhattan; 646-892-7999, 59e59.org. Running time: 2 hours.