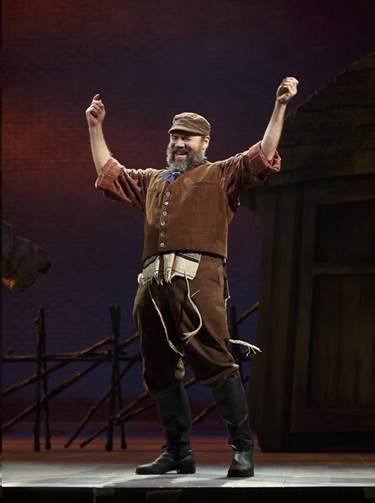 Danny Burstein
Fiddler on the Roof
                                        by Eugene Paul
One of the greatest musicals in theatre history and one of the most appealing. Bring tissues.
It says, "Anatevka".  We work out the worn Russian letters on the sign as we wait for the show to begin.
A man walks on the stage?  He looks at the sign?  He checks the old book in his hands?  We're muddled.  The play's begun because that bearded, bald headed man, that's Danny Burstein, the Tevye in the show.  In a red parka? There's the roar of a railroad train – is it memory or real for this descendant of Tevye, as he removes his parka and becomes Tevye for us, Tevye, the milk peddler of Anatevka, already conjuring up the old village in this brutal, empty space, already comparing its unlikely existence to a fiddler on a roof.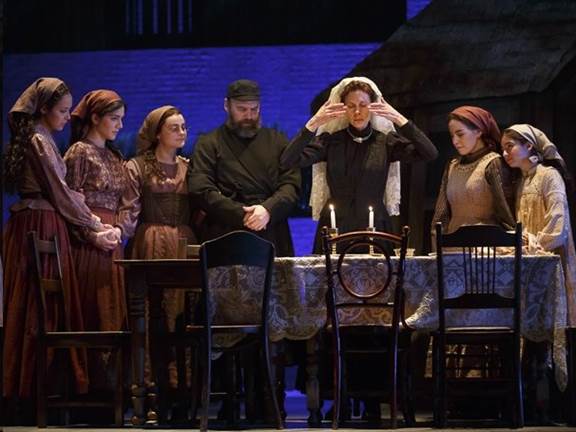 Photos by Joan Marcus
And there he is, our phantom fiddler, our conjuror conjured. The familiar, plaintive strains make their magic again and Tevye is planted strong. Sure of his foundations, his strength.  Why?  "Tradition!" he shouts at us. And a multitude of villagers rises from the long ago, powerfully singing, swirling, passionate in their fervor and belief.  "Tradition!"  It's overwhelming.  It's rousing.  It's heartbreaking. Where do we find such confident security in tradition today? Does anything match the loveliness of Sher's staging of the Sabbath Prayer?
Extraordinary Director Bartlett Sher in this unfinished masterpiece of a restoration to the New York stage yet again has put his stamp on one of the miracles of American musical theatre with clarity, love and courage.  Never have the songs been better.  And the dances? Homage to original director/choreographer Jerome Robbins carried to the giddiest heights by raging choreographer Hofesh Shechter whirlingly abetted by the great Catherine Zuber whose costumes spin added verve and passion into the dances.
Everybody in Anatevka has problems, maybe it's the Czar, maybe it's their neighbors, maybe it's grinding poverty.  Tevye has a lame horse so he's towing his milk cart but oh, the real plight of Tevye and his wife, Golde (simply wonderful Jessica Hecht).  Five daughters.  Five.  Daughters. Where are they going to find husbands for them? How?  When?  In Anatevka? Little do they know  Fate has already taken a hand.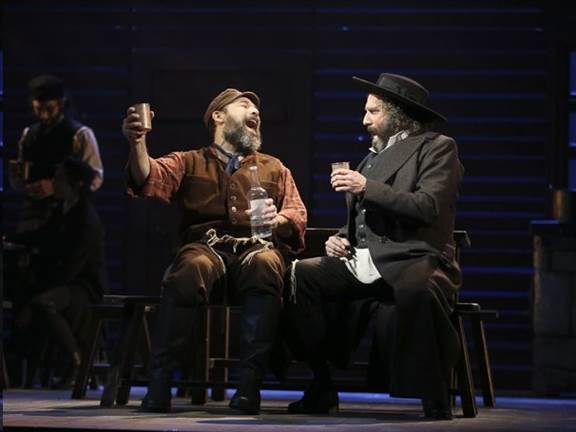 And it isn't because of Yente, the matchmaker (acidly funny Alix Korey) who has great news for Golde: Lazar Wolf, the butcher (splendid Adam Dannheiser) wants to get married again, he's been a widower too long. 
And he has eyes for Tzeitel (wondrous Alexandra Silber) the eldest of Tevye's and Golde's girls. So he's more than twice her age – even older than Tevye – but he's rich and respected and their darling daughter will never go hungry. Reluctant Tevye needs convincing. This is the first of his five treasures – never mind the other stuff – to be leaving their home. And in one of the most exhilarating scenes in the entire show, Lazar Wolf gets Tevye and all the men in the tavern drunk, including the Russians, in the ringingly exuberant paean "To Life!". Ah, such macho dancing!
But Fate is laughing. (Is it that fiddler?) Motel, timid Motel, the tailor (superb Adam Kantor) has been haplessly head over heels in love with Tzeitel and she with him but too terrified to approach Tevye even for permission to see Tzeitl.  It's tradition: the papa must give permission, papa must give consent. As he already has.  To Lazar Wolf, the butcher.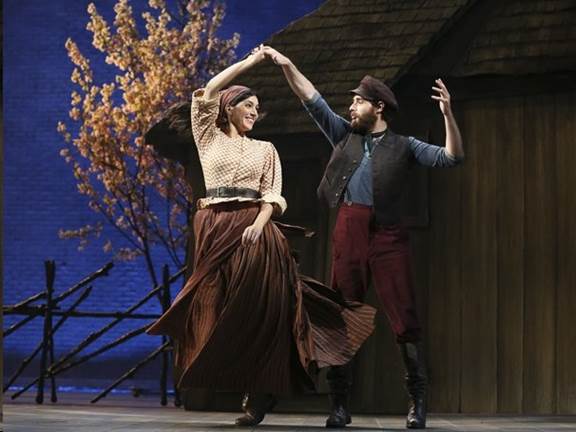 Adam Kantor as Motel and Alexandra Silber as Tzeitel in Fiddler on the Roof
How can Tevye untangle himself with Lazar Wolf, with his wife, with the whole community? How can anyone? It takes a bit of doing and we enjoy every inch, every crumb. But first, he has to summon up a nightmare.  Such a nightmare, ghastly, creepy, merry with ghosts and haunts, chief among which Lazar Wolf's dead wife throws the eeriest tizzies. It's one of the best moments in the show. Followed by another best moment: When Papa Tevye gives his consent to Motel and Tzeitl, Motel explodes all over the stage in an ecstasy of this miracle.  Absolute standout Adam Kantor as Motel in "Miracle of Miracles" wraps us all in his joy. (I told you, the songs are extraordinary.)
Followed by perhaps the best moment, when Tevye and Golde communicate their love for each other across the entire stage during the wedding of Tzeitl and Motel in the happy-to-be-sad song of songs, "Sunrise, Sunset." Has there been a wedding ever since without it?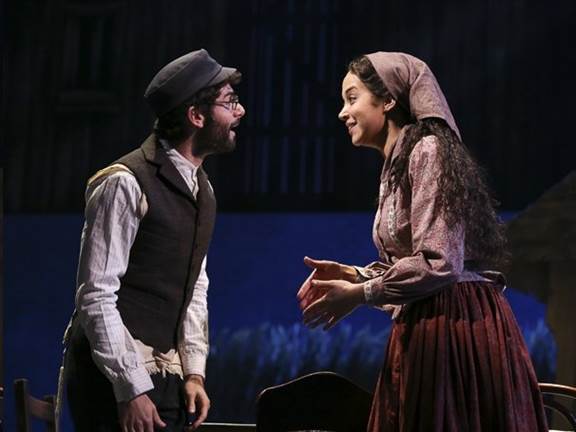 Samantha Massell as Hodel and Ben Rappaport as Perchik
What should be the next blow to Tevye's tender heart, losing his second daughter, Hodel, (lovely Samantha Massell) is a lesson in theatrical priorities. Hodel has fallen in love with Perchik, (stalwart Ben Rappaport) a wandering student, an "angry young man". (He was a fashionable character about the time of the original show, right out of "Look Back in Anger"). But Perchik is kind hearted.  Perchik is generous, compelled to right the wrongs of the world and willing to fight for his beliefs. His wonderful solo, "Now I Have Everything" when he wins Hodel should be as towering as Tevye's anthems. He has to leave her to fight the good fight but will send for her and they will be married.  Tevye is not asked for permission. A double blow.
When he takes Hodel to the train station for her to join Perchik in Siberia, in a prison camp, he is too heart sore to speak. Hodel sings the beautiful " Far From the Home I love", as lovely a song as any in the show. But the show's temperature changes because Samantha Massell is making it her moment, Broadway voice, Broadway gestures, meant to be admired, not meant to be Hodel leaving her beloved family. We may admire but we want to care. About Hodel.  About Tevye. Certainly about Tevye.
I've seen five different productions of Fiddler- plus a very Gallic iteration in Paris --    and there's something spellbinding inn each of them when everybody on stage cares.  When they care, we care.  Simple. Marvelous. But none has achieved the intensity of the highs in Bartlett Sher's production. It's in the loss of tradition as Tevye loses his daughters that Tevye's life is wrenched almost to the breaking point. Especially when his marriageable youngest darling, Chava (endearing Melanie Moore) actually elopes, marries a non-Jew, Fjedka (winning Nick Rehberger). When the Russian constable (fine Karl Kenzler) tells them they must all leave Anatevka, Tevye himself breaks tradition: he orders the constable off his land.  Which was never his.  Which the constable knows.
The original book by Joseph Stein based on the Sholem Aleichem stories sees few amendments. The original songs by Jerry Bock and Sheldon Harnick seem shiningly eternal, more lustrous than ever, the original Jerome Robbins direction and choreography enriched, deepened, humanized by director Bartlett Sher and his inspired choreographer Hofesh Shechter.  Sher's long time collaborator, gifted set designer Michael Yeargan, has underestimated the jarring impact of the sheer mechanistic exposure for flying his folklore settings. Most of us prefer remaining in the tale as it is told.
I know I'll see it again.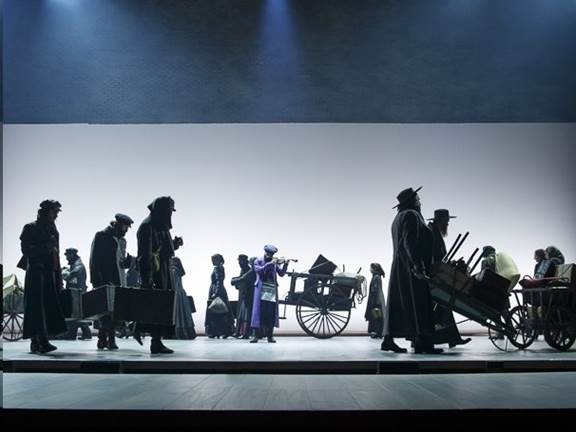 Fiddler on the Roof at the Broadway Theatre, 1681 Broadway at 53rd Street.  Tickets: $55-$199. 212-239-6200 2 hrs 30 min. Open run.