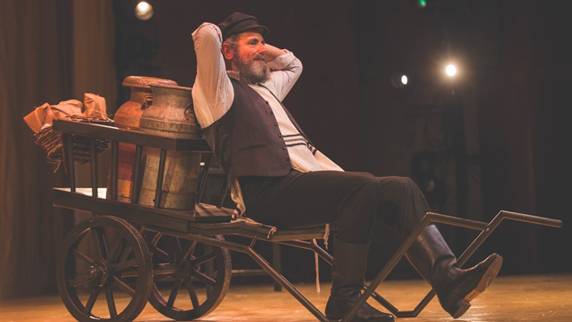 Fiddler On The Roof (In Yiddish) 
By Eugene Paul
Full as ever of  music, dancing, fun, ,laughter, love and heartbreak,  a deeper theatrical delight than you  imagined.
Back in 1964 when Fiddler on the Roof first appeared on Broadway,  the show was so successful it was able to command double the price of  top orchestra seats which at the time was $4.90. If you were fortunate enough to have invested $1,000 in the show, your return was $1,874,000. The show reaped applause and prodigious profits  around the world. It remains the most popular musical ever in Japan, steeped as they are in tradition.  It remains well known in Russia in spite of having never been presented there. An estimated 15,000 community productions of Fiddler take place every month throughout the world.  Save Russia.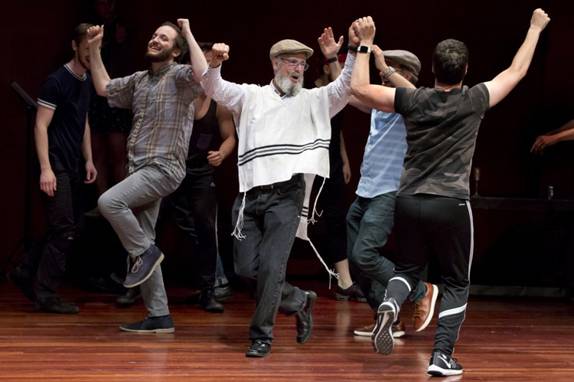 Director Joel Grey's  richly pungent Yiddish speaking production of this great American classic Fiddler On The Roof  transferred its sold out run at the Museum of Jewish Heritage to Theatre Row's welcoming environs just around the corner from Broadway, huge cast, orchestra,  brilliant Beowulf Boritt's pared down setting intact. The crowds are still coming, hardly dependent on the English titles, knowing the musical so well. There are Russian titles, too, just in case, which is a wry anomaly, since all the Russian characters in the play speak in Yiddish, something that never happened.  Russians spoke Russian;  if any Jew spoke to a Russian, he had to speak in Russian, too.  For  Russians to speak to Jews in Yiddish was unheard of. After all, it was their country, in which Jews  had been allowed to live. And for generations.  Until they were driven out.
 And that is the core of this  much admired, much beloved musical, woven from the stinging, sentimental stories of Sholem Aleichem into Joseph Stein's  aching book, Jerry Bock's unforgettable melodies, Sheldon Harnick's  poetically elemental lyrics, creating Jewish life in the story book  shtetl of Anatevka, pivoting around the travails of the local milk peddler, Tevye, trying to live his poverty riven life according to his ancient traditions with his wife, Golde, and their five daughters. In this  deeply moving, deeply involving production tradition is vividly borne out from beginning to bitter end, constantly reminding us with a single  Hebrew word blazoned on the tawny brown roughened paper surround of the setting: Torah. Torah, the very bed rock of tradition.
A fiddler on a roof ( Lauren Jeanne Thomas) opens our plaintive view into the crumpled past of the little village in 1906, a time of change. Our Tevye enters, pulling his cart of milk cans because his horse is ailing again. God has so much to do He hasn't had time for Tevye's troubles. And our Tevye (completely engaging Steven Skybell) captivating in his humorous battles with God, heartbreaking in his heartbreak, takes all his traditions dead seriously, especially his rights as The Papa of his tumultuous, loving family.
So when Yente, the village match maker (wonderful Jackie Hoffman at her very best) does them the great favor of making a match for their oldest daughter, Tsaytl (luminous Rachel Zatcoff) with the village's richest man, the widower butcher Leyzer-Volf (mordantly  fine Bruce Sabath) Tevye has to consider his daughter's welfare first. That he would have a son-in-law he doesn't much like, and worse, older than himself is secondary. He pledges his darling  Tsaytl, to Lezer-Volf.
Tragedy! Tears! Tsaytl has pledged herself in secret to the tailor Motl Kamzoyl (endearing Ben Liebert), her shy, penniless love. Love? Secret love?! No! It's The Papa who decides! Tradition! But his heart melts.  He allows the unheard of, that Tsaytl and Motl may marry. Oy, how to convince Golde, his wife, who is relieved and ecstatic that her oldest has a rich butcher husband-to-be, she'll never starve.
 Tevye's  hilariously horrific stratagem terrifies Golde and a crisis is diverted. But not for long. Darling Hodl ( winning Stephanie Lynne Mason), Tevye's second oldest daughter, has fallen in love, too, with, of course, penniless Pertshik, ( vivid Drew Siegla) a strapping outspoken itinerant teacher, unemployed, homeless. Tevye invites him for Shabbos  and Pertshik  stays to teach Tevye's younger girls.  But when Pertshik hears of the dangerous unrest and violence in Kiev, he is impelled to go there and help. And, yes, Hodl and Pertshik want to marry. So now, Tevye is losing a daughter and it pains him bitterly but Hodl, darling Hodl loves her Pertshik. What can a soft hearted father do?
Tevye's greatest  agony in these diffiult, changing times is when his third daughter, lovely Khava,( wonderfully appealing Rosie Jo Neddy) falls in love with Fyedke (outstanding Cameron Johnson) who is not Jewish. She runs away to marry Fyedke under the blessing of  the local Russian Orthodox priest. Certainly not Tevye's blessing. Crushed, Tevye declares her dead. Then, worst of all,  the Tsar orders all Jews to leave the country.
Were it not for extraordinary songs, extraordinary dancing, deeply felt performances, full of laughter, tenderness, boisterous high spirits, explosions of joy, comic  delights, ours would be a heartbreakingly sad story.  Obviously it has touched millions of hearts yet given them great pleasure. Somehow, in Yiddish, it seems more poignant than ever. Director Joel Grey's  many years as an acting and singing star has infused his production with not only deep understanding but deep respect for his entire company and it shows.  He has wisely retained many elements of the original staging and focused them closer to Tevye's central  life course: following the traditions of generations before him, somehow surviving painful change.
Best of all, the songs, the wonderful songs, "If I were a Rich Man", "Matchmaker, Matchmaker", Sunrise, Sunset", "Tradition", "To Life", "Miracle of Miracles" , and so many more illuminate your spirits in Yiddish just as they did in English, and Sheldon Harnick's lyrics  continue to be offered as translations.  Well, mostly. Thrilled, this is among my favorite  Fiddlers.
                                                          *
Fiddler on the Roof at Stage 42, 422 West 42nd Street. Tickets: $69-$169. 212-239-6200. 3 hrs. Thru Jan 5
                                                          *