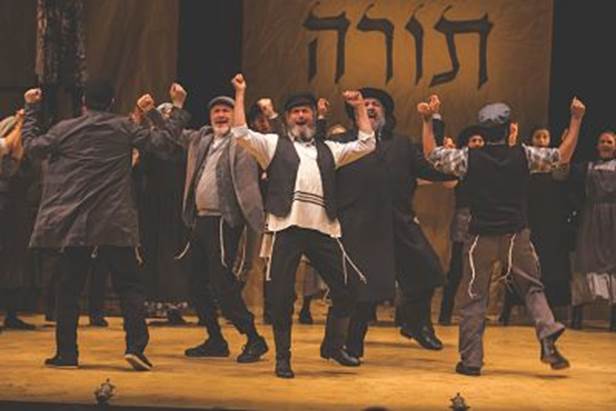 Steven Skybell and ensemble. Photo: Victor Nechay / ProperPix
By Fern Siegel
One of the most beloved musicals, Fiddler on the Roof boasts a glorious score and a story that confronts profound themes, even as it breaks your heart.
Director Joel Grey and the National Yiddish Theater Folksbiene have kicked up the stakes at the Museum of Jewish Heritage — staging the Broadway classic in Yiddish. (Screens on either side of the stage offer English translations.)
This vibrant production, anchored by the astounding Steven Skybell as Tevye, is thrilling — and not to be missed.
The Broadway version was inflected with Yiddish rhythms; here it rings true, bringing Fiddler to life in a visceral way. Grey has used few props — table, chairs and a wagon — to recreate Anatevka, a Russian shtetl in 1905. A back scrim carries one Yiddish word —Torah — that remains throughout.

It is there, as Tevye explains in the first lines of the show, to help the Jews keep their balance. They know who they are and what is expected of them, a sentiment explained in the opening number "Tradition." The joy of Fiddler is also Tevye's discussions with God, and his anger at his lot. "With your help, we'll starve to death."
Yet the musical's many charms rest in its inhabitants. The centerpiece is Tevye, his wife Golde (Jennifer Babiak) and their five daughters. The children force their parents — and by extension the town — to confront a new world: modernity. Russia is in political turmoil. People are demanding their rights as citizens. Women want to choose their own mates, rather than endure arranged marriages.
Traditions are being challenged. And in some instances, defied.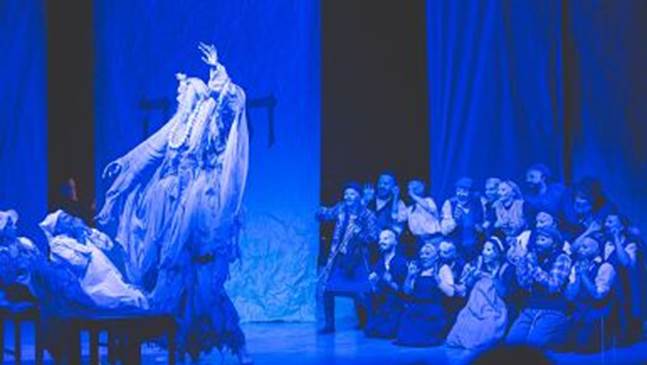 Steven Skybell, Jodi Snyder and ensemble. Photo: Victor Nechay / ProperPix
Observance, resilience and persecution are the hallmarks of Russian Jewish life. Stripped to essentials, the struggles of Yente the matchmaker (Jackie Hoffman), Leyzer-Volf, the butcher (Bruce Sabath), Motl the tailor (Moshe Lobel), Tsaytl (Rachel Zatcoff), the eldest daughter, Pertshik the revolutionary (Adam B. Shapiro) and Hodl (Stephanie Lynne Mason), his intended, are painful and heartfelt.
Together, they embody the hopes and dreams of the human spirit.
The familial intimacy of Fiddler on the Roof adds to its power. For 21st-century Jews, it is a reminder of where they came from, how far they have traveled and the costs of that journey. For all audiences, it underscores the tensions and joys that define and challenge humanity.
Sheldon Harnick's lyrics and Joseph Stein's book for Fiddler were translated into Yiddish by Shraga Friedman, a Pole who emigrated to Israel at the onset of WWII. Fidler Afn Dakh was performed in Israel in 1965, a year after its Tony-winning Broadway debut. That means some of Harnick's lyrics aren't word-for-word, losing a bit of their poetic lilt, but the acting, singing and orchestra are first-rate. And hearing the cast speak in the authentic language of the characters is a privilege.
Friedman, a native Yiddish speaker, was familiar with Sholem Aleichem's stories, so he used the "Tevye the Dairy Man" story to infuse his translation. For example, "If I Were a Rich Man" becomes "If I Were A Rothschild."
Indeed, the musical rests on Tevye. Skybell's performance is muscular and compelling. He balances his desire to maintain control of his family, with compassion. And he is sorely tested. When his beloved Khave (Rosie Jo Needy) elopes with the Russian Fyedke (Cameron Johnson), he is crushed. "I can only bend so far, before I break."
Her defection follows the turmoil of his two older daughters, who have lovingly questioned his parental authority. The eldest Tsaytl wants to marry Motl, not Leyzer-Volf, the rich butcher, via her father's arrangement. The second, Hodl, falls for a political activist. Unlike her sister, she does not ask for her father's permission, only his blessing. The break with tradition has begun.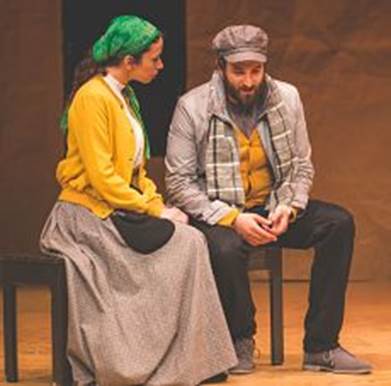 Stephanie Lynne Mason and Daniel Kahn. Photo: Victor Nechay / ProperPix
The exquisite music and an ever-present fiddler (Lauren Jeanne Thomas) illustrate the precarious nature of Jewish life. Stas Kmiec has reimagined the Robbins' choreography in an exciting way. Ann Hould-Ward's costume design adds to the realism. Special kudos goes to Joel Grey's magnificent and sharp direction of an ideal cast. His Fiddler on the Roof is captivating from the first moment to the last.
Fiddler on the Roof. Museum of Jewish Heritage, 36 Battery Place. Running time: 150 minutes. Tickets: https://web.ovationtix.com/trs/pr/984918. Through November 18.