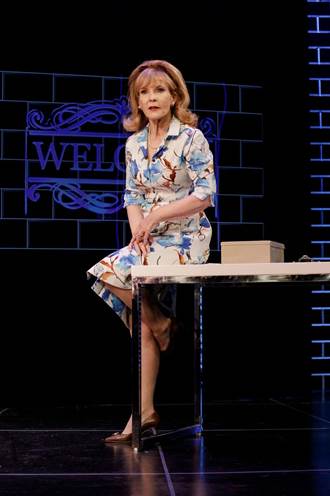 By Ron Cohen
Final Follies, with its prophetic title, was the last play written by prolific and well-applauded playwright A. R. Gurney, who died in June 2017. The one-act work further cements Gurney's already rock-solid reputation as the wit-filled chronicler of the diminishment of the human species known as Wasp. In case you've forgotten, it's an acronym for White Anglo-Saxon Protestant. As the play's lead character baldly states: "You know what we're really talking about here… The waning of the Wasp culture."
Primary Stages, which in the past has been responsible for five Gurney premieres, has mounted Final Follies as the opening salvo in a program of three short Gurney plays, and used its title as the umbrella name. The handsome production, directed by David Saint, who worked with Gurney at Primary Stages, is a tribute of palpable affection. James Youmans' modernistic unit set design framed in ribbons of neon-like light works well for all three plays, and David Murin's eye-catching costumes, along with the wig and hair designs of J. Jared Janas, help define the characters.
However, the plays themselves deliver a highly mixed payoff.
As for Final Follies itself, it's a somewhat slick, joke-filled product, telling how one Wasp fellow of early middle age, Nelson (Colin Hanlon), challenges the culture. He's the grandson of an immensely wealthy titan, identified only as Grandfather.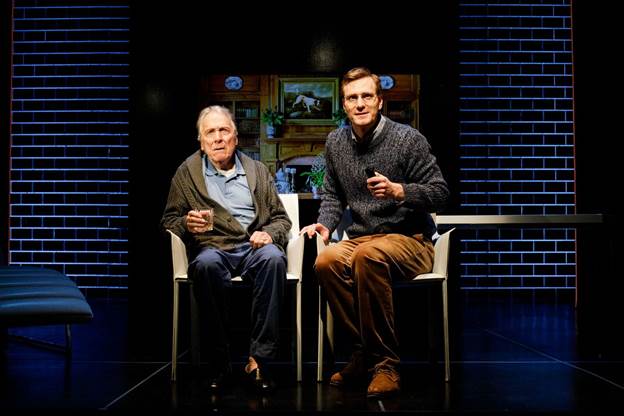 Greg Mullavey & Mark Junek                                                 photos by James Leynse
Grandfather has supported Nelson even as he has failed at such career attempts as teaching, banking and law school. Now on his own, Nelson applies for a job as an actor in porn movies, and he's good at it, very good. So good that when Grandfather (Greg Mullavey) is shown one of Nelson's DVDs by Nelson's uptight brother (Mark Junek), Grandfather, who unbelievably seems to be totally unknowing about such things as porn, declares that "sometime in the future that little disc might be generally considered as a valuable piece of American art."
When Grandfather dies, Nelson inherits half of his fortune, decides to fulfill his dream of buying a boat, learning to sail, buying a bigger boat and ultimately being "welcomed in the loveliest harbors all over the world." He also convinces Tanisha (Rachel Nicks), the porn studio's casting director of sorts who has encouraged Nelson's porn career and served as his budding love interest throughout the play, to go along with him on his nautical adventure.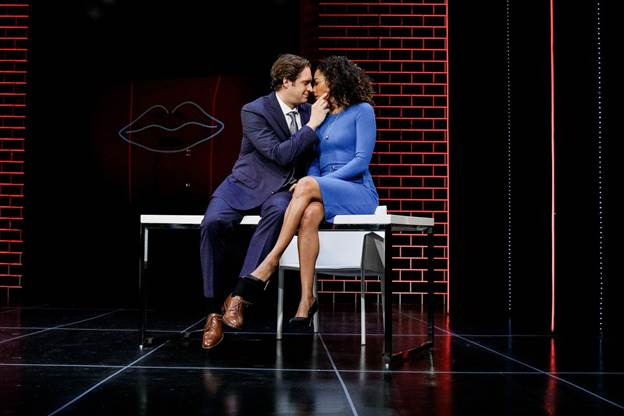 Colin Hanlon & Rachel Nicks
And that's all folks!, as Porky Pig used to say at the end of a Looney Tunes. The actors, especially Hanlon and Nicks, manage to squeeze a modicum of charm into the proceedings, but the play has the two-dimensional quality of a kiddie animated cartoon or a Sunday comic strip (even with its porn references). It's bright, innocently amusing and easy to forget.
The second title offered, The Rape of Bunny Stuntz, is more problematic. It's one of Gurney's earliest plays, and it seems like a forced nod to the dark absurdist comedies that began crowding Off-Broadway in the 1960s, complete with a shocking title that turns out to be more metaphor than an actual occurrence.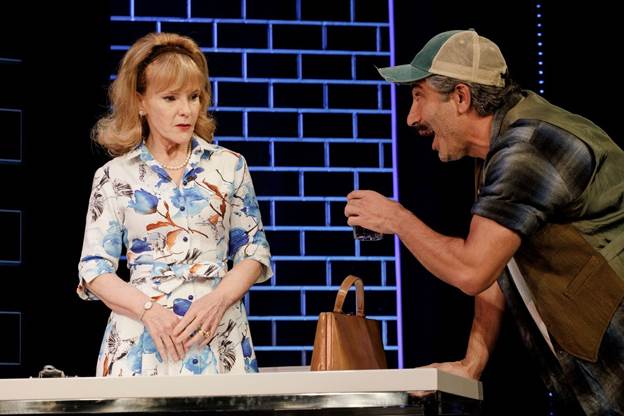 Deborah Rush & Piter Marek
The lady of the title is a proper suburban matron, played with Wasp-implied unrelieved unctuousness by Deborah Rush. She's the new chairman of a community organization and is presiding over a meeting for the first time. It's not exactly clear what the organization does at its meetings, but as Bunny describes it at the play's start, it seeks to fill the gap left unfilled by the members' "rich, full lives at home."
The meeting never really gets started. First, Bunny can't find the key she needs to open the box which she says contains such necessary papers as the meeting's agenda. Then, Wilma (Betsy Aidem), Bunny's mousy assistant, tells her there's a stranger outside who says he's waiting for her. Bunny claims not to know him at all. As messages are passed back and forth via Wilma, the other members, we're told, have retreated to the meeting place's basement cafeteria and have begun partying. It's a party that, according to reports from Howie (Piter Marek), a maintenance guy and club member, gets increasingly wild.
Things come to a head when the stranger, never actually seen, throws the key to Bunny's box into the meeting room, and finally, Bunny delivers her overly extended, confessional monologue. The essence is that she did have a liaison with the stranger, when he came round her house asking to use the telephone. Now, she says, she's been "found damned in birth, damned in marriage, damned in my desires." And off she goes, apparently to the stranger. Wilma then announces that "Bunny Stutz is dead…Dead…to us." And she tells the folks to go home and wait for news about the next meeting.
There may be emotional depths to be plumbed in the script, but the production keeps it all on an absurdist surface, and its elliptical storytelling becomes a bit irritating.
Fortunately, though, things pull together well in the final piece, The Love Course. Written in the early 1970s, the script seems more confident, reflecting a wickedly humorous insight into the byways of liberal arts educating in the higher halls of learning. Gurney taught literature at MIT before he turned to writing full time.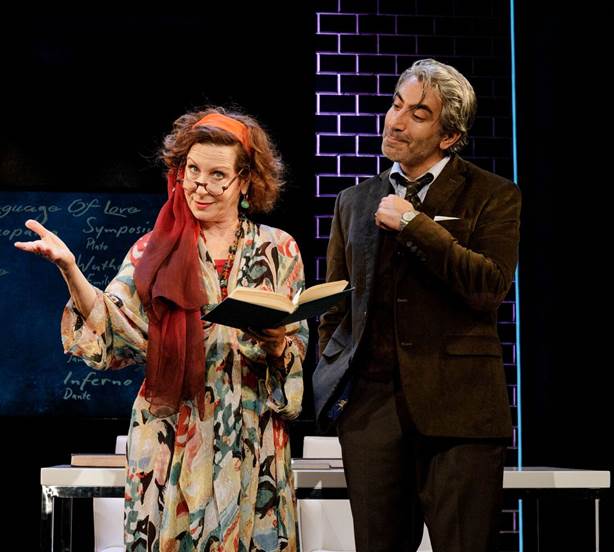 Betsy Aidem & Piter Marek
It also gives its two lead actors, Aidem and Marek, well-turned comic roles, and they dive into them with zest. The two play professors who together have been teaching a class in the "literature of love." This will be their final class. Aidem's Professor Carroway has failed to receive tenure and is moving to another college. Marek's Professor Burgess has been moved to the administrative staff. The flamboyant Carroway says that she is eager on this, "our last day, to bring the course together once and for all. I want to resolve, if we possibly can, all the great themes of love that have obsessed us and the Western World."
Burgess, for his part, is simply more interested in getting away early. He has a staff meeting to attend, and later his wife is waiting for him outside in her car. How Carroway eventually achieves something like her goal, heating up Burgess's own amorous passion, as they read through passages of Antony and Cleopatra and Wuthering Heights makes for a smart helping of literate comedy, sometime bordering on the farcical. Aidem and Marek also get able support from Hanlon and Nicks as students pulled into their exploration of love.
Colin Hanlon and Piter Marek
The Love Course provides a celebratory finish to an otherwise bumpy sampling of Gurney. But presumably and hopefully, this Final Follies collection will hardly be the "final" sampling.
Review posted October 2018
Off-Broadway play
Playing at the Cherry Lane Theatre
38 Commerce Street
866 811 4111
web.ovationtix.com/trs/cal/34639
Playing until October 21