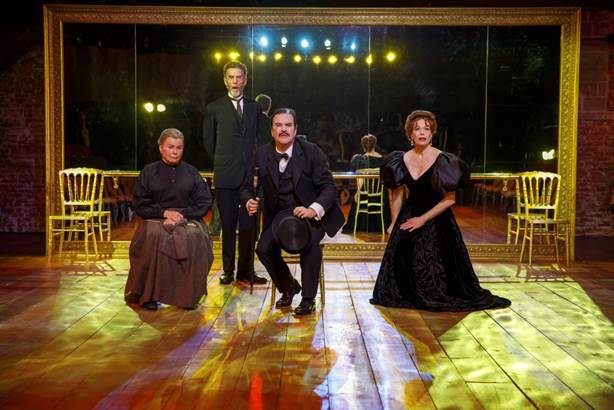 Marsha Mason, John Glover, Douglas Hodge, Marin Mazzie   Photos by Joan Marcus
                                      By Deirdre Donovan
Terrence McNally's new play Fire and Air needs less talk and more dance.  Helmed by John Doyle, and now running at the Classic Stage Company, this study of Sergei Diagheliv and his Ballets Russes surely will pique the interest of balletomanes.  But if you are expecting to see some feathery-light ballet dances, you will inevitably be disappointed by this talky production.
Those familiar with McNally's work will find that Fire and Air blends right in with his oeuvre. Much in the vein of Master Class (a portrait of the diva Maria Callas), it centers on a major figure of the art world who left an indelible mark on history.  The play also deals honestly with Diagheliv's homosexuality.  Mirroring his real-life relationships with notable Ballet Russes dancers, Diaghilev first has an affair with Vaslav Nijinsky (James Cusati-Moyer), and following their break-up, with Leonide Massine (Jay Armstrong Johnson).
Granted, it takes a while to figure out what director-designer Doyle is up to in his spartan production of McNally's biopic.  But true to form, Doyle doesn't clutter the stage with props or employ any special effects to get his theatrical points across.  Entering the theater, you see an almost bare stage except for a number of symetrically arranged chairs, over-sized mirrors, and a ballet bar.  In short, what you get here is McNally's play in the raw.  Doyle, in fact, seems to suggest that the only thing that really needs to be added to the performance is the imagination of those watching.  
Of course, one of the best things about a theater experience at the Classic Stage Company is its intimate feel.  And with Fire and Air, it's no different.  The audience surrounds the stage on three sides, and given the theater's compact architecture, there's not a bad seat in the house.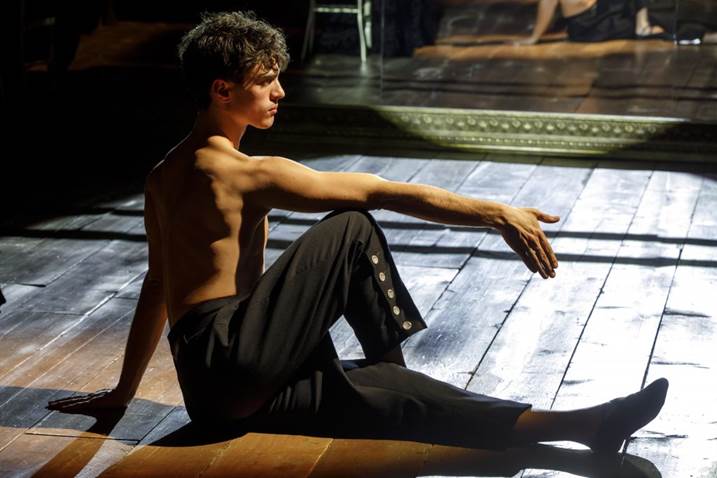 James Cusati-Moyer
CLOSE
While I don't want to disclose the evening's bombshells, Doyle deftly allows McNally's version of the Diaghilev story to come alive scene by scene.  What unfolds is Diaghilev's life at the Ballets Russes during its heyday.  You get to watch the producer early on as he grooms his protégé-lover Nijinsky (James Cusati- Moyer) for his stage performance of Claude Debussy's Afternoon of a Faun.  Later on, you get to witness the fictive conversation that Diagheliv had with Nijinsky following the ballet's opening night in Paris (May 29, 1912), which shocked many viewers for its sexually-suggestive ending (improvised by Nijinsky).  No question Diagheliv ruled his company with the proverbial iron fist in a velvet glove.  And though you see Nijinsky continue to choreograph other works for the Ballets Russes (think "Jeux" and "Le Sacre du Printemps"), you always sense Diagheliv's indomitable power over his company. 
Of course, the turning point of the story comes when Nijinsky, on tour with Ballets Russes in South America, marries Romola de Pulszky--and the infuriated Diagheliv fires him from the company.  Diagheliv replaces his star dancer with Leonide Massine (Jay Armstrong Johnson) and the company takes on distinct new coloring.
Other persons are accounted for along the way--Diagheliv's patron Misia (Marin Mazzie), his childhood nurse Dunya (Marsha Mason), and his best friend Dima (John Glover).  But when it comes to the high drama, the big focus is on Diagheliv and his two protégé-lovers.
Unfortunately, there's a paucity of dancing in this production--and it keeps the piece from catching fire.  With all the talk of Nijinsky and Massine's dancing pyrotechnics, neither James Cusati-Moyer's Nijinsky or Jay Armstrong Johnson's Massine ever executes a real dance.  Most of the choreography here is a mechanical—and fleeting--approximation of what the historical Nijinsky and Massine might have whipped up for their audiences.  True, the Ballets Russes never filmed their performances.  But posterity tells us that the company was a synonym for the most daring modern ballet.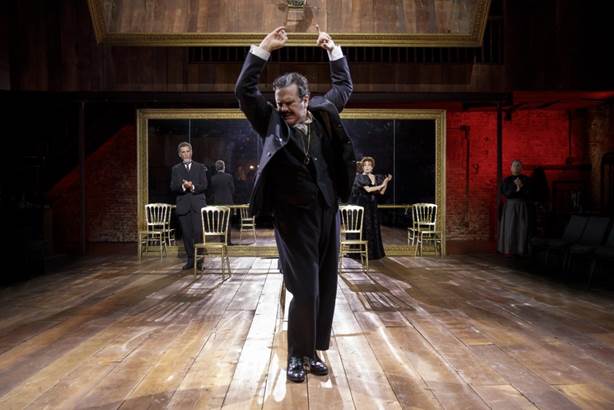 Does the acting prop up the play?  Well, Douglas Hodge does a terrific job performing the egomaniac Diaghilev.  Hodge's Diagheliv conveys the arrogance of the impresario who unblinkingly claims that he "invented the 20th century."  What's more, Hodge kicks up his heels during the show, if not with total grace, with real gusto. 
The rest of the ensemble?  John Glover as Diagheliv's old friend Dima,  Marsha Mason as the nurse, and Marin Mazzie as Diagheliv's patron have little to do during the play.  Even Cusati-Moyer and Johnson as the celebrated dancers Nijinsky and Massine seem static in their roles.  In short, this is Hodge's show--and he doesn't miss his opportunity to take center stage. 
Doyle's staging is assisted by some able artists.   Ann Hould-Ward's costumes (especially for the dancers Nijinsky and Massine) are spot-on and Matt Stine's sound design (who can resist Debussy's or Stravinsky's mesmerizing music?) couldn't be better.  Jane Cox's poetic lighting ideally complements Doyle's spare set.  And J. Jared Janas' make-up design is rightly theatrical.
Perhaps the only way to understand why Fire and Air lacks fizziness is to recall that famous line from William Butler Yeats' poem "Among School Children."  It asks:  "How can we know the dancer from the dance?"  Of course, the only answer is "we can't."  The dancer and the dance have always been inseparable.  So why does McNally attempt to dramatize the dancers Nijinsky and Massine sans dance?
If Fire and Air comes up short as a drama, it is a heart-felt paean to Diagheliv and his Ballets Russes. It might not be one of McNally's best works, but it surely gives you a provocative portrait of the great Diagheliv.
Through March 2nd.
At Classic Stage Company, 136 East 13th Street, Manhattan
For more information and tickets, phone 212.677.4210 or visit www.classicstage.org
Running time:  2 hours, including one 10-minute intermission.