DeWanda Wise, Khris Davis   Photo: Ahron R. Foster
                                                    By Fern Siegel
Set in September 1963, Fireflies posits the searing personal sacrifices in the struggle for civil rights. This powerful two-hander, with a stunning performance by DeWanda Wise as Olivia, the wife of a reverend and major civil-rights leader, takes a deep dive into both suffering and hope. 
The timing is telling. It's a few months after the assassination of civil-rights leader Medgar Evers and just days after the 16th Street Baptist Church in Birmingham, Alabama, was bombed, an act of white supremacist terrorism that killed four black girls.
The brutality marked a turning point in the civil-rights struggle, and that's where Fireflies opens, per the author's note: Somewhere down South, where the sky is on fire.
The region is exploding; activists are speaking at churches and rallies to fight injustice, often at great personal risk. The external terror is matched by internal rage and rebellion.
Olivia (DeWanda Wise) is married to Charles (a solid Khris Davis), a charismatic preacher and leader of a movement. There are shades of Martin Luther King, Jr. here, including some of the nastier moves the FBI took against him and his wife.
The play is set in their kitchen, where Olivia and Charles appear as a loving couple. But playwright Donja R. Love skillfully peels back their multilayered relationship — and we discover they are more complicated and nuanced, especially Olivia.
She is talented and passionate — the woman behind the great man. Charles connects with people; his popularity is his own. But the words that propel it are thanks to the remarkable speeches his wife writes.
Olivia not only pens his prose, she coaches him on delivery, innately understanding the necessity of theatricality. But as a proto-feminist, she also longs to find her own voice, to make her own choices outside the constraints of societal convention.
And that's where Fireflies reveals its power as a struggle-within-a-struggle sensibility.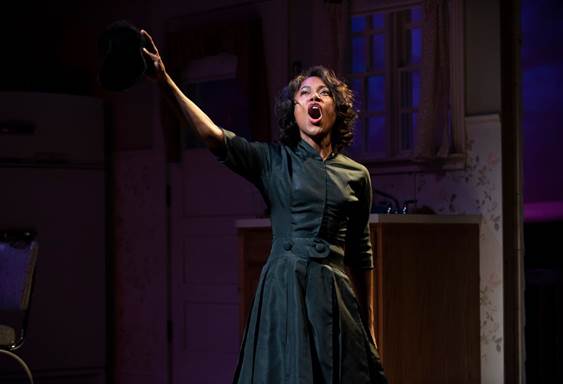 DeWanda Wise   Photo: Ahron R. Foster
Olivia has singular desires and dreams, many of which are consumed by the expectations of her sole function as wife and mother. But Olivia, like Charles, reveals her own secrets and plans. 
Sexual and emotional betrayals punctuate their union. Fireflies addresses infidelity, emotional transgressions, political commitment and finding one's voice. Playwright Donja R. Love packs punch. He embraces the necessity of feminism and human rights, while exploring what he calls "reimaging monolithic narratives that challenge the white supremacist, hetero-normative structures in American culture."
Fireflies raises provocative issues, particularly in 1963, of accepted sexual discrimination and the radical notion of choice, particularly for women. "This is no place for a colored child to call home," Olivia says of motherhood, in tones both mournful and angry.
And that reality — located between fear and Charles' fight to create a better world, underscores this tense, modulated drama. The connection between the two is complicated; it's beautifully choreographed, danced to perfection by the leads.
A desperate Olivia asks: What is hope? Her face is suffused with pain, and without a word, just a simple body movement, she telegraphs volumes. Walking a tightrope between what is accepted and what is desired, DaWise embodies the enormity of her character.
Davis sensitively captures the strength, vulnerability and contradictions of Charles. The backdrop and David Weiner lighting neatly reflects psychic tension. Director Saheem Ali builds the pace naturally, so the play's crescendo is shattering.
A gifted, nuance actress, DaWise gives Olivia a dignity and virtue in a world that can demean her with impunity.
Fireflies, is a remarkable and essential play. It's a wake-up call that succeeds on two levels: As a specific story about two activists in the South during a turbulent period in American history, and a personal journey about freedom, however one conceives it.
Atlantic Theater Company, Linda Gross Theater, 336 West 20 St. Running time is 90 minutes without an intermission. Tickets: atlantictheater.org/playevents/fireflies/