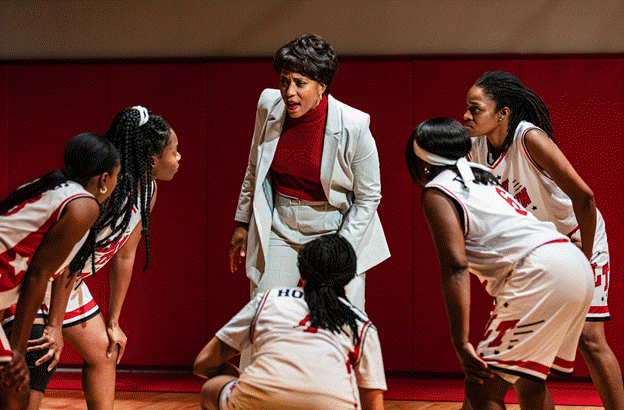 Christiana Clark and the cast of Flex (Photo: Marc J. Franklin)
Flex
By Julia Polinsky
In Candrice Jones's marvelous Flex, on the stage at Lincoln Center's Mitzi Newhouse theater, it's 1997. The WNBA has just become a reality. Five teenage girls in Plainnole, Arkansas, are drilling, passing, shooting baskets. Sharpen your senses; they're speaking in a rapid basketball-centric slang that demands, and rewards, your attention.
These girls are the starting lineup of the Lady Train, the high school's girl's basketball team. All good players; two are stellar. They're all young, talented, and Black. They're all visibly pregnant. Well, not really pregnant; turns out four of the five are not pregnant but are wearing pregnancy bellies "borrowed" from the Home Ec department.
This Pregnancy Drill comes at the suggestion of team captain Starra (Erica Matthews), in solidarity with the one pregnant teammate, April (Brittany Bellizeare). Running, passing, shooting, all with those big bellies pooching out. Girl power, girl solidarity, all warm and fuzzy, scored to period music (audience singing along) with a side of hardcore competition and a pinch of uneasiness – because their coach (Christiana Clark) has an inflexible policy of firing any pregnant team member.
In case your basketball knowledge is miminal, here's the scoop: in basketball, "flex" is an offense play that uses team effort to pass the ball and screen players, so one player can make a shot. Often used by high school teams, it's effective and somewhat predictable. And somewhat flexible.
Erica Matthews and Tamera Tomakili (Photo: Marc J. Franklin)
Flex plays with the familiar ideas in sports stories: inter-team competition, gotta-get-out-of-this-town imperative, living up to the parent's legacy. Sniping, sabotage, trash talking. Flex adds the one thing boys teams will never have: pregnant players, and the issues surrounding them.
With their trash talking and their blocking and fouling, with their intense relationships with God and each other, these girls are hotly competitive, dedicated to winning the State championship. It's the scouts, you see. Scouts from the newly-minted WNBA. College scholarships, and a way out of the backyard dirt courts of rural Arkansas, ride on the team's performance, especially for Sidney (Tamera Tomakili) and Starra, the two most likely to succeed in basketball.
The very religious Cherise (Ciara Monique) and level-headed Donna (Renita Lewis), two other teammates, round out the starting five. Recently ordained Youth Minister, Cherise pushes the team toward baptism, yet she is troubled by her attraction to Donna. A "child of God" she may be, but Donna calls her on it, guessing that Cherise may want another baptism – she's already had two – to "wash the gay away."
Before the season, the team made a pact: no drinkin', no smokin', no sex. April has obviously broken the pact, but the team's disappointment with the pregnant April is nothing compared to their reaction to some very bad behavior from Starra, far beyond the usual foul language and intentional fouling. Even being "taken to the water" may not be enough to heal the rifts in the Lady Train.
Starra's family history weaves through Flex, as she talks to her dead mother, who was a star baller in her day, about her hopes and dreams, about learning to play hard and foul a little. She then learns some shocking things about her mama's life from Coach, and they turn Starra into someone who can admit her terrible, vicious behavior out loud.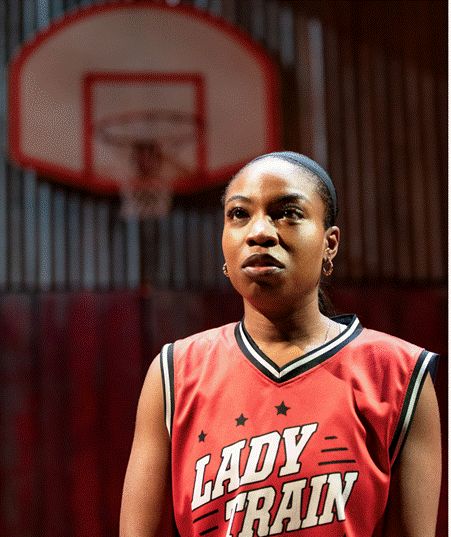 Erica Matthews (Photo: Marc J. Franklin)
Much hangs on the final game at State, of course, and the satisfying end of Flex may be eye opening. In many ways, it fulfills the expectations of a sports team conflict story – not quite no surprises, but well within the norms of the genre.
Director Liliana Blain-Cruz keeps the actors in constant motion, as if to the whirl of their emotions. Spot-on costuming comes from from Mika Eubanks; it's hard to think of 90's basketball uniforms as period clothes, but there it is. Matt Saunders's terrific set works like magic, for the most part, with a little clunkiness in some of the moments when a car has to be on stage. Adam Honoré's lighting reveals and conceals in sync with the girls and their secrets or openness.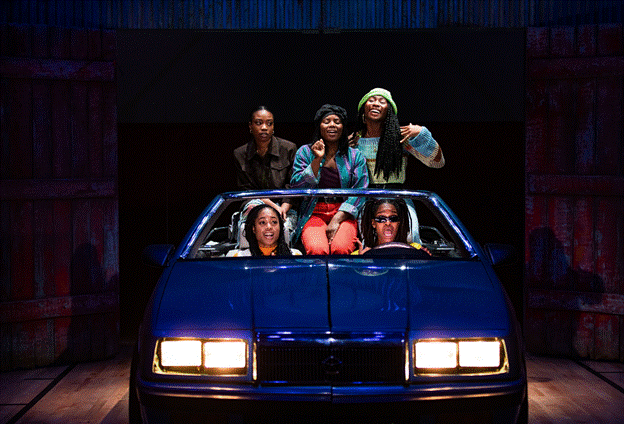 The Cast of Flex. (Photo: Marc J. Franklin)
All in all, Flex's fancy moves, human stories, and splendid performances make for a fast-moving evening of theater. Even if you don't know anything about basketball.
Flex
At Lincoln Center Theatre at the Mitzi E. Newhouse
150 W. 65th, between Broadway and Amsterdam
Through August 20
Tickets: $103 https://www.telecharge.com/Off-Broadway/Flex/Ticket?AID=%20VEN000093011&cm_mmc=Lincoln-Center-Theater-_-Affiliate-_-web-_-%20VEN000093011&cm_mmca1=venue