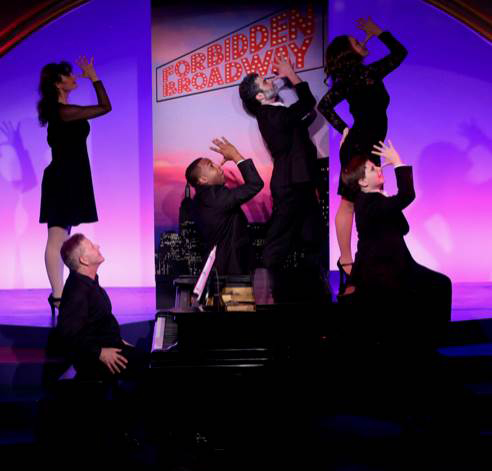 photos by Carol Rosegg
Forbidden Broadway: The Next Generation!
                            by Julia Polinsky
Want to laugh so hard it hurts? Go to Forbidden Broadway: The Next Generation, and have some fun. Even if you haven't seen all the shows being satirized, you'll still laugh. It's that good.
Everything else there is to say about the show is a variation on the above. I can give details on which skits had me gasping for breath because I was laughing so hard (most of them), or which performers were magically wonderful (actually, all of them), or what a pleasure it is to enjoy Gerard Alessandrini's skillful, clever evisceration of Broadway pretentions. But really, it'll just be saying variations of, "It was so good! So, so good! Go see it!"
If you've skipped Forbidden Broadway in any of its earlier iterations – it's been performed over 9000 times since the original opening at a supper club in 1982, so missing it is a choice, not a chance – you actually have done yourself a disservice. Full disclosure: I know the truth of that statement because, well, that was me. Couldn't be bothered. Thought it was basically like a bunch of theater department college kids getting together and showing off how clever they were – BETTER than Broadway!
Wow, was I wrong. Except for the "better than Broadway" part, because often, it was. Two overarching themes worked their way through the show: "the death of Broadway" and "the future." OR maybe, "your mother's Broadway vs. your kid's Broadway." The audience is treated to a tour of the underground of Broadway ala Hadestown, cueing into the "death of Broadway" theme, and perfectly commenting on what seems like the relentless grimness of recent seasons. It's a clever idea – and "clever" is the name of the game in Forbidden Broadway: The Next Generation.
The triple-threat performers here are easily a match for the actors they send up. You've never seen Bernadette so Bernadette-y as in Aline Mayagoitia's note-perfect bit in "There's Gotta Be Something Better Than This,"
or such a Gwen Verdon as Jenny Lee Stern, who out-sings, out-dances, and out-kicks the original, in "Fosse/Verdon," paired with Chris Collins-Pisano as Fosse. Joshua Turchin, the teenager, is absurdly perfect in his lampooning of Dear Evan Hansen ("Evan Has-Been"), hitting just the right wry notes. And dear sweet heaven, Immanuel Houston's lampooning of Andre de Shields is utterly spot-on, as he guides us through the underground of the death of Broadway, never mind his jaw-dropping "Ain't Too Proud" performance.
It's hard to choose among the splendid bits of business, but some standouts: "Moulin Rude," a pee-yourself-laughing critique of the superficial emptiness of so much theater.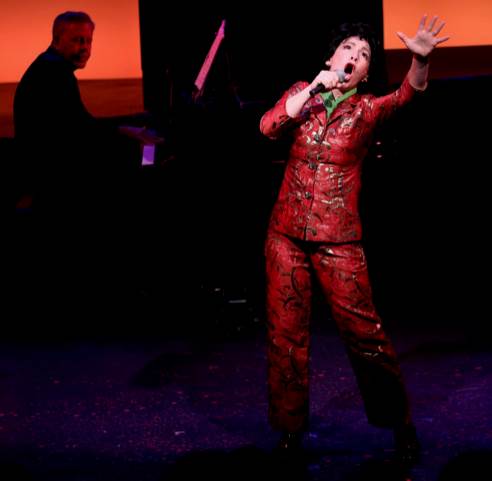 Jenny Lee Stern's "Judy Garland/Renee Zellweger" is so astonishingly good, it was hard not to jump up and stop the show with screaming applause. The Wheel of Fortune-like skit about film/books/tv that get adapted to Broadway, "It's Got to Be a Musical," and Mary Poppins guiding us to "Where the Lost Shows Go" both used their charmingly low-tech props and projections to the maximum.
Sketches lampoon such trends as inclusiveness, ( "Lin-Manuel and Billy Porter" "The Prom") and grimness (the Ferryman parody is hilarious, as is "Woke-Lahoma"), not to mention taking a classic and re-vamping it so that its creators wouldn't recognize it; West Side Story is probably pleased that Gerard Alessandrini's massive talent and wicked sense of humor hasn't been turned on it yet.
The creative team makes the whole production look like the best possible Off-Broadway production, from excellent pared-down costumes by Dustin Cross to the scenic design's parody of the typical Encores! set, courtesy of James Morgan. Gerry McIntyre's choreography is terrific, especially in the "Fosse/Verdon," and Fred Barton provides superb accompaniment, from the first note of "Fake Opening" to the end of the "Encore."
There's too much terrific in Forbidden Broadway: The Next Generation! to list, so just go see it. It's among the best 90 minutes/no intermission in town.
Forbidden Broadway: The Next Generation!
Conceived and Directed by Gerard Alessandrini
At the York Theatre Company at Saint Peter's
54th Street at Lexington Avenue, NY
Through February 16, 2020
Tuesday, Wednesday, 7:00 p.m.; Thursday, 2:30 p.m.; Friday, 8:00 p.m.; Saturday, 2:30 p.m. & 8:00 p.m.; Sunday at 2:30 p.m.
Please Note: There are no Thursday evening performances.
Tickets $67.50 - $72.50. Box office (212) 935-5820, www.yorktheatre.org