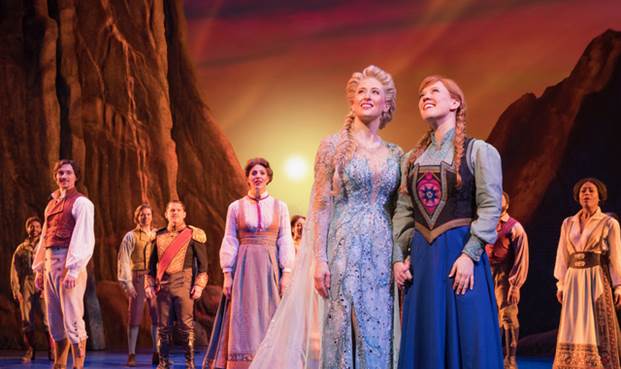 Caissie Levy, Patti Muran
                                        by Julia Polinsky
Speaking as the one and only American who never saw Frozen: The Movie, it was good to come on Frozen: The Broadway Musical from cold, so to speak. Surprise! No surprises! Basic, fantastically successful Disney format. Simple-ish story (absent parents, child who masters obstacles, grows up, and recognizes self-worth, with some boy-meets-girl thrown in); superb production values; banal songs except for Power Anthem; and did I mention superb production values?
The Disney juggernaut has so completely rolled over American popular culture that it would be foolish of them to depart from the expected. Certainly, with a movie like Frozen (about $1.2 billion worldwide grosses, in case you were wondering) you just don't make a Broadway adaptation that would mess with that kind of success.
Apparently, Disney did mess with their giant success, but did it with the original film's composer/lyricists Kristen Anderson-Lopez and Robert Lopez, and author Jennifer Lee. Director Michael Grandage, tasked with making Frozen: The Broadway Musical the same as but different from Frozen: The Most Successful Disney Animated Film Ever, makes some odd choices and interesting changes to the tale of Elsa and her powers.
Elsa? Powers?
The king and queen of Arendelle have two young daughters, Elsa (Brooklyn Nelson) and Anna (Audrey Bennett). Elsa, the elder, can magically summon and manage cold, ice, and snow anywhere, any time. Her little sister begs for a snowman in their bedroom; Elsa obliges; disaster for Anna follows. The Queen calls the Hidden People, who come and heal Anna but take away all her memory of Elsa's powers. The parents go on a "two-week" journey and are predictably lost at sea. The orphaned Elsa and Anna are raised separately, quarantined in the castle.
Patti Muran, John Riddle
Years later, on coronation day, the castle opens to outsiders, and the adult Elsa (Caissie Levy) and Anna (Patti Murin) welcome visitors to Arendelle for the first time in years. Anna meets visiting Prince Hans (John Riddle), falls in love, and about five minutes later, gets engaged. Queen Elsa objects to the engagement, unleashes her chilling powers, scares the hell out of her people, and exiles herself from her newly frosted realm to a remote, hidden ice castle. Safe and alone, Elsa belts out the power anthem to end them all.
Anna wants Elsa back, and searches through the frozen kingdom, guided by ice seller Kristoff (Jelani Alladin), his faithful reindeer, Sven (Andrew Pirozzi), and a snowman (Greg Hildreth, in a performance so charming it sparkles). In the end, of course, good triumphs, evil is vanquished, and true love solves all problems, perhaps not quite in the way you expect, which saves the show from utter banality.
Jellini Aladdin Kristof and friend
Other things that boost the show? Performances from the leads are simply splendid. Caissie Levy gives an outstanding, chills-inducing, career-making performance as cold-but-fiery Elsa. Patti Murin makes a terrific perky-bubbly, goodhearted, slightly addled Anna. John Riddle's Hans hits all the right notes, in every sense. Jelani Alladin as Kristoff does such a superb job, he doesn't even get upstaged by the warm, fuzzy reindeer or cute snowman. (Disney critters and non-human characters basically exist to upstage "their" humans and sell merchandise; snowman and reindeer toys are for sale in the aisles at intermission.)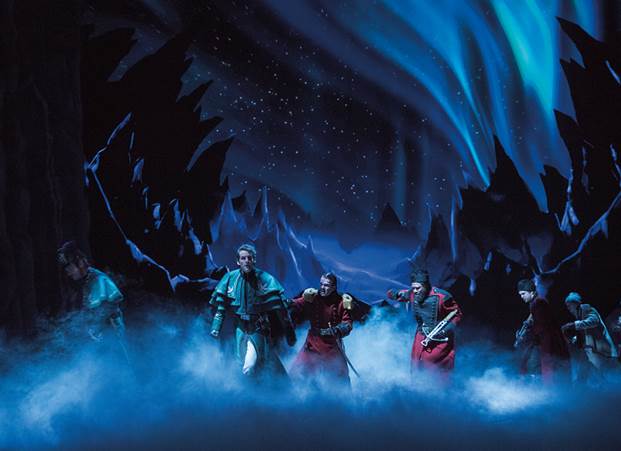 John Riddle and cast
Gorgeous scenic design by Christopher Oram mostly emphasizes the dark side of this story. The frozen world of Frozen looks craggy and scary, barring the gorgeous curtain of crystals in Elsa's northern fortress of solitude. His costume design burrows into that same darkness, differing from most Disney in the lack of candy-bright colors, not to mention naked torsos and inexplicable tails on the Hidden People.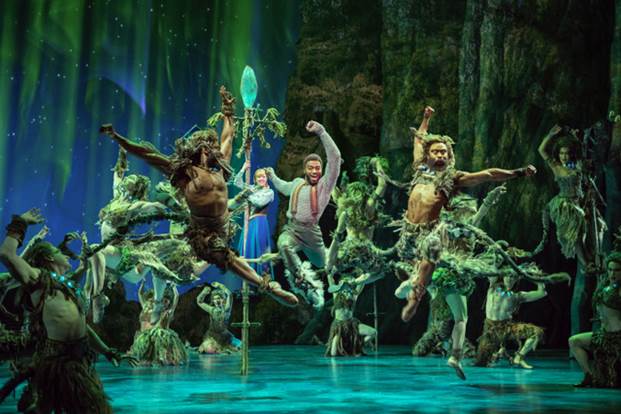 Jellini Aladdin Kristof and cast                           Photos by Deen VanMeer
Choreography by Rob Ashford falls short of his usual standard, except in the visually stunning "Fixer Upper" and the out-of-the-blue second-act opener, "Hygge," with a chorus line of "nude" denizens of the local sauna dancing with carefully placed birch branches. Sound design by Peter Hylenski, video design by Finn Ross, and lighting design by Natasha Katz are all superb.
The simple, manipulative, and slightly confusing plot, cute sidekicks, and one-dimensional main characters make for a decent kiddie show in best Disney fashion. Fairly banal songs tell the story, establish character, etc., but mostly sound so much alike that it's a relief when Elsa belts out her transformational power anthem, surely one of the best first-act closers on Broadway.
Suspend your higher faculties, forget that it's all corporate strategy designed to empty your wallet, don't look for coherent story, and the show's enjoyable as hell. Take a kid, and try to see the magic through a child's eyes. Disney Does Fun. Let it go, and let 'em.
Frozen
St. James Theatre
246 W. 44th St.
Tickets $56-299
Box office: Mon – Sat 10am–8pm
Sunday 11am-7pm
Performances: Tuesday-Saturday 8pm; Wednesday, Saturday, 2pm, Sunday 3pm
http://frozenthemusical.com/tickets/
U.S.: 866-870-2717
INT'L: +1-949-333-4001