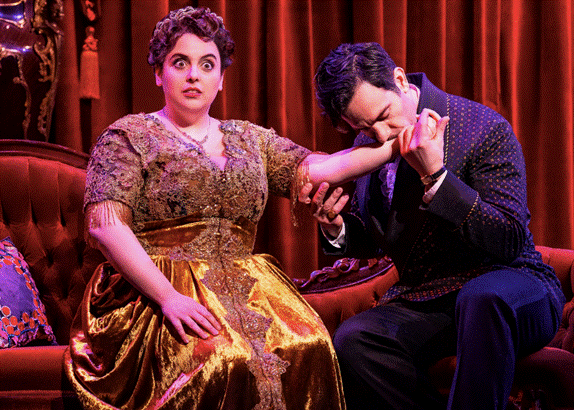 (l-r) Beanie Feldstein, Ramin Karimloo
Funny Girl
By Fern Siegel
Fanny Brice was a funny girl — a funny Jewish girl who worked in burlesque and was a headliner for the great Florenz Ziegfeld. A hit on radio, the multi-talented Brice was beloved by many at a time when ethnic humor was in demand.
Ray Stark, her son-in-law, produced the original Funny Girl on Broadway and the hit 1968 movie musical, both starring the inimitable Barbra Streisand, a perfect choice to play the singular Brice. And Streisand's legacy is tough for any performer to match.
Yet after a nearly 60-year hiatus, the story of Fanny Brice's (Beanie Feldstein) rise to fame and her doomed love affair with gambler Nick Arnstein (a charming Ramin Karimloo) is back on Broadway at the August Wilson Theatre. It's still a crowd-pleaser — entertaining, humorous and wistful. Brice, described as "a bagel on a plate of onion rolls," was always a hit on stage; but life off-stage held complications.
Many of the Funny Girl songs are now classic show tunes, including "People" and "Don't Rain on My Parade." The musical boasts sumptuous costumes by Susan Hilferty, while Harvey Fierstein has lightly revised the sentimental book by Isobel Lennart. A winner is the melodic Jule Styne-Bob Merrill score. Happily, the orchestra plays two overtures — old-school style — before each act.
Jane Lynch plays Brice's saloon-running, wisecracking mother, and she's clearly having a good time. Unlike her born-to-perform daughter, however, she doesn't boast a Brooklyn accent with Jewish inflections. However, the performance I saw had Julie Benko fill in as the lead — and she channeled Fanny Brice.
Benko ("Fiddler on the Roof," "Les Miserables") had the audience rooting for her — and her character. Her performance was captivating, and if Feldstein leaves the show, the producers have a terrific replacement at the ready. She's even got chemistry with Karimloo.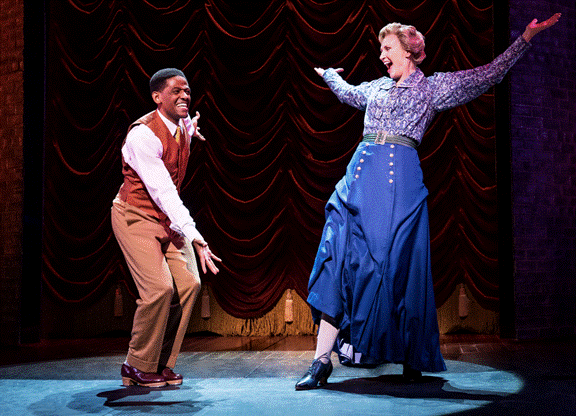 (l-r) Jared Grimes and Jane Lynch.
The original Funny Girl, it's worth noting, took liberties with Brice's story, mostly because her ne'er-do-well ex-husband, the litigious Nick Arnstein, was still alive. So the romance, which suggests the innocent Brice fell for Arnstein, a sophisticated, handsome, rich gambler with a ruffled shirt, is a stretch. Arnstein was a gambler — and a swindler — who did time in Sing Sing long before Brice married him. And far from committing crimes to escape his wife's endless successes and prove himself, as the musical contends, he happily took her money — for better or worse.
Audiences won't find those realities in the bio-musical — instead, we meet two people who enjoy a genuine, if unconventional romance until circumstances tear them apart. That's part of the pathos of Funny Girl; Fanny gets everything she wants — "Sadie, Sadie, married lady" — except marital bliss. She's not short on love, everyone from her Henry Street neighbors to Eddy Ryan, her close friend and choreographer (the amazing tap-dancing Jared Grimes), to enthralled sold-out houses nationwide, adores her.
Her talents even knock out the famed Ziegfeld (Peter Francis James), though he contends, in one humorous bit, that she gave him an ulcer.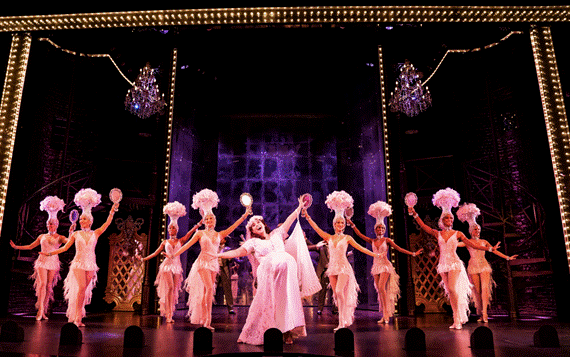 Fanny Brice (Beanie Feldstein, center) mocking "His Love Makes Me Beautiful" number.
Some of the sexual politics seem arcane by today's standards, as does the bridal pageant that touts "His Love Makes Me Beautiful." Then again, Funny Girl is a period piece. The relief is when Brice mocks the silly conventions of the male gaze and female submission, proving parody is timeless. (And why eliminating the 1920s song "My Man" was a smart idea.)
The fun for theatergoers is the totality of Funny Girl.
Director Michael Mayer fills the stage with big numbers and beloved songs, complimented by David Zinn's sets. The choreographers, Ellenore Scott and Ayodele Casel, who handled the tap elements, keep the action lively. An outsized performer, the brash, vulnerable Fanny Brice isn't easy to capture. But her story is worth telling. It remains, in whatever incarnation, tough, touching and uniquely American.
Funny Girl, August Wilson Theatre, 252 W. 52 St.
Running time: 2 Hours, 50 minutes
Tickets: https://funnygirlonbroadway.com/