Funny Girl: Trafalgar's Preview Screening of West End production
by Deirdre Donovan
It's deeply satisfying to see Michael Mayer's West End production of Funny Girl (at the Manchester Palace Theatre) in a preview screening, which will be released in cinemas across the world on October 24th. Starring Olivier Award winner Sheridan Smith as Fanny Brice, with Darius Campbell playing opposite her as Nick Arnstein, this screening ideally coincides with the 50th anniversary of the film that catapulted Barbra Streisand to stardom.
This Trafalgar Releasing venture is their latest screening of a theatre production. Their theatre slate includes The King and I: From the London Palladium starring Kelli O'Hara and Ken Watanabe (to be released 11/29 & 12/4), Michael Grandage's Red starring Alfred Molina (11/4), the Olivier and Tony Award winning An American in Paris, to mention a few.
So how does Smith fare in the title role? Splendidly. Yes, it's a tall order to step into the shoes of Brice, that Vaudeville comic from the Lower East Side of Manhattan who was determined to be the "greatest star of all."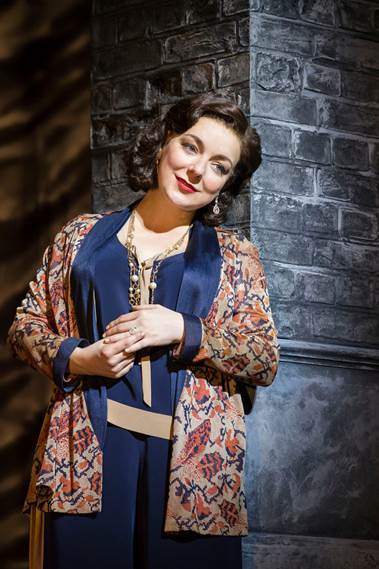 In addition, Smith must contend with the memory of her famous predecessor still vivid in the minds of most viewers. But Smith doesn't make the mistake of trying to imitate Streisand. She puts her own signature on Brice by infusing her own brand of goofiness into the part. Watching Smith play the feisty Brice is sure to have you in stitches. Whether she is standing up to producer Florenz Ziegfeld or stealing the show from glamorous starlets, Smith's Brice seems to have an endless number of comic tricks up her theatrical sleeve, and her cherub-like face exudes charisma.
Darius Campbell, as Nick Arnstein, doesn't have the same star-voltage as Smith. But he is serviceable as Brice's heart-throb and eventual husband. The stage chemistry between Smith and Campbell doesn't altogether ignite, and at times Campbell can look a bit wooden in his acting. Still, his tall physique and debonair looks are perfect for the part. And when it comes right down to it, aren't all eyes on Smith's Brice?
Jule Styne's music and Bob Merrill's lyrics are still mesmerizing--and Smith is ready to belt them out with new millennium verve. Her "People Who Need People," sung as a duet with Campbell, is mixed with vulnerability and heart-felt emotion. And if that is winning, so is her "Don't Rain on My Parade," delivered with gritty conviction and a gleam in her eyes.
Michael Pavelka's set is framed with a dioramic image of a tilted proscenium arch, which is a funny-house version of the actual proscenium stage at the Palace Theatre. Its off-kilter angle makes all of Smith's shenanigans on stage look that much funnier.
For all its jokes, Funny Girl has moments of genuine gravity and pathos. For who isn't near tears at the bio-musical's finale when Fanny and Nick part ways? The lovers who seemed like a perfect match earlier are no longer able to sustain an honest relationship as husband and wife. In fact, it seems like the only thing that matters in the end is that Fanny continue to shine her beacon of light as a comic. Or as she so aptly puts it: "That's where I live, on stage."
For those who want to see the screening of the new West End production of Funny Girl (revised book by Harvey Fierstein), under the aegis of Trafalgar Releasing, please visit www.funnygirlincinemas.com.
Running time: 2 hours; 20 minutes