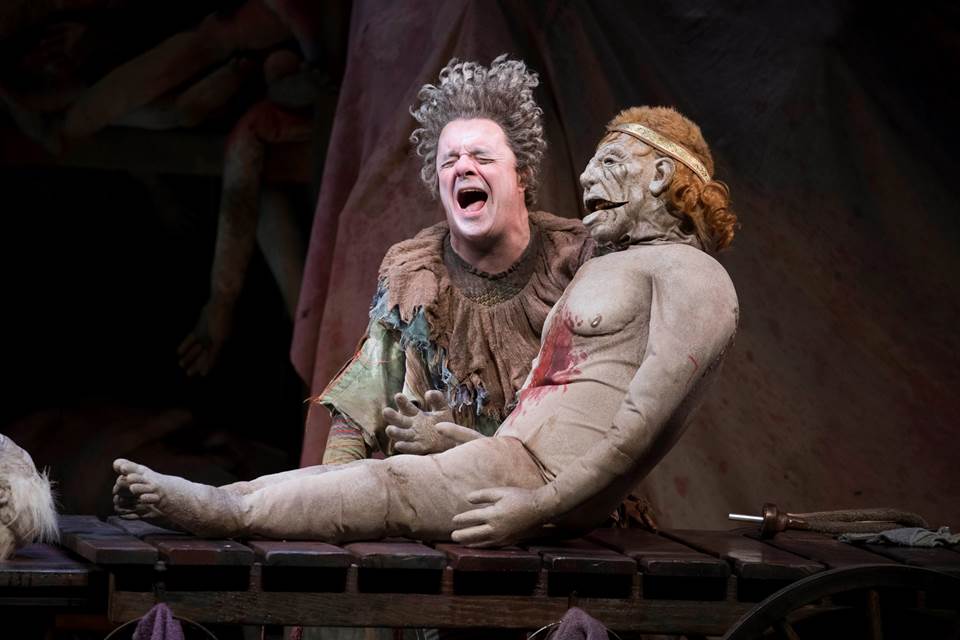 Photos by Julieta Cervantes


Gary: A Sequel to Titus Andronicus
By Ron Cohen
The corpses are piled high. They're oozing blood and other bodily liquids. And yes, as you probably have heard, Gary: A Sequel to Titus Andronicus is indeed a comedy, quite a funny one.
Titus Andronicus was one of Shakespeare's earliest plays, perhaps his first tragedy, dating back to circa 1590. It's filled with a lot of fictitious Roman Empire folks getting revenge on one another in gory and gruesome ways and was apparently an attempt – and a successful one -- by Shakespeare to gain a foothold with bloodthirsty Elizabethan audiences.
Its popularity has ebbed and flowed with the years, but for four centuries there hasn't exactly been a hue and cry for a follow-up. But that was before Taylor Mac apparently decided one was due. Mac is a celebrated bard – of downtown New York theater – and a performer as well, laden with various prizes and other acclaim, including being a finalist for the Pulitzer Prize.
Along with a portfolio of off-beat plays, Mac – who uses "judy" as a gender pronoun – has sung with Mandy Patinkin in a two-person show entitled The Last Two People on Earth: An Apocalyptic Vaudeville and got an audience to sit through a 24-hour long history of American popular music. So, why not a sequel to Titus Andronicus?
Shakespeare's Titus ends with a bloody banquet, in which dishes cooked up with human parts are served and numerous characters are killed.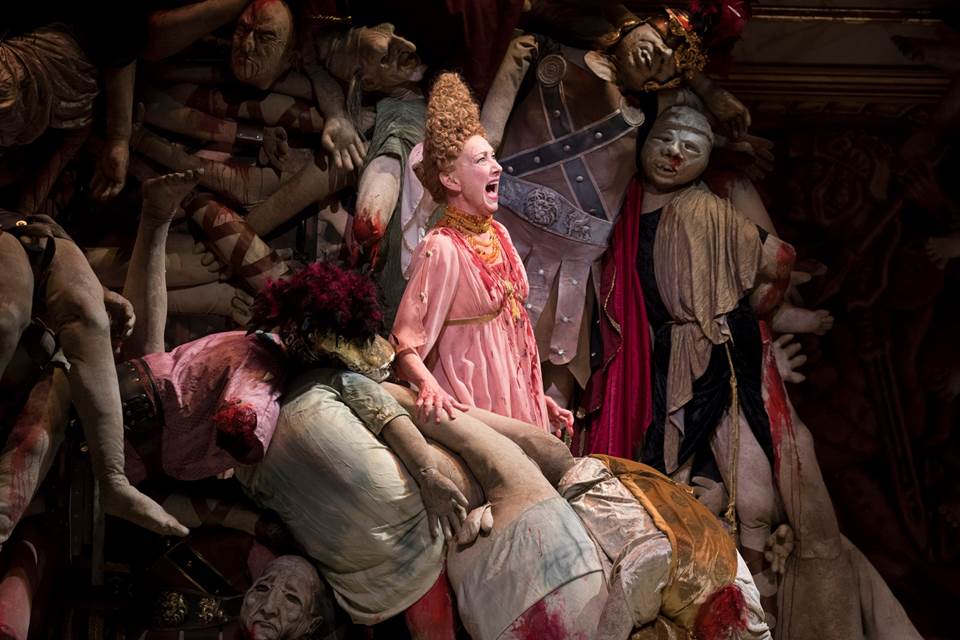 Mac picks it up from there, after a brief front-of-the-curtain prologue in which an apparent victim of the banquet delivers a meditation on sequels, with hints of what we are about to witness. Her speech is punctuated with squirts of blood from her bandaged neck. Portraying a mid-wife named Carol, Julie White, one of the three top-shelf comic actors inhabiting the play, makes every squirt a sight gag.
At the end of the prologue, she is joined by none other than Nathan Lane, in the title role and almost unrecognizable in clown makeup and fuzzy wig. Gary is a clown pressed into service as a maid to help with the clean-up in the bloody banquet hall. And in his inimitable Nathan Lane way, he gets a laugh with his first line: "A maid just enters and gets applause?/Best first day on the job that ever was". (Gary has a frequent habit of speaking in rhymed couplets.)
With Gary's entrance, the curtain rises on Santo Loquasto's incredible set, with its mounds of corpses. One of the mounds, which we learn is made up of women and children, is demurely covered. But center stage for all to see are the male naked and the dead, wondrously created from what looks like muslin cloth but nevertheless exuding the stench of violent death.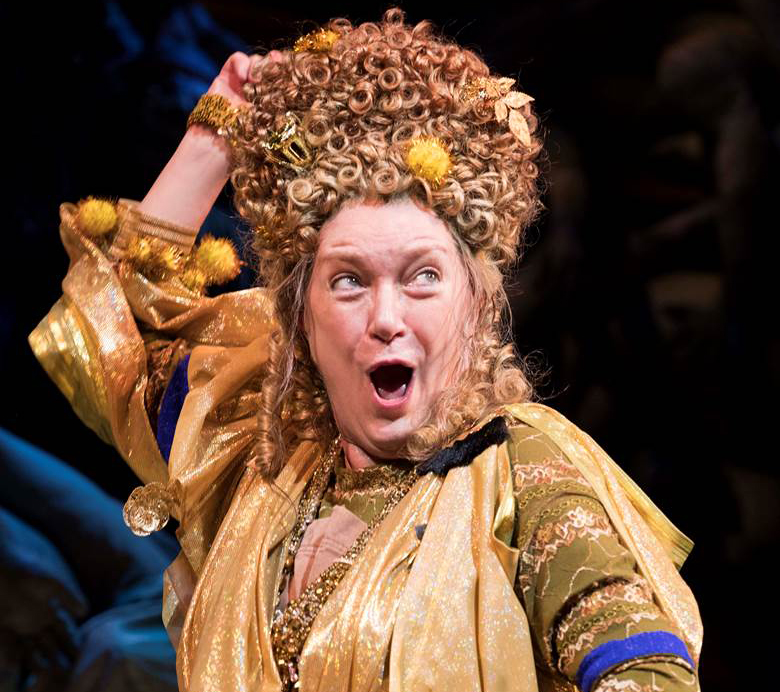 "Bit more of them than I was expecting," says Gary, who shortly is joined by the boss maid, Janice, embodied with grand bossy relish and a limitless supply of double- and triple-takes by Kristine Nielsen.
After much bickering about who's in charge, Janice gets around to showing Gary how to process the corpses, sucking out the blood, pumping out other fluids and pressing away excess gas. A rhapsody of flatulence ensues, one of the various questionable elements that director George C. Wolfe and his players turn into guffaw-getting sequences. Among other such merry moments – really, truly -- are the attempts of Gary and Janice to control White's uncontrolled hysteria over a baby she lost in the midst of the Titus Andronicus mayhem.
However, it turns out that Mac has some serious stuff in mind as well. Gary isn't content with just being promoted from clown to maid. He yearns to become a fool.  While a clown "encourages the idiotic," fools are "empathetic sorts who learn the suffering of others."
"A fool's ambition is to save the world," Gary declares. So, in addition to cleaning up, Gary sets about to put together what he calls "a fooling," a grand spectacle that will entertain those in high places and cause them to abandon their beastly inhumanity.
"The fooling," embodying help from the great mime Bill Irwin credited with "movement" and Danny Elfman's original music, is indeed something to behold with dancing corpses and swinging penises. It doesn't accomplish what Gary hoped, but, with the encouragement of a sympathetic Janice, it is at least seen as a step forward, a good dress rehearsal.
 As you've undoubtedly gathered, Gary A Sequel is not your conventional Broadway fare. So, it's interesting to note how warmly the Tony Award nominators have embraced the piece, with a total of seven nominations, including Best Play. George C. Wolfe's on-the-money direction also received a nod, and in the featured actress category, both Kristine Nielsen and Julie White were nominated. Also recognized were Santo Loquasto for his jaw-dropping set design, Ann Roth for costumes and Jules Fisher and Peggy Eisenhauer for lights.
Nathan Lane fans can certainly feel miffed that he was passed over. Perhaps, the Tony powers felt the three Tony Awards on Lane's shelf or wherever, plus a bushel of past nominations, were sufficient for one great comic treasure of the American theater.  Nevertheless, Lane should feel well rewarded with the array of laughs he is getting nightly from this bold and unusual material.
Review posted May 2019
Broadway play
Playing at the Booth Theatre
222 West 45th Street
212 239 6200
garyonbroadway.com/tickets
Selling through August 4