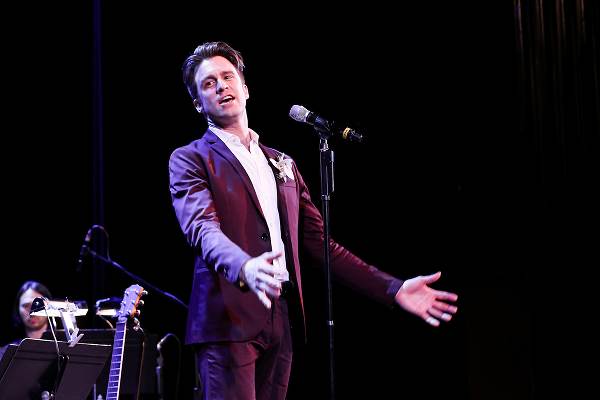 An Evening with Gavin Creel
                                  by Deirdre Donovan
.
Theatergoers recently got a real taste of Broadway at the 92nd Street Y with "An Evening with Gavin Creel" on July 17th.  The program, which was part of their popular Concert series, showcased the Tony Award winner Creel who regaled the audience with some beloved songs from the American Songbook as well as some delicious backstage stories.
Creel warmed up the audience with a silky-smooth rendering of "Somebody's Back in Town," sequed into the pulse-quickening "Something's Coming" from West Side Story, and then moseyed into Jerome Kern and Johnny Mercer's "I'm Old-Fashioned."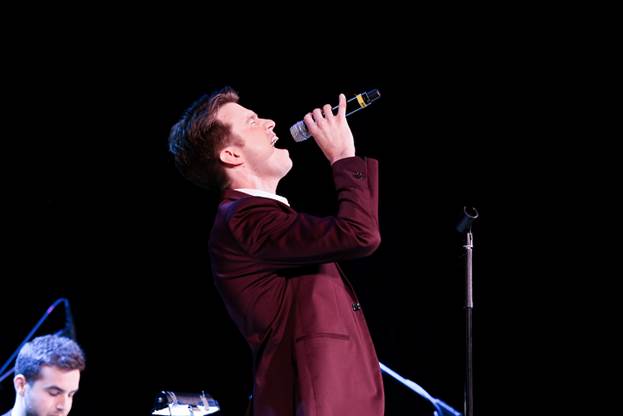 Creel's pipes were crystal-clear.  But it was his patter, interspersed among the classic melodies, that truly pulled the audience in.  He shared that he was born in Findlay, Ohio, and got bit by the theater bug while still in high school.  He would go on to study at the University of Michigan, receiving his degree from their school of Music, Theatre and Dance in 1998.
There was a pregnant pause at one point in the concert, with Creel smiling almost mischievously at the audience, as if he had a secret to impart to us.  He did.  One of his professors, he said, had a cache of recorded tapes from the 92nd Street Y's "Lyrics & Lyricists" series.  And he would have all the students play and rewind them, again and again, to inculcate upon their brains, not only the essential components of harmony, but how the masters put their signature on a song.  Although he admitted that the rigors of this course physically and mentally drained him at times, he admitted that being steeped in the American Songbook via these recordings laid a rock-solid foundation for his career in musical theater.
He imparted other things from his background that made the audience both laugh and understand why Creel has surfaced in the competitive world of of New York theater.  He confessed that he was an ardent fan of Whitney Houston growing up in Ohio and would play her hit songs, miming her distinctive voice until it sunk into the deepest recesses of his soul.
He also had a tale about his first day in New York as a wannabe actor.   He confessed that when he got off the bus, he headed straight to the McDonald's in the heart of Times Square.  And with more of a hunger for seeing Broadway shows than eating something on their menu, he planned his theater itinerary from the second floor dining room, starting with Beauty and the Beast.
Some stretches of the concert were pure fun.  Creel breezed through a medley that began with Harry M. Wood's "Side by Side," continued trippingly with Meredith Wilson's "Gary, Indiana,", flew through the novelty song "Fifty Nifty," came back down to earth with Woody Guthrie's "This Land is Your Land," and ended with Irving Berlin's beatific anthem "God Bless America." 
Although Creel hails proudly from the Buckeye state, he revealed that he always itched to go to the Big Apple.  He captured this wanderlust sentiment in his autobiographical tune "Hot Ohio," which evokes Midwest dust, scorching summer heat, humming insects, and an Ohioan who longs to up and leave it all behind.
Creel glided into more romantic terrain with a triptych of love songs, including Rodgers and Hart's "I Didn't Know What Time It Was," Hoagy Carmichael and Ned Washington's "Nearness of You," and Harold Arlen and Johnny Mercer's "Come Rain or Shine."  Yes, his phrasing was subtle, his tone was just right.  But it seemed he really introduced these numbers to shed light on the LGBTQ community.  Creel, who is openly gay, is the co-founder of Broadway Impact, the "first and only grass-roots organization to mobilize the nationwide theater community in support of marriage equality."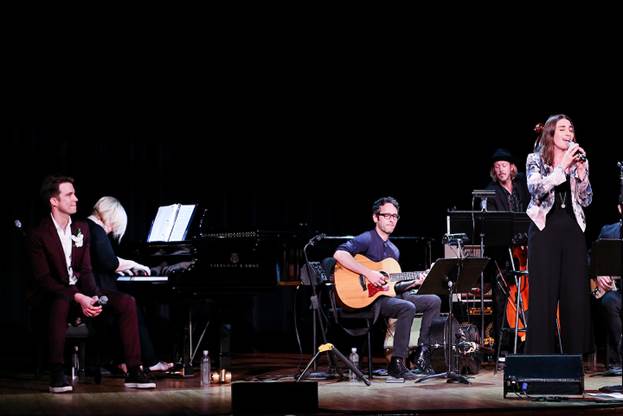 Midway through the 2-hour show Creel teamed up with guest-performer Sara Bareilles.  And the two launched into a trio of songs:  John Legend's "All of Me," Jeanine Tesori and Dick Scanlan's "I Turned the Corner," and Bareilles' own gorgeous melody "You Matter to Me" from Waitress.  These two artists in harness ratcheted up the energy of the evening and seemed to feed off each other's talent. 
Creel shared with the audience how he first crossed paths with Bareilles at a benefits concert for Cyndi Lauper's True Colors Fund and Broadway Impact.  Their chemistry immediately clicked, he said, and a friendship gradually bloomed between them.  Most recently, they have played opposite each other in Waitress.  So what's next for them?  Well, whatever it might be, it's bound to create some sizable waves on Broadway or off.
The 43 year-old Creel has become a familiar face on the Great White Way and distinguished himself as a performer time and again.  He made his Broadway debut in Thoroughly Modern Millie, which earned him a Tony nomination in 2002.  Other shows would follow, including La Cage Aux Folles, Hair (his second Tony nomination in 2009), and Mary Poppins (Creel played Bert).  He also crossed the pond and originated the role of Elder Price in the West End, winning the 2014 Olivier Award (he later reprised it on Broadway).  Back in New York, he would go on board the revival of She Loves Me.  But the role that changed his life forever would be Cornelius Hackl in Hello, Dolly!, winning the 2017 Tony Award for Best Featured Actor and playing alongside Bette Midler and David Hyde Pierce.
Creel managed to tuck in a few more backstage stories towards the show's end.  Perhaps the most endearing ones were linked to Hello, Dolly! and getting to know the inimitable Bette Midler.  He told the audience that he drummed up his courage one day and asked Midler to sign his sister's Sesame Street album that featured Midler herself singing one of the numbers.  Midler graciously agreed, even though she told Creel that she hadn't a clue what Sesame Street tune was in her repertoire.
Creel fittingly wrapped up the show with "Before the Parade Passes By" from Hello, Dolly!  Creel crooned it like a seasoned professional—and with a hint of nostalgia.
After the last note faded out, the audience applauded with genuine enthusiasm for this emigree from the Buckeye state.  Creel looked out into the audience, warmly smiled, and then dove into an encore:  Scott Frankel and Michael Korle's "Neverland."  It was the perfect ending to a near perfect show.
June 17th, evening performance.
At the 92nd Street Y, Lexington Street, Manhattan.
For more information on the 92nd Street Y's programs, visit www.92y.org.
Running time:  2 hours with no intermission.