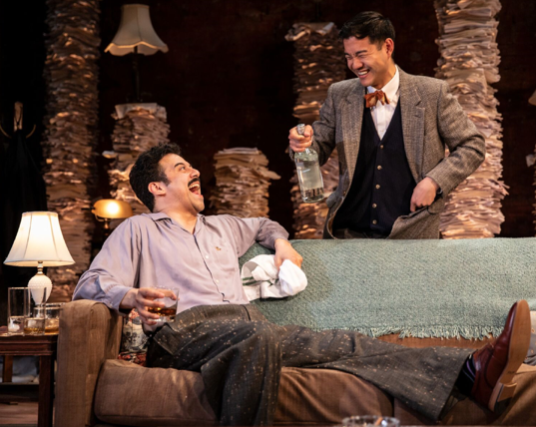 JUAN FRANCISCO VILLA, DANIEL K. ISAAC photos by Maria Baranova
                                     By Ron Cohen
In November 1944, William Inge, then a culture reporter and critic for a St. Louis newspaper, invited an emerging St. Louis-bred playwright by the name of Tennessee Williams to his apartment for an interview. The reason for the interview: Williams' new play The Glass Menagerie was about to open in Chicago for a pre-Broadway tryout. The meeting ignited a close friendship, resulting in Williams' eventually supporting Inge's long-held ambition to become a playwright.

What else happened at that meeting is pretty much lost, as Williams might say, in the forgiving fog of the past, but now Chicago-based playwright Philip Dawkins, whose Charm had a well-received Off-Broadway production last year, has delivered an imagined account of the encounter in his play The Gentleman Caller. It's an intriguing – if sometimes questionable – depiction of these two pillars of 20th Century American theater at a crucial point in their lives.

The appeal of this Abingdon Theatre Company production lies to a great extent in the performances of its two actors. Juan Francisco Villa claims the stage as the outgoing, uninhibited Southern-drawling, flamboyant Williams. With his trim but imp osing moustache and open face, he also manages to resemble somewhat the 30-ish Williams..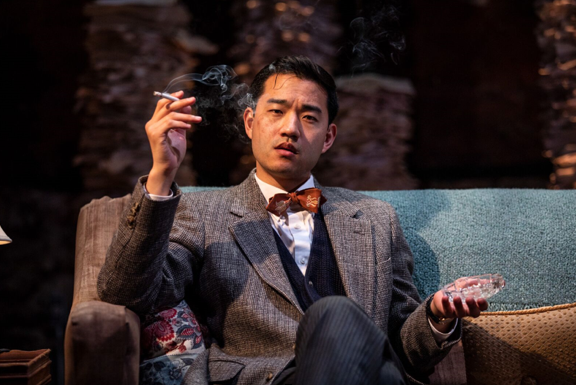 For the most part, Daniel K. Isaac as the introspective and conflicted Inge, keeps the character sympathetically and teasingly in check. The script has him given to impulsive outbursts which he then instantaneously apologizes for, a proclivity that Isaac manages to make believable.

Beyond the skepticism that fictional reportage can engender, though, the play, guided by Tony Speciale's astute direction, does register as a look into the pain and ecstasy of creating works for that cruel master, "the The-ay-tre," as Williams does indeed pronounce it here. .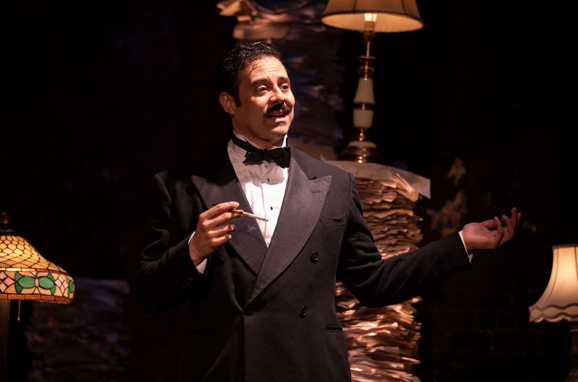 In addition to the St. Louis meeting, the play in its second act takes us to Chicago some seven weeks later. It's New Year's Eve, and The Glass Menagerie has opened to resounding critical acclaim. Inge has traveled from St. Louis to see it and is awestruck by its genius.

In a compression of actual events, Williams reciprocates by revealing that he has sent Inge's play – which Inge handed him in St. Louis – to his agent, Audrey Wood. She is willing to talk with Inge. It's a revelation that sends Inge into a joyful delirium. Williams warns him that if he does take up Wood's offer, "what has, up to this point been pleasure, will become business." Williams further in his direct address to the audience, (in a nod to The Glass Menagerie, Williams acts as narrator of the events being enacted), tells us how the two men will drift apart and of the tragic endings both playwrights will endure with their careers and reputations in tatters.

Nevertheless, as The Gentleman Caller closes, Inge remains caught up in exultation, declaring "I'm alive," as sheets of paper, presumably pages of the scripts he will write, come falling from above.

In addition to the perils and pleasures of playwriting, Dawkins places equal, if not more, emphasis on the two men's men sexual and alcoholic proclivities. There's plenty of drinking going on: Williams is falling-down drunk by the end of the first act. And the two men's lust for each other's bodies is a constant motif. The St. Louis meeting is not quite five minutes old before Inge jumps on Williams, attempting to sexually assault him. Williams is amused more than anything else, while Inge regrets it, tries to explain it away by blaming Williams: "What was I supposed to think?! You come in here, swish as can be, smelling like a one-dollar whorehouse, already half in the bag."

It's a hard moment to get past, as is the later surfeit of repetitious moments, when Williams clutches, gropes and otherwise attempts to seduce the sometimes almost-obliging, sometimes reluctant Inge. It's interesting that the production's credits include one for "fight direction/intimacy consultant."

Nevertheless, Dawkins' snappy dialogue with its ear-grabbing Williams' floridity and bitchy nuances, as well as some compelling monologues keep things in balance.

Furthermore, as catnip for theatre buffs, the proceedings are peppered with references to the works of the playwrights. In addition to The Glass Menagerie-type framing narration used by Williams, Inge talks about how he's sure his lost dog will come back, just like Lola in Come Back, Little Sheba. In the second act, Williams has slipped on a piece of Chicago ice and hobbles about on a crutch, just like Brick in Cat on a Hot Tin Roof.

Also problematic, however, is the striking but perplexing set by Sara C. Walsh. The layouts of furniture suggesting the locales of each of the two acts are surrounded by columns of sheets of papers, some of them short, some of them towering, and most of them topped by vintage table lamps. It's an obvious objectification of the play's exploration of the obsession to write, but what are the lamps doing perched on top of them? The columns themselves are also dramatically lit, making them almost a chorus of eye-grabbing distractions while the actors are working away so engagingly.

And these indeed are performances worth watching. Still, the proceedings aren't convincing enough to keep you from wondering, while it's going on, what Inge and Williams themselves would have thought about this attempt to lay bare their friendship.

Off-Broadway play
Playing at the Cherry Lane Theatre
38 Commerce Street
866-811-4111
www.cherrylanetheatre.org
Playing until May 26