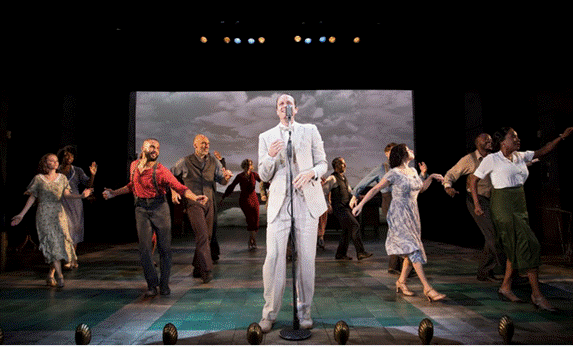 Todd Almond (center) and company  Photo: Joan Marcus
                             By Fern Siegel
For many, Bob Dylan is the poet laureate of American longing.
His lyrical expressions of yearning, heartbreak and loss have been recast as a moving new musical — Girl From The North Country — at The Public Theater.
Set in 1934 in Duluth, Minnesota, Dylan's birthplace, his cannon of hopeful, yet pensive melodies fits seamlessly into the quasi-stoicism of Conor McPherson's touching script.  Using Dylan's oeuvre, he produces an elegiac show that artfully captures the melancholy of Depression-era Midwesterners. It's a jukebox musical, but a thoughtful one.
Narrated, in part, by Dr. Walker (Dr. Joy), the backdrop is a failing boarding house run by a hapless Nick (Stephen Bogardus) and his wife Elizabeth, exhibiting early signs of dementia (an amazing Mare Winningham). Their son Gene (Colton Ryan) is consumed by alcohol and rage, while their adopted black daughter Marianne (Kimber Sprawl) is 19, partner-less and pregnant. Nick, worried about her future, tries to set her up with Mr. Perry (Tom Nelis), an elderly man of dubious character.
In fact, all the boarders are broken or lost, a slice of America battered by a failing economy, unrealized dreams and unexpected pitfalls. Their ache for connection and meaning is palpable. In 1931, writer James Truslow Adams defined the American Dream, as "life should be better and richer and fuller for everyone … regardless of social class or birth."
Such promise has eluded the denizens of Girl From The North Country.
They are a mixed collection of souls resembling an Edward Hopper painting: lonely, suffering and often displaced. Set designer Rae Smith makes the most of worn furniture and photo backgrounds of the chilly, bleakly beautiful landscape. Everyone has a story — and none is pretty.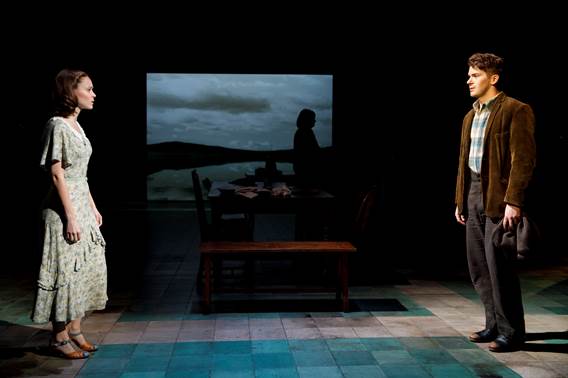 Caitlin Houlahan and Colton Ryan   Photo: Joan Marcus
Mrs. Nielsen (Jeannette Bayardelle) is waiting on money that like Godot, we suspect will never appear. Joe Scott  (Sydney James Harcourt) is a boxer with an angry tale of injustice, while the Burkes, (Marc Kudisch) and (Luba Mason), nurse a private tragedy, their son Elias (Todd Almond).
McPherson utilizes 20 Dylan songs, including "Like a Rolling Stone," "Hurricane," "I Want You," "Slow Train" and "Duquesne Whistle," that span almost 50 years. Nearly everyone gets a solo, and the voices of Bayardelle, Harcourt, and Mason rock the house. So does Winningham; her "Forever Young" is memorable.
What's impressive is hearing various vocal interpretations of Dylan's music, accompanied by a five-piece band (including Mason on drums) and period-style orchestrations by Simon Hale that are spot-on. Indeed, McPherson ("The Weir,") "The Seafarer") adopts a restrained dramatic style; he lets the music strike the raw emotional chords that define mood and moment.
The big issue is survival — be it with dignity, resignation or as a petty grifter. Rarely is the life force a motivation; it's either qualified hope for a better tomorrow or the quiet understanding that we take what comes. Circumstance, rather than choice, defines the journey of the dispossessed. Which makes this period — the early 1930s — an ideal setting for Dylan's music.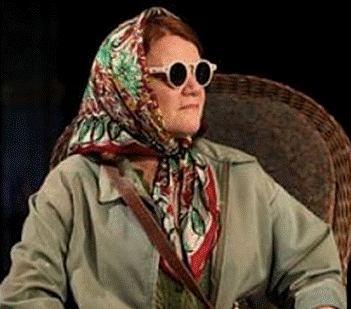 Mare Winningham   Photo: Joan Marcus
McPherson, who smoothly directs, is especially good at staging musical numbers that deliver a show-within-a-show performance. A Thirties-style microphone appears; singing and dancing prove outlets for true expression in an otherwise stark social landscape.  Winningham's fierceness and childlike dependence is deftly rendered, so is Mason's familial anguish. McPherson is blessed with a seasoned ensemble, and in brushstrokes, they paint a portrait of an America just steps away from implosion.
Girl From The North Country, which began at the Old Vic Theatre in London before transferring to the West End and now makes its American premiere. The show is a tribute to the versatility of Dylan's work and the power of endurance.
Girl from The North Country. The Public Theater, 425 Lafayette St., Manhattan
Running time: 2 hours, 30 minutes.
Tickets: https://publictheater.org/ (Through December 23)