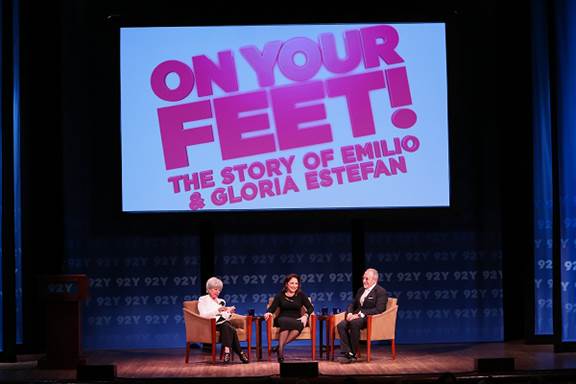 They recounted anecdotes from their personal and public lives besides the opening of the bio-musical On Your Feet
What are Gloria and Emilio Estefan up to nowadays?  In two words, Broadway theater.  With the opening of On Your Feet at the Marquis Theater on November 5th, inspired by the Estefans' life and music, the Cuban-born American couple are getting a real taste of the Great White Way. 
At a recent evening at the 92Y, as part of their "92Y Talks" series, Rita Moreno (Oscar Award, as Anita in West Side Story) served as moderator in a three-way conversation with the music icons (Together they have won 26 Grammy Awards and sold 100 million records worldwide.)  They recounted anecdotes from their personal and public lives, including how they met, the genesis of the Miami Sound Machine, and Gloria's phenomenal rise as an award-winning singer-songwriter in the 80s and 90s.
According to Gloria, music was what really brought Emilio and her together in 1975.  She recalled when she met Emilio he was holding an accordion and wearing home-made shorts that looked like they had been made out of couch fabric.  In spite of his odd-looking shorts, she immediately liked him.  And when he subsequently invited her to sing in his band called the Miami Latin Boys, she readily accepted.  Emilio nudged into the conversation here and shared that he was greatly impressed with Gloria's debut in his band and asked her to join as leading vocalist (They married in 1978.)  It was then he changed the band's name to the Miami Sound Machine.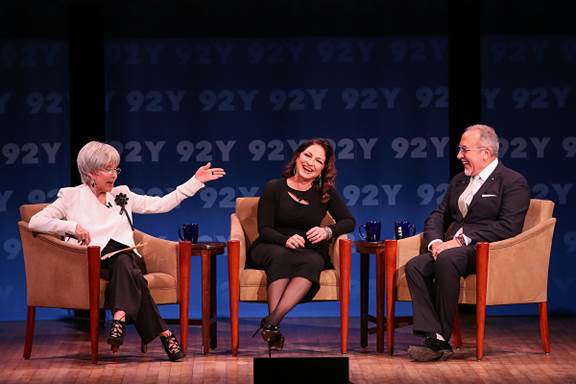 Photo credit: Chloe Apple Seldman/Michael Priest Photography
The duo then spoke about their breaks, first with Latin albums and, later on, with Primitive Love (1986) and its crossover hit "Conga," which garnered them international recognition.  They spoke briefly about their subsequent albums Let It Loose (1987) and Cuts Both Ways (1989).  And Gloria's steady rise to stardom as a solo vocalist with mega-hit songs like "1, 2, 3. . ." and "Don't Wanna Lose You Now." 
The conversation turned to other storied events in their life together.  The famous couple shared that they have met and performed for two popes, Pope John Paul II in 1995 and, more recently, Pope Francis, at the festivities before his mass at Madison Square Garden on September 25th.   Emilio, in fact, shared an amusing anecdote about how he accidentally met Pope Francis (don't ask) before the formally scheduled events were underway.  Gloria listened as her spouse colorfully related the details of his unplanned meeting with the pontiff.  But when he completed his story, she smiled and added:  "I call him Forrest Gump."
Gloria and Emilio were particularly animated when talking about the new Broadway musical On Your Feet.  They discussed the very challenging process of finding a "Gloria" and "Emilio" who could convincingly portray them on stage.  Gloria explained that they weren't looking for "clones" but performers who could interpret their lives with feeling and sensitivity.  Both of their hopes were fulfilled in Josh Segarra and Ana Villafane.   The two performers had to go through arduous auditioning sessions but ultimately persuaded Gloria and Emilio, as well as the creative team, that they could carry the lead parts.
The talk wrapped up with a Q & A session with the audience.  And Gloria and Emilio responded to each question with thoughtfulness, candor, and wit.  One audience member's question--addressed only to Gloria-- read:  "What do you know for sure?"  Without missing a beat, Gloria responded:  "That I love life!"
Moreno fittingly wrapped up the star-dusted conversation there.  And the audience slowly exited onto Lexington Avenue.
92Y Talk with Gloria and Emilio Estefan, Monday, October 19th.
 At 92Y, 1395 Lexington Ave, New York
Lexington Avenue, Manhattan.
For Upcoming 92Y Talks,  phone (212) 415-5500 or visit www.92Y.org