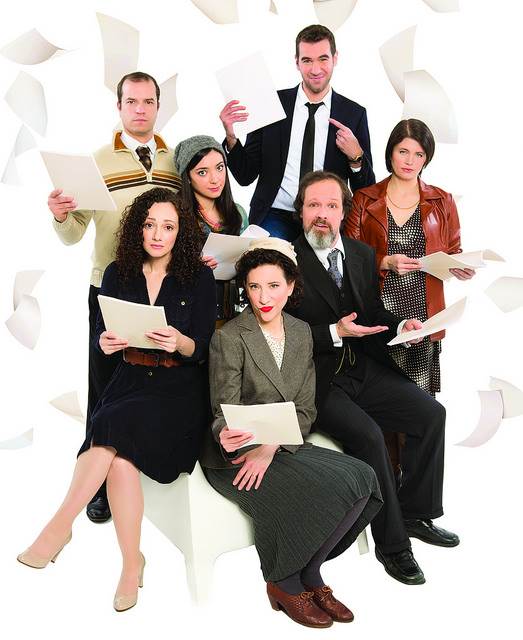 Photos by Jeremy Daniel
                                    by Arney Rosenblat
Though Goldstein is a musical parable about three generations in a Jewish family, the immigrant story it tells crosses race, religion and cultural lines achieving a universal truth reminding the viewer that we are the legacy, like it or not, of all those who have preceded us.
The story of the Goldstein family is told by the patriarch's grandson Louis, engagingly played by Zal Owen, now grown into a Pulitzer-Prize winning author who reveals his family's legacy in a tell-all memoir to which remaining relatives take umbrage.
Mr. Owen as Louis anchors and narrates his family's story (playing several other roles along the way), which begins with his grandmother Zelda's steamer journey across the ocean from Russia to stay with her brother and sister-in-law in Manhattan as she seeks to make a new life for herself in a new world, a journey where she drops a few years off her age so she won't be thought "an old maid."  Zelda, played with strong grace and underlying vulnerability by Amie Bermowitz, is forced to make tough decisions along the way while getting out from under her abusive sister-in-law by deciding to marry a kind but basically unambitious man when she believes her true love, who she met on the boat, abandoned her, creating a thriving dress business, and raising two children. All this makes Zelda iron willed and family focused even after she learns what actually came between her and her lost love, the man on the boat.
What the play Goldstein manages to nail beautifully is the meaning of a family's legacy. How stories when passed down through the ages are done so through the prism of the teller. Facts lose context, are sometimes misconstrued or ignored, and intentions, though well meaning, not well conceived.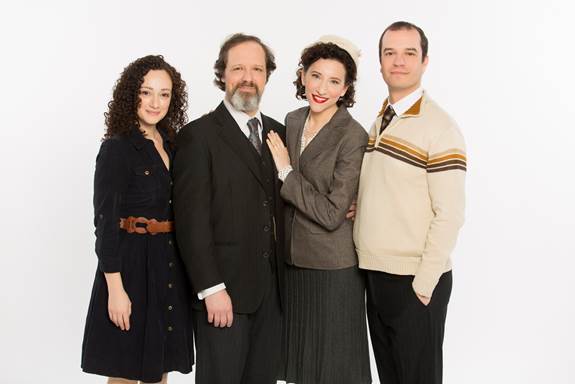 Megan McGinnis, Jim Stanek, Amie Bermowitz, and Aaron Galligan-Stierle
A case in point is the life of Louis' aunt Sherri, movingly portrayed by Megan McGinnis, who in the 1940's wanted to become a doctor and had the grades and intellect to do so to the consternation of her parents., who might see her as a nurse, if she had an interest in medicine, a position where she could meet and marry a doctor. Says her father, Louie, Jim Stanek capturing the dissolution that often follows an immigrant's blind optimism, "If you spent even half as much time trying to find a husband as you do with those books, you would be out of the house by now." However, when Sherri's brother, and subsequently Louis' father, Nathan, a down-to-earth Aaron Galligan-Stierle, announces he wants to pursue a medical career, their parents are thrilled.
The news is a prelude to one of the play's most touching songs in which Sherri ruefully resigns herself to the reality, "Boys want. Boys Get. Girls sit looking. Boys have commerce. Girls have cooking. They get the office chair. We get the ma and pa. We get the coupons cut. They get America."
Nathan's decision to realize what was actually Sherri's dream becomes his ticket out of the family's dress business and his pathway to meeting Eleanor, a vibrant and charismatic Sarah Beth Pfeifer, a strong willed woman reminiscent of Louis' grandmother.
A humorous side-note to Sherri's unfulfilled dream of becoming a doctor occurs when Nathan suggests that Louis' sister Miriam, a delightful Julie Benko, might want to become a doctor and she dismisses the idea with "I don't really like being around sick people," her life dreams leaning more toward marriage and motherhood. This leads to another show tune highlight at Miriam's wedding when Miriam and Louis, who has told his parents that he is gay, reminisce over their divergent perceptions of Nathan and Eleanor in "Have You Met My Parents."
Charlie Shulman's story is a familiar one crammed with stereotypes but one has to remember that individuals become stereotypes for good reason and everyone in the audience is likely to recognize in Goldstein one or more of their own family members. Brad Rouse's direction and Alexander Woodward's scenic design provide a serviceable framework for the unfolding action.
Michael Roberts' music and lyrics lean toward Broadway fare achieving varying success, with the spot-on acerbic "Visiting Your Mother" topping the list being perfectly executed by Sarah Beth Pfeifer
Goldstein is a heartfelt trifle and pleasant interlude. As in life, we do what we think is "for the best" sometimes forgetting "all our choices have their consequences." Still love, even misguided love, connects and defines what becomes the concept of family.
Goldstein: A New Musical About Family
Actors Temple Theatre
339 West 47th Street
212-239-6200
90 Minutes
Open-run