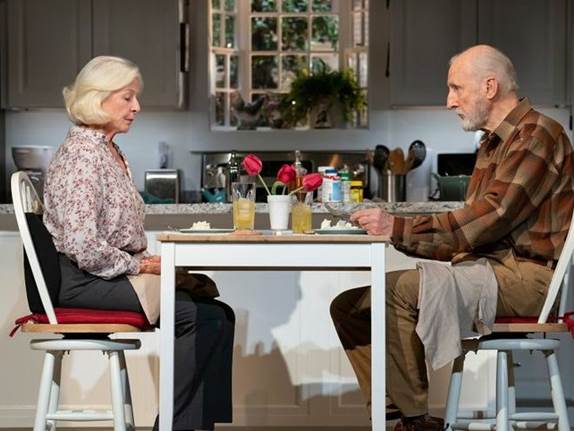 Jane Alexander, and James Cromwell Joan Marcus
Grand Horizons
                                   by Eugene Paul
Carole Rothman, artistic director of 2ndStage has done us an enormous favor by braving the winds of juke box musicals currently sweeping  through town and bestowing  upon the Great White Way a mostly comedy – New Yorkers love to laugh – family dramedy with a beginning – oh what a beginning – middle – oh what a middle – and end the way plays have always meant to be.  And especially for giving  knockout Jane Alexander the role of a lifetime, deeply touching.  But who knew she was so hilariously funny?
Playwright Bess Wohl has provided the absolutely stellar cast with a Tesla of a vehicle but it's pretty clear that they've made playwright Wohl's play gleam like a Tecla pearl and that means the driver of this  delightful, sparkling  show, dazzling director Leigh Silverman, has a second outing as bright as her first – think Soft Power – in the same season. And it's still early!
You get a woefully telling panorama of Grand Horizons, , the retirement village community  that Nancy (wowsome Jane Alexander) and husband Bill French (A-One, surprising James Cromwell) have retired to before we get into the workings, thanks to wise projection designer Bryce Cutler who later supplies a smashing—pun intended – follow up. Wryly pertinent designer Clint Ramos takes it from there: we're inside  the overstuffed retirement residence of Nancy and Bill. They're  setting up their meal together in the nicely equipped kitchen- dining-living area, making the edibles, filling their plates, setting the table, silently, smoothly, obviously old habits self choreographed by the two of them. They've been married for fifty years.
After her first mouthful, Nancy says quietly, simply, "I think I want a divorce."
Bill finishes chewing his mouthful in the silence of that declaration, swallows, and says, "All right". And continues eating.
Which, outside of some startled burst of laughter, presents us in the audience plenty to chew on ourselves.  And that's the way it should be.  Nancy, perfect wife and mother, is eighty if she's a day.  Bill's a long retired pharmacist. Not too joky, that.  Maybe that's why he's taken one of the Grand Horizons wealth of activities, a stand-up comedy class.  Something to do. Nancy does old clothing drives for refugees.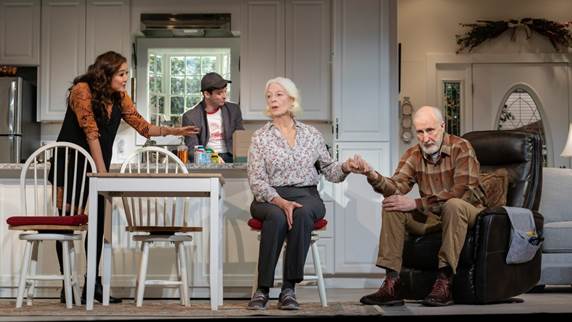 Ashley Park, Michael Urie, Jane Alexander, and James Cromwell Joan Marcus
Their children, Ben and Brian, (brilliant Ben McKenzie) and (over the top Michael Urie) are wild at the news.  Somewhat cooler is Jess (splendid Ashley Park) Ben's very pregnant wife, but all of them are bound and determined that this obvious insanity simply cannot be allowed to happen. Almost relentlessly, Nancy and Bill , determined, pick apart the material pieces of their half century marriage and along the way shred decades of taken for granted conceptions.  Which includes their relationships with their children.  Shrieks of laughter all the way  by an audience which finds itself squirming once and again and tearful once and again and wondering what's going to happen again and again. Playwright Wohl is a damned good craftsman.
There's the reversal: the dazed children  bracing their parents, challenging them, castigating them, treating them like children. Take for instance older son Ben demanding to see his father's cell phone and an audience reaction of a silent Damn! No!
But it's Ben, the lawyer son, whose summation of their lives, all of them, as white picket fence lies which shatters them – and us – opening up a potentially unbreachable chasm that throws a bald, baleful light on the fun which is no longer fun.  There isn't a more smashing first act curtain on Broadway. Then, pay close attention to the pre-second act projection of that gated marvel of a community Grand Horizons.  It's worth it.  If at first there seems not to be anything different take another look. Aha. You'll be laughing out the other side of your face.
I enjoyed Maulik Pancholy's  stint as Tommy, the disastrous hookup  Brian brings back to his parent' house late night after the bombshell announcement by his Mom.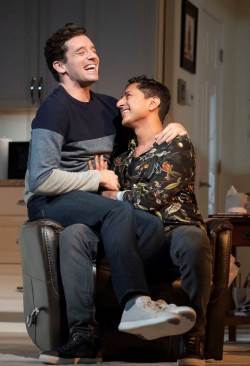 Michael Urie,  Maulik Pancholy
 And Priscilla Lopez as Carla, presumably Bill's fling on the side who does a little flinging of her own. But far and away, it's Jane Alexander, blue mouthed and free, utterly beyond type, that rings our chimes. Long may she dingaling. Long may they all. Linda Cho's costumes suit them to a T. Jen Schriever's lighting adds  balm and brio, Palmer Hefferan's sound design is artfully effortless. Broadway smiles.
Grand Horizons. At the Hayes Theater, 240 West 44th Street. Tickets: $59-$199. 212-541-4516. 2hrs 15 min. Thru Mar 1.