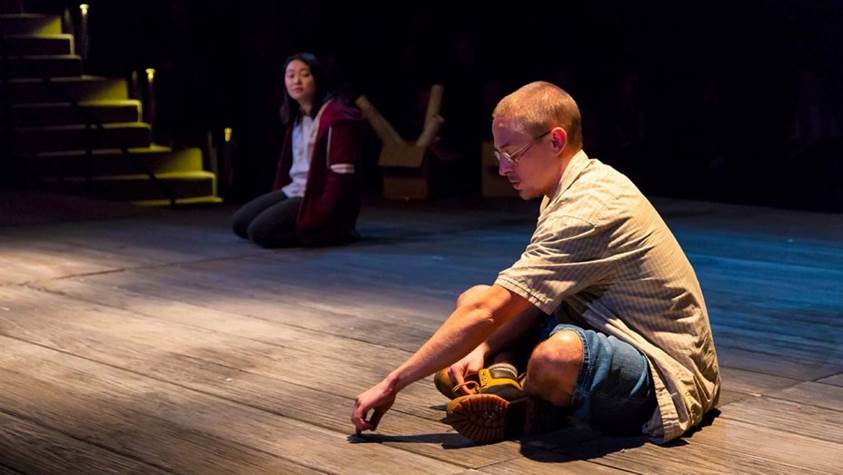 Courtesy of T. Charles Erickson Haley Sakamoto and Edmund Donovan in 'Greater Clements'
Greater Clements


                                     By Marc Miller

Most new plays these days, it seems, are either an hour and a half or three hours. There's not much in between. Greater Clements, Samuel D. Hunter's drama, is the latter, and it might work better if it were the former. Hunter, a chronicler of anomie in Idaho—his plays include Pocatello, A Bright New Boise, and Lewiston/Clarkson—knows his subject well and conjures up some potent commentary on the forces eating away at traditions and the economy in the American Northwest, as well as some affecting family drama. But he sure draws things out.
It's an elaborate production for the Mitzi Newhouse, with a set by Dane Laffrey dominated by a platform that hangs out of sight above the stage or drops down as needed. It's also a metaphor for the elevator in the adjacent silver mine. For over a century the mine was the lifeblood of the titular town, a venue for hot, back-breaking, dimly lit, and far from safe employment. A 1972 fire killed 81 workers, but the mine quickly reopened and struggled for a few more decades, finally closing in the mid-Aughts. Clements has been slowly dying since, and the main street is now, in 2017, mostly boarded up, except for the café and the mine museum, run by Maggie (Judith Ivey), a tired sixty something local with a troubled, unstable son, Joe (Edmund Donovan). Does that seem like enough plot? It's just the beginning.
What a lot of history Hunter confers on this sad moment in time. The museum is about to close, a victim of both its dubious tourist appeal and the fate of Clements, which has just voted to unincorporate itself. That becomes the source of a rift between Maggie and her friend Olivia, overacted by Nina Hellman, a busybody who fills her empty hours by spreading gossip. A years-ago conflict between the two involved Joe beating up on Olivia's unseen son, which may have contributed to Joe's untethered emotions. Donovan, in a blazing performance, conveys from the start that Joe isn't quite right, rushing his words, begging approval from those around him, and acting with his whole body. Watch him slash the air with his hands to make a point, or crumple in despair at his inability to change. Joe has, we learn, the social intelligence of a 15-year-old, and at 27 he has a lot of past and no future.
He's good at one thing: Giving tours of the mine. And here's a willing audience, in one of several unlikely coincidences Hunter sets up: Kel (Haley Sakamoto), the granddaughter of Billy (Ken Narasaki), a Japanese-American flame of Maggie's from high school who just happens to be passing through. He's taking Kel to "mock legislature," a school exercise where students propose state laws, and he'd like to rekindle that flame with Maggie, the racial tensions of a half-century ago having cooled.

CREDIT: T. CHARLES ERICKSON
Judith Ivey, Ken Narasaki,
The teenage Kel is smart and morose, dealing badly with an impossible alcoholic dad and the pressures of too many expectations from loved ones. So when Joe tells her about the long-closed, mile-deep mine tunnel, she sees a way out of everything. The second act (there are three) ends on an ominous portent about that, which quickly turns anticlimactic in Act Three.
There's still more backstory, but you don't have to know it all. And Hunter didn't have to write it all. Does it really matter that Maggie's husband left her years ago for another man? Does Olivia have to be so annoying? We find out that Maggie has a sister almost at the end, why has Hunter been keeping her from us (or why did he bother putting her in)? And when you establish up front that Maggie's phone is faulty, you have to pound it to get a signal and even then it doesn't always work, don't you just know that that's going to be a plot point at a crucial moment?
The most interesting character, by far, is Joe—he's simultaneously unpredictable, goodhearted, and scary, with a medical condition I never heard of and find hard to believe—and Donovan fleshes him out masterfully. Joe's fate, however, doesn't come as a surprise. Ivey, away too long, is an anguished, sensitive Maggie, protective of her difficult son and not much concerned with anything else. Billy's something of a cipher, slow to anger and over-affable, and Narasaki can't do much with him. Sakamoto gets Kel's teenage impatience and self-absorption, and there are worthy contributions from Andrew Garman, as Clements's entire police department, who longs for the good old days when troublemakers could just be
slapped around, and Kate MacCluggage, as a last-minute museum visitor who serves to wrap things up.

Nina Hellman, Judith Ivey, Ken Narasaki, Edmund Donovan and Andrew Garman

"Everything's changing, the town's falling apart," laments Olivia, and that's a fair summary. A lot going on here: Economic decline, families striving to stay just this side of functional, the aftermath of racism, the intricate relationships in a small, plain-spoken town, the consequences of severe emotional duress. It just has too much air baked into it, too many elements that don't lead anywhere. Davis McCallum directs it efficiently, with some overlapping dialogue that at least cuts the running time, Kaye Voyce's costumes are suitably Target off-the-rack, and Yi Zhao's lighting is quite expressive.
It's not like Hunter doesn't make us care, but his ambitions do fall a little short. He seems to have envisioned an epic look at social and economic forces sweeping the plains, and he achieved an overlong situation drama. It's been such a good season so far for new plays—The Inheritance and Linda Vista and The Sound Inside and the remarkable Halfway Bitches Go Straight to Heaven, for starters—and maybe in a lesser season Greater Clements would resonate more. But much of the time it just lies there. One theatergoer was heard to remark as she exited the Newhouse, "Well, that could have used some editing." Bingo.
Review posted December 2019
Off-Broadway play
Playing at Lincoln Center Theater at the Mitzi E. Newhouse
150 West 65th Street
https://www.broadwaybox.com/venues/mitzi-e-newhouse-theatre-lincoln-center/
Playing through January 18
Running time: 2 hours 55 minutes