Photos by  Parker Sargent
                                                     By Parker Sargent
If you've ever been to a Hedda Lettuce show, you know her style…she's brassy, thoughtful, cutting edge and if you find yourself in her satirical gaze, she can seem a little cutthroat. But the fabulous thing about Hedda is that it all comes from a place of campy and vampy fun. She saucily reaches into the audience to pluck out patrons to poke fun at and still is able to make them laugh, because with this crowd the jokes come from a place of fellowship and history.
The seats were filled with locals and lovers of Hedda at this charity event for the Arts Project of Cherry Grove, which at times made the show seem like a candid discussion with an old friend. She knows this audience and she knows the Grove...the faces, the places…and she may even know where a few of the bodies are buried.
Gleefully playing, Hedda finds familiar faces and interacts with the crowd, knowing full well that they may bite back. At one point she quips, "And there's Lavinia Draper, Cherry Grove's oldest hooker" and Lavinia sparks back, "When does the movie start". After thoroughly embarrassing most of the first three rows, the lineup continues with naughty numbers that could make May West blush, yet Hedda delivers them with power and style.
But it's not just sexual puns and punch lines; the sassy blue humor is interwoven with genuine moments of high-class entertainment. What would Lucille Ball have been like if she came to visit The Cherry Grove Community house? Could Joan Crawford work the crowd and spoof the audience members so skillfully? You find yourself feeling as the though you're watching one of these classic screen sirens letting her hair down and unleashing the "not safe for television" version of themselves.
While Hedda can have you rolling with well crafted music parodies and scathing audience banter, she has everyone silent and emotional when the lights are turned down and she's sharing a touching song she wrote about the trials of being a child with ideas of gender bending, but feeling so alone and segregated from a world that is dictating rigid rules of normality and sexuality.
"All day long I just sit and stare at the boy in the mirror with the brown hair
And I'd look into to his eyes and what do I see, a little boy who wants to be free
All day long I'd just sit and stare at the queen in the mirror with the green hair
And I look into her eyes, what do I see? A little boy, looking back at me."
Hedda poignantly ponders the life of an outcast, bringing the show to a quiet roar as the audience hangs on her sad, yet seductive voice.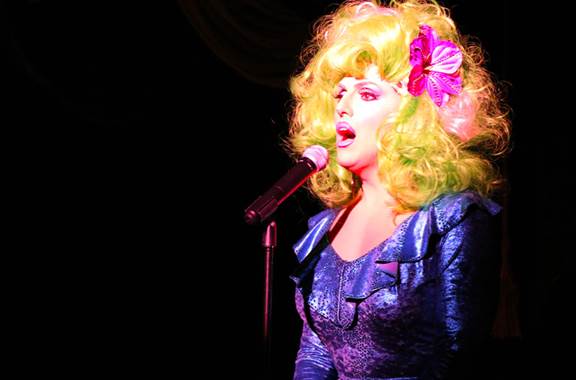 Just as easily as she can set the scene to somber, this green Goddess can instantly fill the room with such lightness you feel like you're floating.
Along with her musical director Steven Anthony, Hedda saunters her way through songs, comedy routines and audience improvs, while he plays her straight man one moment and the next he becomes the master of the melodies that drives her locomotive of laughter.
In "Jesus Take The Wheel", Hedda slams her hand down on the piano in a dramatic panic when her drunk driving co-pilot isn't as dependable as she thought.
"Jesus watch out for that dee,r it's right in front of you
You just hit a van of nun's, bodies black and blue
Holy sh*t sweet Jesus, you just missed the ice-cream man
Oh my god sweet Jesus, we're ramming into a parked sedan"
From the moment the show started until the very end, she captivates the crowd that all came out to support the Arts Project and to celebrate the Queen of Green.
Hedda says it best in her opening number, "she's gorgeous, she's glamorous…she's fascinating, she's titillating…she's easy, she's sleazy…NOW YOU'VE GONE TOO FAR!"