Kristine Nielsen, Tom Phelan              Photos: Joan Marcus
                                 by Michall Jeffers
Every now and then a play comes along that's so specific, people either love it or hate it. This season, we have HIR. Burning topics of the day are pushed to the extreme; the audience either roars with laughter, or sits in bewildered silence.
Somewhere in a lower middle class suburb of an American city, there is a house of chaos. Clothing is strewn everywhere. Dirty? Clean? Who can tell, and it's obvious that no one cares. Furniture, such as it is, lays about; upright, overturned, it doesn't matter. There are old Christmas decorations, and dozens of ugly chotchkies. The door is blocked with junk. Most disturbing of all, the father of the household  sports extreme make-up, a dress, and a multicolored fright wig. His obviously deranged wife keeps shouting at him, repeating commands over and over again.
Into all this, a disgraced Marine is returning to what he has dreamed of as home. He finds his abusive father has had a disabling stroke, his mother has become a fanatical uber Feminist, and his younger sister is now transgender.
Director Niegel Smith, playwright Taylor Mac, and scenic designer David Zinn have left no doubt that this is a family in crisis. If there were any question at all, costume designer Gabriel Berry has clinched the deal with outfits that spell out the turmoil within every character. This is situation of utter despair, a family on the edge of destruction.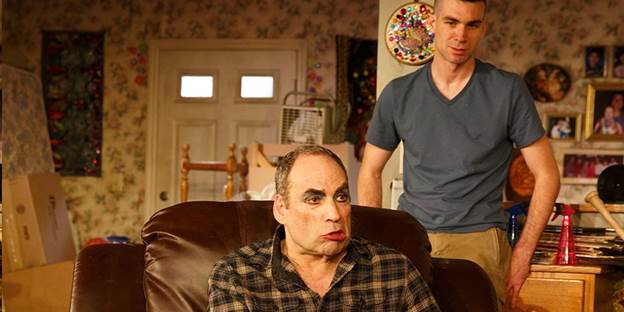 Daniel Oreskes, Cameron Scoggins

Every actor plays the assigned part to perfection. Kristine Nielsen is Paige, the mother who is alternately a vicious harridan bent on humiliating the husband who has made her life a living hell, and the zealous cheerleader of her son-turned-daughter. She says of her wreck of a home "We were getting rid of things and stopped caring."  She keeps on the air conditioning full time, even though she concedes that the house is freezing. She considers herself "eccentric but not insane,"  but she is, in fact, maniacal. A victim of abuse, she has now become the abuser, taking full advantage of the fact that her husband Arnold (Daniel Oreskes) no longer has control of anything, including his bodily functions. Paige taunts him, bullies him, and enjoys thoroughly emasculating  him. She feeds him shakes laced with Estrogen to keep him docile; he sleeps in a box. She flits around the room speaking in a shrill, squeaky voice until she puts down her foot in earnest. Then, Nielsen lowers her tone to an ominous growl, and leaves no doubt who's in command.
Cameron Scoggins portrays Isaac, the older son who has been dishonorably discharged from the Marines, as a broken man who's trying to get whole again. He was caught using Meth in a unique and rather disgusting way, and after three years on duty in the Middle East, his major souvenir of the experience is a proclivity to vomit into the sink on the slightest provocation. His job was on mortuary detail; he took to heart the task of making sure that the loved ones of soldiers who were blown to bits at least got the remains for burial. Although he knows his father was a cruel tyrant, Isaac stills strives to give him a modicum of dignity. He is, after all, a man. He's initially thrown by Max's new appearance, but he does still care about his sibling, and tries to shape him up by trying to get him spick-and-span, Marine style. Scoggins is handsome and sexy; he brings to mind a young Lou Diamond Phillips. Just as Nielsen provides most of the humor that colors the play, Scoggins is a surrogate for the horror the audience feels.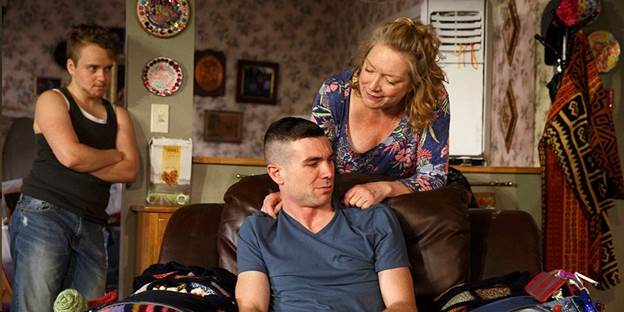 The most sympathetic character is the transgender Max, brought to life by Tom Phelan. If there is a heart in this story, it beats in the chest of this new man. Max is coddled by his mother to the point where he hardly exists as a separate being. Paige has not only become his biggest supporter, she fairly usurps his gender issues for her own needs. Phelan brings a real sweetness to a teen who is being home schooled, who yearns to join a commune of anarchists, and whose favorite pastime is masturbation. While his mother blames Cheetos for his transformation, and his brother's hopes for "cookies and a banner" have been dashed, Max tries to maintain his equilibrium. When he's upset, he does pushups. He tries to believe that, as Paige insists, "We're doing great." He pronounces Noah's Arc is transphobic, due to the concept of the animals being one of both sexes. He insists that the Mona Lisa is transgender. He has formulated, with his mother, a list of personal pronouns; HIR, as posted on the fridge, is a combo of "his" and "her." Max must be referred to as "ze." While Paige is his great ally, he becomes more and more inclined to follow the direction of Isaac, and dares to tell her "Give me my process time!" Confused as he is, Max takes refuge in the notion "I'm allowed to be selfish because I'm in transition."
The audience knows from the first that there's something about the situation that is unspoken, and that this family is a volcano getting ready to erupt. Spectators have walked willingly into a nightmare. It's up to us to decide whether or not we feel like enjoying the long day's journey.
There are many important questions raised. What makes a man a man? Do we choose to show kindness to those who have not been kind to us? Does our treatment of them have to do with who they were or who we are? Just because we're related, does that make us a family? What makes a play a comedy? And not the least of it all, why do we laugh even though we know a situation isn't funny?  
HIR, Playwrights Horizons, 416 W. 42 St., 212-279-4200, playwrightshorizons.org 2 hours; Production extends two additional weeks through Sunday, December 20 through 11/29/15

Cast: Kristine Nielsen (Paige), Daniel Oreskes (Arnold), Tom Phelan (Max), Cameron Scoggins (Isaac)
Director, Niegel Smith; author, Taylor Mac; Scenic design, David Zinn; Costume design, Gabriel Berry; Lighting design, Mike Inwood