H.M.S. Pinafore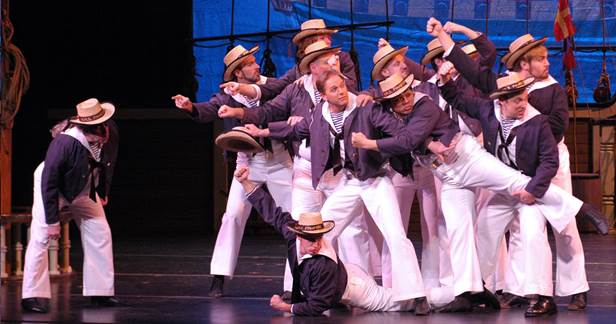 R: Louis Dall'Ava (far left) and William Whitefield (pulled by sailors) in H.M.S. Pinafore
Photo: Noah Strone
                                                  by Deirdre Donovan
 H.M. S. Pinafore sailed into NYU's Skirball Center in late December under the steady hand of Albert Bergeret., the founder and artistic Director of the New York Gilbert and Sullivan Players (NYGASP).  Those who dropped by to see the new outing of the comic opera might have marveled at how the Savoy tradition—with a few contemporary twists--is a hand-in-glove fit with our culture today.  Beyond its social and political savoir faire, who can resist the peddler "Little Buttercup?"  Or the exalted Sir Joseph Porter?  Or the ugly truth-teller Dick Deadeye?  Or the lowly sailor Ralph Rackstraw?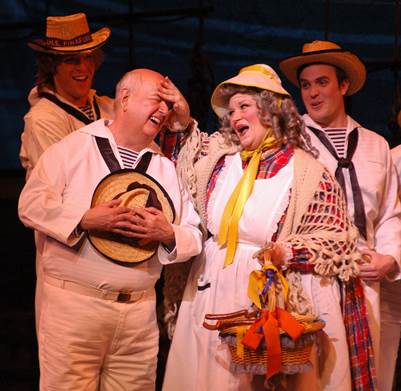 LtoR: Alan Hill and Angela Christine Smith with sailors in H.M.S. Pinafore
Photo: Noah Strone
The satire begins with the well-bred Captain Corcoran and his crew on board the H. M. S. Pinafore, preparing for the visit of Sir Joseph Porter, first Admiral of the Queen's Navee." Captain Corcoran's young daughter Josephine enters, and in a tête-à-tête with her father, reveals that she is head over heels with a sailor named Ralph.  This creates all kinds of ripples—and many an eyebrow to raise (Remember that "upward mobility" wasn't an option for the respectable and hadn't been coined in the Victorian period!)  Realizing the world she inhabits, Josephine first pretends that she isn't in love with Ralph.  However, when the haughty Sir Joseph actually arrives on board and becomes a suitor for her hand, she eludes his romantic advances and has a secret rendezvous with Ralph, revealing that she honestly loves him.   The couple plan to elope.  And, as the course of events unfold, and naval occasion rises, the complex subjects of love, marriage, money, and social status are bandied about in the wittiest of arias, recitatives, ballads, and ditties.  The opera, of course, eventually shows that all that "glitters is not gold," and that social station can go topsy-turvy (when Little Buttercup has her final say!). Indeed titles peel off like old paint at its denouement and new titles get painted on--with an ironic and colorful twist.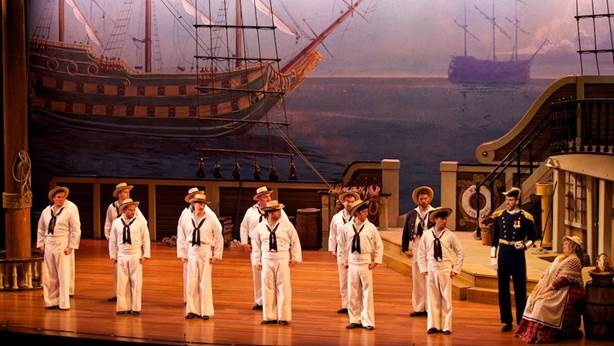 David Auxier and male ensemble  Photo: William Reynolds
Okay, the story is absurd as it gets.   And its British nautical lingo might confuse you at times ("tar" means a lowly sailor here, not the black-colored street coating).  But reconnoitering these absurdities and salty terms has always been worth it.  Although Pinafore may no longer be at the cutting edge of musical theater, its debut at the Opera Comique on May 25, 1878, utterly bowled over the critics and public.  It sparked not only buzz but  "Pinafore mania."  Following its opening, Gilbert and Sullivan found themselves the" toast" of London, with international fame just around the corner as the opera winged across the globe.  Pirate productions surfaced in America, much to Gilbert and Sullivan's dismay (no royalties were paid to them!)  In fact, one of Gilbert and Sullivan's big problems with Pinafore was how to deal with its success; the property itself became the gold standard of operetta of its day.  But keeping its staging authentic, and each new mounting fiscally accountable, became an ongoing struggle for Gilbert and Sullivan.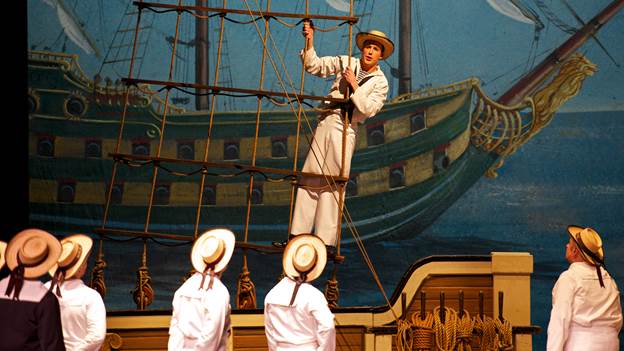 Cameron Smith (top) and sailors in H.M.S. Pinafore
Photo: William Reynolds
 H.M. S. Pinafore has some of Gilbert and Sullivan's best songs, ballads, arias, and melodies.  And, Bergeret, who characteristically cuts no corners in Gilbert & Sullivan's operas, stayed right on musical course here.  In Act 1, there's the comically delicious "Little Buttercup.,"   If that number calibrates the comic tone of the piece, the patter song "When I was a Lad" ratchets it up, as it chronicles the surreal rise of Sir Joseph from office boy to "Ruler of the Queen's Navee."   And, in Act 2, who can forget Captain Corcoran's melancholy solo "Fair Moon, to Thee I Sing" or the social questions teased out by the trio--Josephine, Captain Corcoran, and Sir Joseph--in "Never Mind the Why and Wherefore."
The real golden nuggets, however, were the topical references tossed out by cast members, which covered everything from champagne to concurrently-running productions in town.  In fact, Broadway's The Last Ship, along with its creator Sting (soon to be on stage acting in his own show) got the most nods.  Yes, this 19th century classic strangely found a British cousin on the Great White Way this season.  So what can a little ad libbing and some bon mots do for a new production of Pinafore?  In this case, a lot.
The cast--actors and dancers all--brought their strong musical chops to the fore.  Kudos belonged to its principals and ensemble members—David Auxier (Captain Corcoran), Angela Christine Smith (Little Buttercup), Sir Joseph Porter (James Mills), Ralph Rackstraw (Daniel Greenwood performed in 12/31 performance/Cameron Smith alternately performed the same role), and David Wannen (Bill Bobstay).  A few were making their NYGASPers debut, notably Kate Bass (Josephine), who showed off her impressive pipes in her opening ballad "Sorry Her Lot."  No stranger to New York stages, she has performed at Carnegie Hall, Lincoln Center's Alice Tully Hall, the Metropolitan Room, to mention a few.
A shout out to set and light designer,  Albere and Benjamin Weill, respectively.  Their combined efforts brought alive the nautical life with spit and polish. Costume designer Gail J. Wofford didn't overdo the period outfits.  There was more lace trim than artificial bustles stitched on the women's long dresses.  The men's outfits looked like the traditional Navy uniforms, with Sir Joseph's uniform being the most ostentatious.  Looking at him cap-a-pie, he had on fashionable knickers, trim jacket with brass buttons and gold-colored epaulets, and a traditional admiral's hat.  True, there have been more British-style, posh, and risqué, performances on stage and screen of Pinafore but this latest version scored for its New York flavor.
Turning to hornpipes and hoofing on deck, the aforementioned Auxier served as the merry dance captain.  Wearing two hats in this production, Auxier showed his versatility by playing the fictive captain before the footlights and being the real dance captain back stage.  Say what you will, Auxier has nerve--and the ability to inspire a whole cast to land on nimble cat's feet in any given scene. He had the company really kickin' up their heels with brio.  And speaking of levity with a capital "L," what a hoot to see Mills' Sir Joseph do the hokey-pokey with the ensemble and temporarily let down his hair.
Yes, the company's fall offering, Ruddigore, was a crowd-pleaser.   But Pinafore --beat by dramatic beat—scored as the better show. There's no doubt it deserves pride of place in the Gilbert and Sullivan canon, The Mikado may win for its exotic air, Pirates of Penzance  has bragging rights as the landlubber's favorite, but Pinafore, hands down, can declare itself the most buoyant opera of the Big Three.  And, after a century on the boards, it still floats, and perks up ears.
The New York Gilbert and Sullivan Players, affectionately dubbed "NYGASPers," arguably are the leading upholders of the Gilbert and Sullivan legacy in America.  Celebrating their 40th anniversary, the NYGASPers are hardly slowing down, or asleep at the oars.
Stick close to the Skirball as winter changes to spring too!  The company is returning to their new downtown home with a new production of The Gondoliers in May.  And if Pinafore was any inkling of what's in the pipeline, you would be wise to mark your calendars and keep your eye out for the company's return with a more Venetian look.
H. M. S. Pinafore
At NYU's Skirball Center, 566 La Guardia Place at Washington Square, Manhattan.
Six performance only:  From December 26th – 31st.
For more information about the New York Gilbert and Sullivan Players and their upcoming productions in 2015, visit www.nygasp.org or phone NYU's Skirball Center box office: (212) 998-4941.