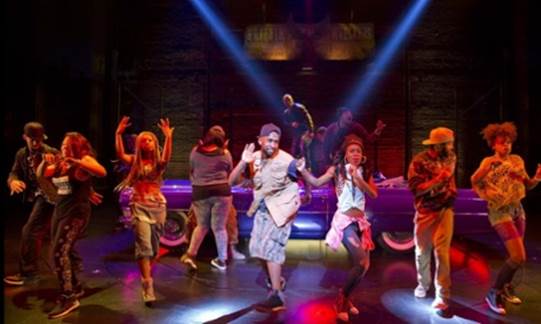 Photographs by Joan Marcus
                                         by Eugene Paul
Once upon a time a long time ago in 1973, when a fat, smug country called the U.S.A was being upended with riots and protests about a perfectly natural condition which they had finally legislated in 1964 called Civil Rights, a beautiful baby boy named Lesane Parish Crooks was born. His mother and his father being lock step radicals infused with rage against injustices which caged and demeaned them, flouted all the white man's laws, rules, regulations they could, bringing on white man's punishments for perceived misdeeds and irregularities and, of course, thus multiplying passions and hatreds.  People stopped seeing people as people.  All was Causes.  And little Lesane absorbed everything, because he was not only beautiful, he was brilliant.
And rebellious.  It came with the territory.  The black streets.  The black gutters.  The black rage.  The black gangs.  He became Tupac Shakur early on in respect of an honored rebel.  And in his acting out, he molded himself not only on the Black Panther ideals of his parents but on black gangsta street ideals of  jails and guns as rites of passage.  He also beat anybody else at a new competition: rapping.  He could rap faster and better and harder than any other kid.  Only kids were rapping; too bad it wasn't against the law; still, you could say anything, anything at all as long as it rhymed and drove its message with a compelling rhythm. Everybody wanted to hear Tupac riff. He even got recorded.  Main street media was not impressed.
Until he sold. And sold.  Once Tupac made money, he was gold.  Better: platinum, again and again. 77 million pieces.  That's staggering.  If there had been a sensible bone remaining in his body  it was melted.  He went wild. Rap went wild, went hip-hop. Young black talents burst forth  sparking the money machines and their wares were exploited as fast and as hard as possible.  Soon, there were young black millionaires palling around.  And soon, there were young black millionaires exploiting each other, like rap competitions only with lots of zeros.  And since they all came out of the gangsta streets, it wasn't long before they were shooting each other. And dying. Only a few cooler heads figured out that they couldn't take it with them if they were dead.  Tupac lasted until he was 25 years old.
His lyrics live on, and they're the basis of Holler If Ya Hear Me,  his very own words, now a Broadway musical.  The irony is not lost on his fans. First off: there's no musical score. How is it going to survive as a musical on Broadway even if they treat it like a musical and call it a musical?  Only shows that produce revenue survive on Broadway, no matter how good you are.  Goodness has nothing to do with it.  Look around.  The most revenue producing shows in town are works of marketing art.  They've survived mediocre reviews to live and burgeon with the loving care they command, a new mystique created.  There's a very strong likelihood that that can happen with Holler because in spite of top flight Broadway talents working their spells and incantations Holler If Ya Hear Me, the show, is so on its knees before the golden idol that is Tupac that it forgot to do the most important thing: be true to its roots and rebel against the Broadway wise ones.  The producers know this – it's obvious – but they went ahead anyway, straddling, hoping that the Tupac legend would carry them through, and that is a valid hope.  You cannot ignore 77 million pieces.
The story of the show, created by playwright Todd Kreidler, attempts to use Tupac lyrics to tell the oft told tale of a black ghetto young man outside the system rising and changing himself by joining the system.  Vertus (Christopher Jackson) deals drugs to live, dreaming of finally doing one last big deal to make enough to get out of the life he's in, which is all he knows.  His friend, John (Saul Williams) has just been released from prison after six years, embittered, enraged, determined not to go back to the streets and crime. But who'd give a black ex-con a job?  Griffy would.  Griffy (excellent Ben Johnson) the only white in the entire area, has a fenced, locked, guarded business where wrecked cars are taken in. "We buy shit", is his joke,, "and make money out of it." The same age as Vertus, he is running  his dying father's business. He knows these people; they know him. Inside his fence is some protection.  And a job for John.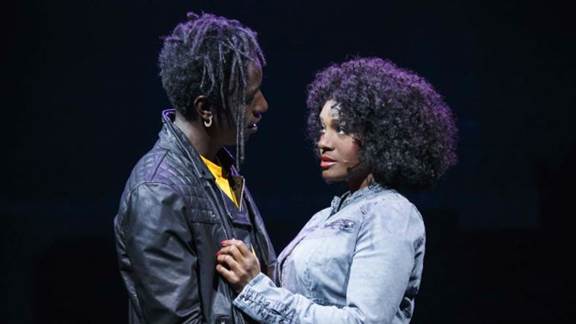 Vertus's brother is killed.  It's a gang action.  And young teen hothead Darius (Joshua Boone), lusts and loudmouths for revenge, ready to get a gun, go to jail, join the men.  It sounds good to younger, drifting Anthony (Dyllon Burnside) alone, no guidance, no direction. He looks to Vertus. Also drifting through the show, the women, splendid Tonya Pinkins, wasted as Vertus's mother, lovely Saycon Sengbloh, as his lover. And then, the roving, mad preacher who doesn't preach,  fine John Earl Jelks.
By now, you've seen the familiar story shape and you have heard the Tupac lyrics worked into the story line the Broadway way with a melody and a vibrating band beat, as well as the Tupac way, passionately screamed by Saul Williams as John, whose ferocity and sincerity overwhelm the words except for some rhymes, always with strong rhythmics. The words?  Lost in the rush.  The sense? Body language and passion in the voice which you assume is inspired by the words you can't decipher. Ah well, that's hip-hop, that's rap, that's the style.  That's what sells.
Occasionally, in one or more of the Tupac "songs" the words are treated as dialogue, are performed, their rhymes in place but not punched as in rap, the rhythms close to speech, not pounded one another into rap shape.  This half treatment devised for the show allows  Tony  award winning director Kenny Leon to stage each Tupac "song" in as fluid an action stream as possible. And so he gives wizard Wayne Cilento the nod to stage the clever musical arrangements Daryl Waters devises to carry the lyrics into these staged Broadway numbers with lots of amazingly gifted female dancers and some extraordinary male "break" dancers and the show moves.  It's a "Musical", for Pete's sake, using all the bells and whistles, using David Gallo's designs for Edward Pierce's evocative scenery, using Mike Baldassari's lighting with Zachary Borovay's sweeping production design, Reggie Ray's costumes (including an inside joke) and on and on.
Even the theater itself, the Palace Theater, has had its interior reshaped for this show, the old seats intact; over them, bleachers installed to regroup audiences into stadium seating. Big money.  Just remember those 77 million pieces and that potential for renewed revenue stream.  Tupac is worth the shot. But you have to ask yourself, is it about Tupac?  Is it about his messages?  Is it about hip hop, rap? You'll know soon enough.
Oh, that inside joke? One of the cast members, Otis Cotton, wears a Sean John jumpsuit. In an earlier incarnation, when he was not yet Sean John, he and Tupac did not have a salubrious relationship. But he changed his name and was smart enough to move away from guns.  And he's alive.  That's the joke.
Holler If Ya Hear Me.
At the Palace Theatre, 1564 Broadway, near 47th Street. 
Tickets: $59-$252.45. 877-250-2929.