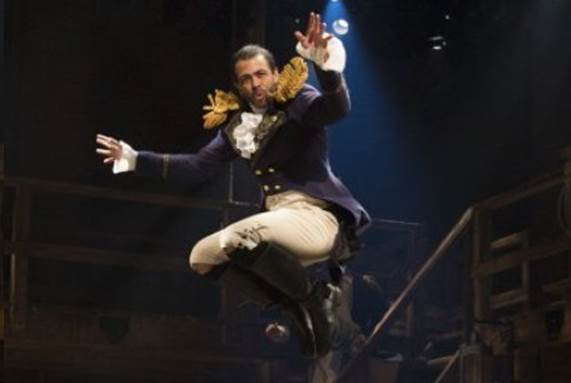 by Deirdre Donovan
Hamilton, the much-awaited musical at the Public Theater, is making a mighty big noise at its downtown home in Astor Place. And if you go to only one show this season, it should be to this amazing new musical that breathes life into 18th Century American history and gives it a pulse.
The multi-talented Lin-Manuel Miranda performs in the titular role and cements his reputation as a game-changer by creating Hamilton.  Miranda serves as a theatrical factotum here:  Lead actor, author, lyricist, and musician.  He was inspired by Chernow's 2004 biography Alexander Hamilton, and has gleaned historical gold from its pages. 
So much buzz has been generated on this piece that I won't gild the lily.  But I will say that its lyrics and music are tops.  Rapping may rule.  But the work shouldn't be pigeonholed as a hip-hop musical.  Indeed it is a contemporary melting pot bubbling with hip-hop rhythms all mixed in with R & B, jazz, pop, and traditional Broadway tunes.
Speaking of Broadway, the show will be transferring to the Richard Rodger's Theatre on July 13th.    Slated to run at the Public's Newman Theater through May 3rd (Due to its popular reception, there have been two extensions), the production will then wing uptown to the Great White Way. 
Returning to the current production, it is a trail-blazing work that theatergoers, history buffs, and anybody over 12 should see.  Though I was not present at the opening of Oklahoma, I venture to say that Hamilton has that kind of frisson.  It immediately sweeps you up with its high-voltage energy and retelling of Hamilton's epic life story.  It traces his rise from being an orphaned immigrant (Hamilton hardly knew his father, was 11 when his prostitute-mother died, and in 1772 left St. Croix for America.) to George Washington's aide-de-camp, the first U. S. Treasury Secretary, the first one to spawn a political sex scandal, and right on to his untimely death.
Just in case you forgot that tragic episode in early American history when Hamilton was killed in a duel with Aaron Burr, your memory will be jogged when entering the theater.  In the main lobby stands a life-sized sculpture, on loan from the New York Historical Society that shows Hamilton and Burr looking down the barrels of their shotguns and taking deadly aim at one another.  Not only is it an impressive work of art on its own, but also it serves as a silent and pointed Prologue to the entire musical.
There are 34 musical numbers in this show.  And there's not a dud among them.  While you can't help being pulled in by the opener "Alexander Hamilton," the musical number "My Shot" following on its heels, is spot-on in revealing Hamilton's incredible personal force and drive.
There's nothing tame about this show!  It is a rough-and-tumble journey that thrusts you into that political theater where Hamilton became a major presence.  Hamilton, and the rest of the founding fathers—George Washington (Christopher Jackson), Thomas Jefferson (Daveed Diggs), and John Madison (Okieriete Onaodowan)—are all grounded in historical facts.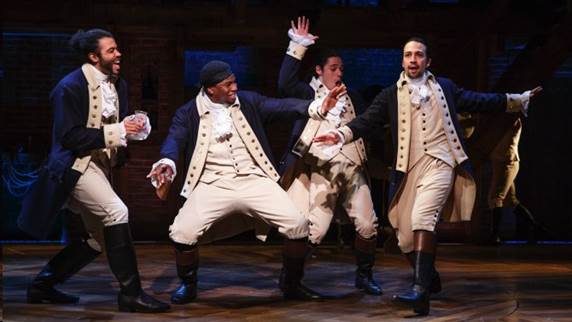 But when it comes to the grandees' ethnicity and skin color, inventiveness rules.   Miranda gives a Hispanic look and manner to his Hamilton.  And George Washington, Thomas Jefferson, and James Madison are non-conventionally cast as black.  Likewise, many female principals are performed by black performers.  A strange choice?  Yes and no.  As directed by Thomas Kail, contemporary resonance is the thing.  And what better way to point up the idea of racial equality in our present American culture than to style our white founding fathers in darker-skin shades?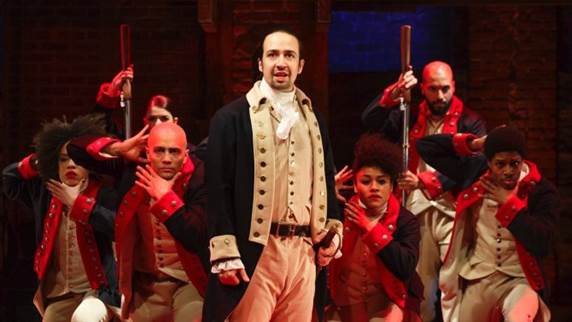 Miranda utterly radiates as Hamilton.  It is tempting to say that it is his show, and that he has the corner on star power.  But truth be told, many of the supporting actors are sparkling too.  Daveed Diggs doubles as the Marquis de Lafayette and the young debonair Thomas Jefferson, and his acting is first-rate.  And Brian D'Arcy James, as the sneeringly arrogant King George is well-cast.  Incidentally, D'Arcy James will soon be leaving the show and replaced by Jonathan Groff on March 3rd.
A shout out to David Korins for his rotating set design, Paul Tazewell's elegant period costumes, and Howell Binkley's glorious lighting.  All their artistry meshes, and they bring a rich and elegant texture to the production.
All in all, Hamilton is a knock-out.  Okay, it could knock out about 15 minutes, which would make it a trimmer show.  But as far as what specific scene should be tightened or omitted . . . Well, it is easier said than done.
Though tickets are now sold-out for remaining performances at the Newman, Hamilton will be humming on Broadway this summer.  And given its huge popularity at the Public, you really should go to this red-white-and true musical of our founding father who never had a chance to grow old.
Through May 3rd.
At the Public Theater, Newman Theater, 425 Lafayette Street, Manhattan.
For more information, visit  www.publictheater.org or phone the box office at the Public Theater: Tel.  (212) 967-7555.
Running Time:  2 hours; 45 minutes with one intermission.