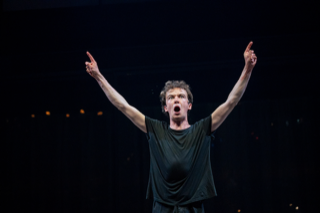 Alex Lawther in Hamlet at the Park Avenue Armory
Photo: Stephanie Berger

Hamlet

By Deirdre Donovan

If you think you have had your fill of Hamlets on stage, think again. Robert Icke's bold new production of Shakespeare's masterpiece at the Park Avenue Armory takes the literary starchiness out of the old play and revivifies it with contemporary verve.

Starring the 27 year-old Alex Lawther as Hamlet, and accompanied by an A-list of actors, this theatrical event is just right for theatergoers who like their Shakespeare with edge.

Icke, affectionately dubbed the "great hope of British theatre," is no stranger at the Park Avenue Armory. Last summer his retooled version of Ibsen's Enemy of the People, starring Ann Dowd, turned the Armory's 55,000-square-foot Drill Hall into a laboratory for democracy. Theatergoers who missed this event might have caught Icke's savage adaptation of George Orwell's 1984 on Broadway in 2017. It investigated states of surveillance under the eye of Big Brother and more.

Unsurprisingly, surveillance is writ large in Ickes' new take on Hamlet. When the lights go up on Hildegard Bechtler's chic set with sliding glass doors, we meet Francisco (Ross Walton) and Bernardo (Hara Yannas) gazing into a patchwork of CCTV screens, waiting for the Ghost to materialize in digital outline (video design by Tal Yarden). This surveillance system is only the tip of the iceberg in this watchful production that has almost every character in the dramatis personae spying on somebody else.

Take the scene early on when Hamlet surreptitiously lies behind a sofa, eavesdropping on his girlfriend Ophelia (Kirsty Rider) and her over-protective brother Laertes (Luke Treadaway) in a heart-to-heart conversation. Indeed, Laertes is trying to derail his sister's romantic relationship with the Prince, warning her that his words and tokens are not to be taken seriously. Little wonder Hamlet and Ophelia don't live happily-ever-after in Elsinore.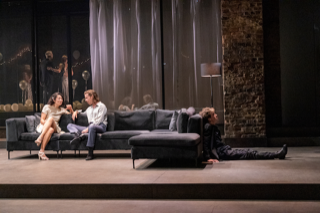 Kirsty Rider, Luke Treadaway, and Alex Lawther in Hamlet, Park Avenue Armory
Photo: Stephanie Berger

Surveillance aside, it's worth going back to the first time we meet Lawther's Hamlet on stage. He is unobtrusively walking across the room, dressed in bedraggled black (costumes by Bechtler), and pointedly sits apart from everybody else.

Of course, we all know why. Hamlet's in mourning for his royal father, whose sudden death made him leave his studies in Wittenberg for home. To add salt to the wound, his mother Gertrude has hastily married his uncle Claudius—and the other zinger—Claudius is the new king.

It's hardly a spoiler to add that, in the coming scenes, Hamlet will encounter his father's Ghost (or is it a devil?) and learn its horrific story. Summed broadly, his Uncle Claudius murdered his royal father and usurped the throne. Yes, the revenge plot is sown by the Ghost in Hamlet's mind. And Hamlet's maddening dilemma? He now knows from the Ghost's tale that he is the rightful heir to the crown and has a filial duty to avenge his father's murder. But how does he morally do it?

Lawther's Hamlet addresses the audience directly with his soliloquies, underscoring his isolation from the others on stage. What's more, this theatrical device makes the audience his confidante. The result is that we are immediately pulled into the work, and unless you have the heart of a stone, feel for this alienated young man.

Ickes doesn't hesitate to take creative license with the text. He transposes scenes and even updates Shakespeare's language, if he foresees the original word or phrase would make the dialogue sound archaic or be at odds with his contemporary props.

Icke's adaptation also includes a scene from an often-neglected Hamlet quarto. In it, Horatio informs Gertrude that Claudius was involved in the scheme to murder her son Hamlet. Indeed, not only does this episode bring a new wrinkle into the familiar Hamlet story, but, once played out in real time, it creates an atmosphere of distrust in the conventionally close relationship between Claudius and Gertrude.

According to a program note, Icke's Hamlet was originally slated to be staged at the Armory in 2020. However, when the pandemic lockdown placed everything on pause, New Yorkers simply waited for theater restrictions to ease. In fact, the current production of Hamlet began its stage life at London's intimate Almeida Theatre in 2021 and then transferred to the West End. Encouraged by its accolades from the London critics, Icke reset his sights on New York—and, presto! -- his Hamlet winged into the Armory this past June.

The problem, and the plus, is that not all of the original cast could come to New York, most notably its London star Andrew Scott who played Hamlet.

Enter Alex Lawther. Admittedly, Lawther interprets the iconic character far differently than his predecessor Scott. Whereas Scott wowed the audience with his flamboyance and nerve, Lawther wins us over not with thundering rhetoric, but with his natural phrasing of the iambic pentameters and unpretentious deportment. And when it comes to the Herculean task of remembering his character's 1495 lines, Lawther makes the linguistic feat look effortless as a sunset on the Hudson.



Alex Lawther and Jennifer Ehle in Hamlet at the Park Avenue Armory
Photo: Stephanie Berger

Other notable performances? Tony Award winner Jennifer Ehle performs Gertrude (Ehle replaces Lia Williams who left the production after injuring her Achilles tendon). Although the role of Gertrude is often performed with the psychological depth of cardboard, Ehle's character truly evolves as the drama unfolds. Case in point. Ehle's Gertrude, though the epitome of the sensuous wife early on turns a cold shoulder to Claudius once she learns about his political machinations against her son.

There are other cast members that shine. Angus Wright, reprising his role from the London production, suitably plays Claudius as a savvy politician. Peter Wright and Joshua Higgott, also reprising their London roles here, as Polonius and Horatio, respectfully, are well cast. Wright's Polonius is no fool here but a loveable curmudgeon who suffers from episodes of dementia. And Higgott's Horatio has the prerequisite sincerity, pragmatism, and loyalty that earns him a place in Hamlet's "heart of hearts."

Kirsty Rider's Ophelia is less effective, largely because her transformation from Hamlet's poised girlfriend to deranged young woman is staged so abruptly. Yes, Ophelia is supposed to go mad with grief after her father Polonius' murder by her boyfriend Hamlet. But shouldn't we be able to see the shadow of Ophelia's former personality in the ranting girl? Instead we see an almost catatonic girl in a wheelchair, in arm-restraints to prevent her from harming herself.

The most disturbing thing about this production? No question it's seeing Hamlet brandishing a gun on stage, whether it's at Claudius in his confession scene, his mother Gertrude in her chamber, or mistakenly at Polonius behind the arras before he fatally shoots the "good old man." Considering the violent goings-on in our world, the presence of a gun on stage, not to mention the sound of gunshots (the woman sitting in front of me jumped in her seat from the loud noise), really makes this production bleed into real life.

True, this new adaptation of Hamlet makes for a long evening of theater, clocking in at over 3 and a half hours with two intermissions. But where does one cut this great classic, without losing its meaning? Suggestions, anyone?

Icke's surprising—but ultimately inspiring—choice to thread seven of Bob Dylan's songs throughout the work, intensifies its themes at-large and heightens the tragic doings of the characters. Naturally, some will look down their long elitist nose and argue that Dylan's twangy music is out of key with this production's swanky look and atmosphere. But don't some songs (think "All Along the Watch Tower" and "Spirit on the Water"), and their artists, transcend class and cultural boundaries? So why not bid Dylan welcome to this Elsinore?

By all means, go see icke's Hamlet! It will be playing in repertory with the Oresteia through mid-August. So catch it now, or catch it never.

Through August 13th.
At the Park Avenue Armory, 643 Park Avenue (between East 66th and East 67th Streets).
For more information, visit www.armoryonpark.org.
Running time: 3 hours; 40 minutes, with two intermissions.