Michael Oberholtzer as Timothy, Geneva Carr as Margery, Steven Boyer as Jason,
Marc Kudisch as Pastor Greg and Sarah Stiles as Jessica                         photos by Joan Marcus
Hand To God
                         by David Schultz
Something strange and wonderful has just transpired. A truly unique and shocking play has just opened on Broadway. First seen Off-Off Broadway, then in a slightly larger venue Off-Broadway last spring, this macabre work has finally hit the big-time on Broadway. At first glance, and in the ads this play seems to be a minor riff on Avenue Q with a naughty foul-mouthed puppet as its star. But this crafty and sinfully entertaining work is so much more. Playwright Robert Askins has more up his sleeve than just to shake up a complacent audience with shock value.
The play starts off with an eerie prologue with the titular puppet greeting the audience and admonishing the pious religious folks in the audience. This is just a mere appetizer for all that will follow.
This deeply touching treatise on death and loss details how a mother and son try desperately to connect and heal their emotional wounds. The sock puppet seems cordial, but with an underlying menacing aura. The play then commences in a brightly lit church basement in Texas. It is there that the main characters are introduced.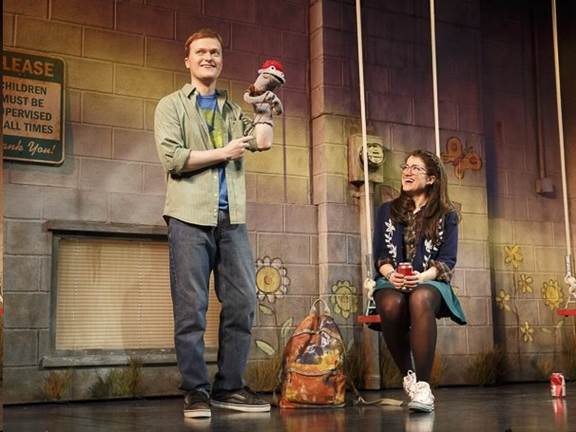 Steven Boyer as Jason and Sarah Stiles as Jessica
Jason (Steven Boyer) a shy, introverted young man with his sock puppet pal named Tyrone snug on his hand. Margery (Geneva Carr), who is Jason's distraught mother, coping with the death of her husband. Timothy (Michael Oberholtzer) a hormonally overcharged teen with a mean streak makes goo-goo eyes with Margery. Jessica (Sarah Stiles) is an awkward teenager who is shyly attracted to Jason. Pastor Greg (Marc Kudisch) an overly attentive man who (also) has feelings toward Margery that overstep the boundaries.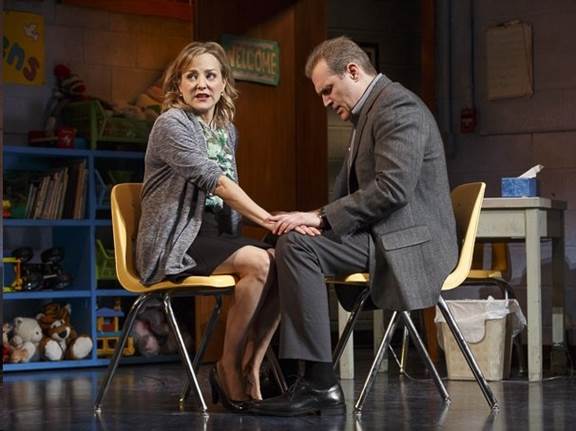 Geneva Carr as Margery and Marc Kudisch as Pastor Greg
It is this motley group of misfits that crams into the church, planning and looking for volunteers for a Christian puppet show. Jason, extremely shy with eyes downcast is exceedingly nervous about performing and has his reasons, which soon become very apparent.  We soon discover that a terrifying bond has occurred between man and puppet.
The play barrels ever more quickly into surreal episodes involving Jessica, and Jason at first amusing, then naughty, involving porn for puppets, on Broadway, no less!
The play gets darker and more menacing involving all the characters.
Director Moritz von Stuelpnagel crafts each propulsive scene with comic and horrific tones simultaneously. It is rare to commingle such disparate moods all at once, but much of this has to be credited to playwright Askins, and his adroit cast. Set designer Beowulf Boritt brings peals of rippling laughter when he reveals a second act tableau showing the aftereffects of demonic Tyrone in the church basement. The entire space has been desecrated in an unholy manner. The consummate skill of each performer creates fully dimensional people that seem crazy, but each is deeply wounded and hoping for a way out of their pain and loneliness. Geneva Carr is emotionally convincing as Margery. This talented actress mines the sexual tension and conflicts within to expert effect. Mr. Oberholtzer as Timothy is a gem, all bravado, and sexual allure toward Margery, his sinuous manner is well crafted. Ms. Stiles as Jessica perfectly captures the awkward girl that secretly pines for Jason. Sly subtle work from a fine actress gives the character extra depth. Mr. Kudisch as Pastor Greg brings a fine masculine ardor to his role. This talented actor makes every step he takes seem true and inevitable. Mr. Boyer as Jason/Tyrone is a revelation. This extraordinary actor is astounding, both achingly funny and shockingly violent and menacing in extremely rapid moments with his puppet. It is a revelatory performance… and a rare thing to see and feel such deep emotion in such a riotous work. On the surface the play just aims to entertain and shock. Scratch a bit and a truly unique work of art seeks to discover the underlying emotional scars that lay just underneath. Hand to God is a tour de force work that dazzles with verve and pitch black humor….  It has a limited appeal, but will definitely sate the adventurous theatergoer.
Hand to God
Booth Theatre, 222 West 45th Street
Telecharge.com
212-239-6200
HandtoGodBroadway.com      Open Run