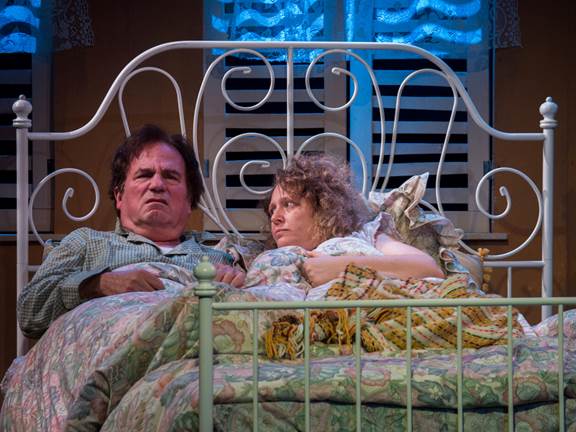 Yosi Sokolsky and Ronit Asheri
                     By Eugene Paul
In what is almost a poetic echo of the long vanished Yiddish theatrical companies' wanderings throughout Europe, the New Yiddish Rep has alit  this time among  its New York City rovings from  modest to meager establishments in the rattletrap long time home of the Rattlestick Theatre and it seems a perfect fit: grungy, stark rudimentary essence, matching the heartfelt bravura of the brave new company's offerings, this time boldly  throwing two of Hanoch Levin's iconoclastic plays into a single program.  Be prepared to spend three hours with a 90 minute gap between the plays, The Whore from Ohio and The Labor of Life. Each play is performed either in Hebrew or in Yiddish, depending on the matchups as programmed. Overhead titles keep you up to scratch with the proceedings. You don't always need them.
Hanoch Levin was working to the day he died August 18, 1999 in hospital in Israel in his fifty-fifth year, his life a road map of accomplishment, stories, poems, films, and sixty-three plays, twenty-two of which he also directed. He had been five years old when the land he was born in became Israel, yet judging from The Whore from Ohio it's as if his characters came right out of the gritty Poland from which his parents had escaped.  In Yiddish, Hoibitter, (just splendid David Mandelbaum) a ragged beggar, loudly, joyfully proclaims he is seventy years old today and he is going to treat himself to a birthday present. A whore. A whore from that wondrous fantasy land, Ohio, where the whores are all clean, own huge estates, motor cars, airplanes. He exclaims in baldest, crudest, lustful terms just how he is going to celebrate the occasion.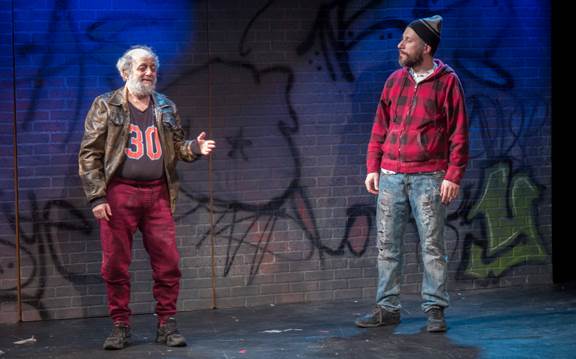 David Mandlebaum and Eli Rosen                                    Photos: Slava Zaitzev
By amazing good fortune and possibly heavenly design, Bronatsatski (surprisingly cool Mary Black), a prostitute, is within a few feet of the birthday boy, peddling her wares. In no uncertain terms, Hoibitter, not seeing any Ohio candidate whores, immediately demands her price for his birthday celebration, and is charmed but  consternated when she demands "100 shekels".(which is a bit of a shock: not only  the amount but the coinage. Everything about Hoibitter is deepest Mitteleuropean; however, the shekel is definitely Israeli, and the moment impinges: where are we?)  "100 shekels!" Pure shock. He's only a poor beggar. "10 shekels". Not even a squint for that. The hard bargaining is grossly funny; in coarsest terms Hoibitter will be allowed to put his pizzle in her container right there, no bedroom, no bed, just their filthy alley. Payment first. And 100 shekels. No discounts for birthdays, not even for senior birthdays.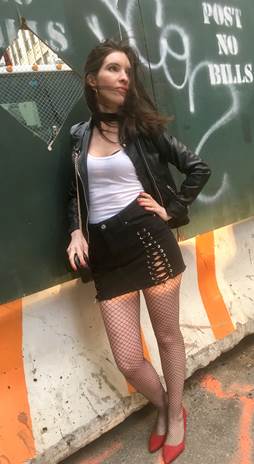 Mary Black
Old Hoibitter's spirit is willing but the flesh, too bad.   No matter how wheedlingly he cajoles his privates he cannot perform.  She does not give refunds for his non- performance.  She did her part, too bad he couldn't do his. After all that hard bargaining.
His son, Hoimar (fine Eli Rosen), also a beggar, aghast at his father's squandering, even more aghast at the non refundable aspect, demands at least placing his pizzle in Bronatsatski's receptacle in lieu of his parent. Already paid for. Somebody's got to get some benefit out of it why not he?
Whereupon he lowers his pants and his underpants and we have a pornographic moment depending on the eye of the beholder. Director Michael Liebenluft has seen to that.
The comedy over, the titillation descends into despair.  The play trundles from dismal to shitty and eventually to death.
The second part of the program, The Labor of Life, in Hebrew, consisting of marital cruelty and death, this time in bed and equally long, is performed by Yossy Sokolsky, Roni Asher-Sandler and Eli Rosen under the direction of Ronit Muszkatblit. On the morrow, it will be performed in Yiddish and The Whore from Ohio will be performed in Hebrew. The bigger question is, why? Why this focus on the theater works of Hanoch Levin?  The New Yiddish Rep amply demonstrates its talents, devotion and grit, true, even as it amply demonstrates the rigor of Levin's growing reputation but that does not answer the question. Surely Hell on earth is not God's plan. Levin died too soon to settle for that answer.
Hanoch Levin Squared. Theatre at 224 Waverly Place, between 11th Street and Perry Street. Tickets: $25.  Two 90 min plays, 90 min interval. 866-811-4111. Thru Mar 29.