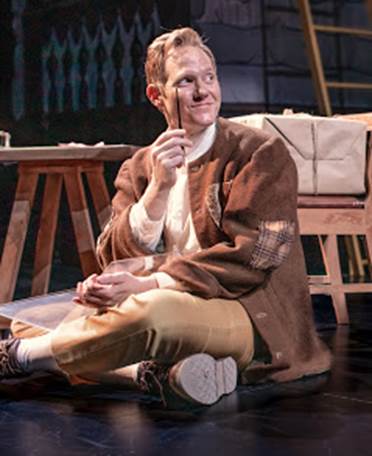 Jimmy Ray Bennett         photos by Shirin Tinati

Hans Christian Andersen: Tales Real & Imagined
               by Arney Rosenblat
Though the more than 3,300 fairy tales spun by the Danish writer Hans Christian Andersen spurred wonder in children and adults around the world, being translated into over 125 languages, his own story was far removed from any fairy tale happy ending
Hans Christian Andersen:Tales Real & Imagined is the latest, and perhaps the weakest, of an outstanding stream of multi-media productions conceived and implemented by the talented Eve Wolf of the Ensemble for the Romantic Century, which spotlight outstanding innovative figures such as Vincent Van Gogh, Mary Shelley, Emily Dickinson and Tchaikovsky blending music, song, and historical documents to bring the MEANING of their lives to life.
The story of Hans Christian Anderson (1805-75), who is embodied deftly by Jimmy Ray Bennett, in many ways mirrors one of Andersen's most famous fairy tales. "The Ugly Duckling." which is recounted by the author in the telling of his life with the help of a diverse range of puppets imaginatively developed and directed by Craig Marin and Olga Felgemacher of Flexitoon.
Andersen came from the most humble of backgrounds, the son of an alcoholic washerwoman who was forced by poverty to supplement her meager income by begging, a half sister who also was a beggar and likely a prostitute, and a father who died when he was quite young but who did spark his interest in literature. Andersen was an awkward youth, whose initial creative abilities were dismissed, a boy derided by his schoolmates and teachers as he struggled to keep up and fit in, However, after coming to the attention of Jonas Collin, the director of the Royal Danish Theater, he ultimately attains the education and encouragement he needs to transform into one of the world's most famous literary swans counting among his admirers Charles Dickens and Queen Victoria.
Jimmy Ray Bennett & Daniel Moody
Yet even when Andersen achieves swan stature, he never achieves the happiness that one assumes such a position might bring as he acquires an unrequited passion for Edvard Collins, his mentor's son, who never even deigns to address Andersen by his first name despite his role as benefactor to Edvard and his family when their circumstances reverse. The character of Edvard is dually portrayed by countertenor Randall Scotting or Daniel Moody, the artist on the night I attended.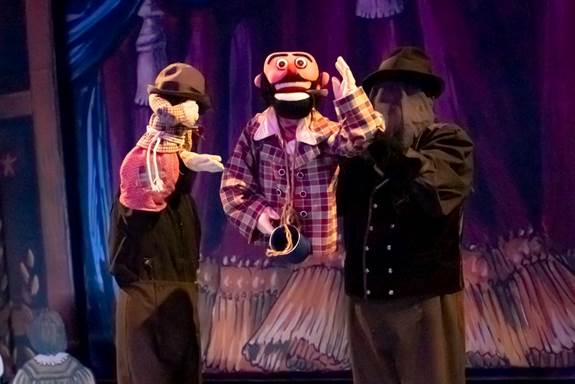 Moments from Andersen's life, usually thwarted or unsuccessful are supported by puppet sequences, mime, and through key fairy tales such as The Little Mermaid, a veiled portrayal of Andersen's love for Edvard and The Little Match Girl, an apparent allusion to his mother or perhaps even his sister, both of whom were forced into begging to keep alive.
 The action is also underpinned by a musical program which features two pianos skillfully played by Carlos Avila and Max Barros along with percussion by Shiqi Zhong who offer works primarily from Benjamin Britten and Henry Purcell supplemented by Arvo Part, Igor Stravinsky,and Samuel Barber (surprisingly none of them contemporaries of Andersen or Danish). The countertenor, Mr Moody, interprets his selections with grace and spirit. Andersen's tales real and imagined are enhanced as well by a delightful pasteboard stage, within a stage, where much of the story action unfolds, designed by Vanessa James who also provided the period costuming. The multi-elements of the production are effectively integrated by Donald T. Sanders who directs the narration of Andersen's tales and keeps them moving forward.
When we are first introduced to Andersen, the scene is white and crystalline. He;s lying on top of a tall tower of eiderdown mattresses as if on a bier and holding a white lily. A ladder rests against the bed and leads down to the stage. As Andersen descends, the audience sees he is wearing a huge set of angel wings, which he ultimately removes and he begins to share his tales both real and imagined starting with a slimmed-down version of The Princess and the Pea while assuring the viewer, . "Do not be afraid. I only appear to be dead...Do you want to hear a true story...The Fairy Tale of my life? My life is a lovely story..happy and full of incident. My story will say to the world what it says to me..that there is a loving God, who directs all things for the best." This ushers in the saddest fairy tale of all, the life that Andersen wished he had lived.
Hans Christian Andersen Tales Real and Imagined
Duke on 42nd Street
229 West 42nd Street
646-223-3010
Running Time: 2 hours, ten minutes
Closing Date: May 225th