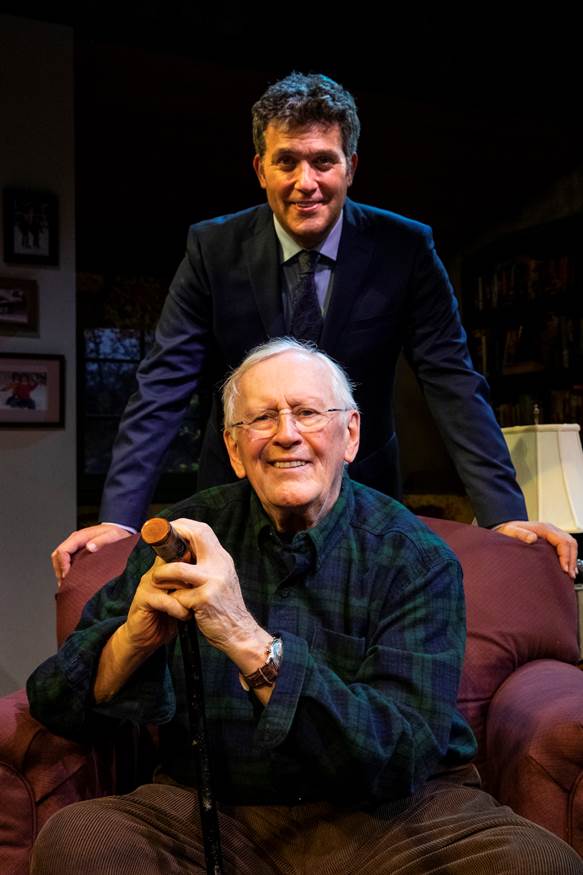 Len Cariou and Craig Bierko                 photos by Maria Baranova
Harry Townsend's Last Stand
                   by Ron Cohen
Father-son relationships in plays can be brutal. So, it's quite refreshing to witness a dad and son who really like each other, enjoy each other's company, as do Harry and Alan in George Eastman's modest but affecting two-hander, Harry Townsend's Last Stand.
It also helps that the two are brought vibrantly to life in a pair of wonderfully calibrated, mutually appreciative performances by Len Cariou as the old man Harry and Craig Bierko as offspring Alan, while Karen Carpenter's perceptive direction gets all the dramatic mileage there is – and maybe even a bit more – out of Eastman's deftly constructed script, patently balancing laughs against tugs at the heartstrings.
Alan, a successful real estate salesman in California, has come for a weekend visit with the widower Harry at the family lakefront homestead in Vermont. It's there that Harry lives alone, but is tended to daily by his daughter, Sarah, who lives nearby with her husband, Charlie.
On this particular weekend, Sarah and Charlie have gone off for a weekend in New York, and Alan has come in Sarah's stead. He also has a mission -- or two – in mind. Harry – once a popular local radio personality and sparkplug for the lakefront community – is now in eighties and feeling the forgetfulness and frailties of age. There's the coffee pot stowed in the oven, the arm that got burnt on the stove and the tendency to fall a lot. Alan wants Harry to get a walker instead of the cane he uses, but it's something Harry quickly dismisses as "scaffolding."
More importantly, Alan has come to convince Harry to move to a retirement home, a move made particularly urgent, as we eventually learn, by the fact that Sarah's husband has accepted a job in New York and the couple plan to relocate there.
Living in a retirement home is something Harry is absolutely loathe to do. In the play's most poignant scene, he points out that this is not simply old-man stubbornness or a need for independence. Being in the house filled with the memories of his beloved wife is his happiness, he explains. How can he leave it?
Meanwhile, as Alan moves the retirement community discussion gently on, the two guys share drinks and laughs, recall old times. Some of the frictions between them are aired – how Alan hated Little League baseball but played because Harry wanted him to, how he couldn't match Harry's outgoing personality, while Harry complains about the rarity of Alan's visits. There are jokes about Alan's California lifestyle, while Harry also embarrasses Alan by revealing more than the son wants to know about his mom and dad's sex life.

Len Cariou and Craig Bierko
But there's never any doubt about the affection and love between the two men, a love that's beautifully emphasized near the play's end, when Alan discovers how Harry has saved all of Alan's Father Day cards.
So, in addition to prompting a tear or two, the production offers the joy of watching Cariou, a mainstay of Broadway and classic regional theatre as well as television (with Blue Bloods), take stage with a robust performance that smartly sends out laugh lines and at other times calls up a fury over the exigencies of aging worthy of a King Lear.
For his part, Bierko provides a perfect sounding board, sometimes responding with a dry humor, sometimes more emphatically, but always listening with sympathy, concern and a sense of truth.
It's all played out on set designer Lauren Helpern's comfortably cluttered rendition of Harry's abode, expressively lit by Jeff Davis.
And now, you may be wondering who is George Eastman, the playwright, not a terribly familiar name in the annals of New York theater. His program bio has some meager facts: He lives on Cape Cod with his wife, and his first play, Snow Job, has been produced "in community theatres throughout the country," There are other titles, including three new plays that "address the sweet and sour moments of aging." (Internet research reveals he has taught French in high school and also written short stories, and the Harry Townsend script has had some prominent readings earlier.)
The bio also tells us that he "is thrilled and humbled that his favorite play has come to Off-Broadway." Happy to have it here, Mr. Eastman. Its naturalistic craftsmanship and genuine sentiments are a welcome anomaly these days on New York stages.
Review posted December 2019
Off-Broadway play
Playing at NY City Center Stage II
131 West 55th Street
212 581 1212
NYCityCenter.org
Playing until February 9