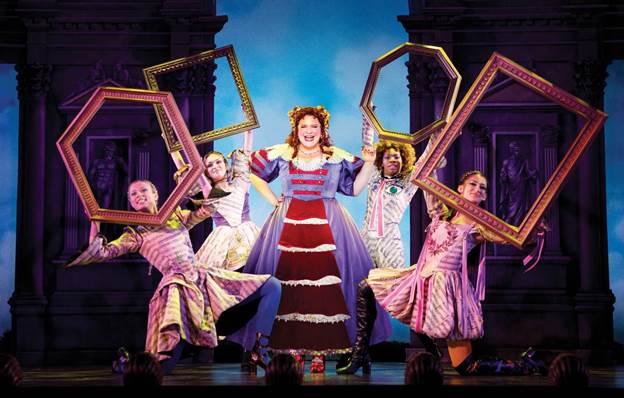 Bonnie  Milligan  as  Pamela  (center)  with  Tanya  Haglund,  Samantha Pollino,  Ari  Groover 
and  Amber  Ardolino                    photos by Joan Marcus
                                      by Deirdre Donovan
You don't have to know a lick about Elizabethan times or the American rock band the Go Go's to enjoy the new jukebox musical Head Over Heels, which opened at the Hudson Theatre on July 26.  Directed by Michael Mayer, this theatrical confection comes complete with a scrumptious set and costumes, the luminous Peppermint (Yes, she of "RuPaul Drag Race" fame) and a delightfully loopy story based on Sir Philip Sidney's 16th-century long prose poem The Arcadia.
Head over Heels first tickled audiences at the Oregon Shakespeare Festival in 2015, garnering favorable notices from the critics and creating sizable ripples in the theater world.  It resurfaced at the Curran Theatre in San Francisco last spring, amassing more plaudits, before winging into the Big Apple in June.
The scenario.  It draws from Sydney's The Arcadia, but fortunately fillets the original ( book by Jeff Whitty, adapted by James Magruder) to satisfy contemporary taste.
Yes, all the characters hail from Arcadia, dress in Elizabethan attire (costumes by Arianne Phillips) and speak in—what else--iambic pentameter.  And that's not all.  These Arcadians exuberantly sing, dance (choreography by Spencer Liff), and breathe to the vibes of the Go Go's songs.
If you can swallow this zany conceit, be prepared to meet the royal family. There's Basilius, King of Arcadia (Jeremy Kushnier), his wife Gynecia (Rachel York), their older daughter Pamela (Bonnie Milligan), and their younger daughter Philoclea (Alexandra Socha). 
Andrew  Durand  as  Musidorus  and  Alexandra  Socha  as  Philoclea
The opening scene gives you a full immersion into the pastoral world via the annual Celebration of the Flocks, where young swains have their once-a-year opportunity to win the hand of Basilius' older daughter Pamela.  With a plus-sized figure that calls to mind the curvy women in a Ruben's painting, Pamela appears as a vision of young womanhood here.  Forget our own notions of beauty in the new millennium.  In Arcadia, big is beautiful.  That means that Philoclea, the King's so-called plain daughter (she's the petite one) will be ignored by the opposite sex, except for a shepherd named Musidorus (Andrew Durand), her childhood friend.  When Musidorus boldly proposes to Philoclea, however, his proposal is scoffed by her conventionally-minded parents who don't want their royal daughter "to marry beneath her station."  Unable to break free of custom and her father's tyranny, the "good daughter" Philoclea declines Musidorus' marriage proposal.  And, to rub salt into the wounds, Basilius threatens Musidorus with death if he attempts to woo his daughter again.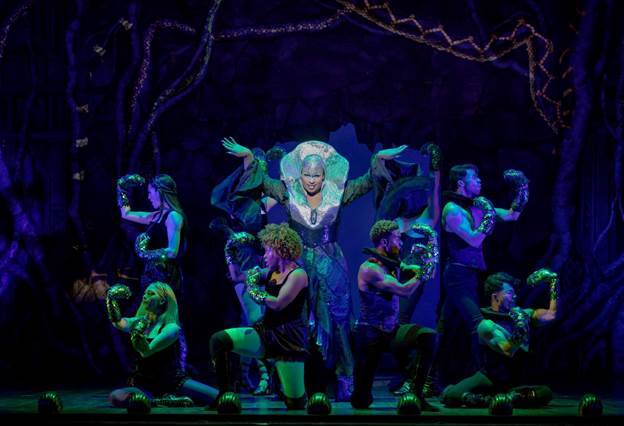 Peppermint  (center)  as  Pythio,  The  Oracle  of  Delphi 
If romance makes the sparks fly in the story, it's the supernatural that takes it to the next level.  Fifteen minutes in, Basilius consults an oracle named Pythio (Peppermint) to learn of his family's future.  But when Basilius hears Pithio reveal that his family will undergo romantic woes, he sets out to undo the bleak prophecy by relocating his family to Bohemia. 
And it isn't easy going for the royals.  The pilgrimage takes them down unknown paths, through stretches of wilderness, where a lion springs out of a thicket and threatens to devour Philoclea.  Miraculously, Musidorus, who has earlier disguised himself as an Amazon woman, appears out of the blue and kills the lion.  The King, who doesn't recognize the regendered Musidorus, immediately proclaims the lion-slayer a heroine and assures him that his noble behavior will be rewarded.  Of course, complications arise when Musidorus unwittingly becomes involved in a love triangle with the King (who thinks Musidorus is a "she") and Queen (who learns that Musidorus is a "he"). In short, seeds of confusion are sowed in almost every scene.  And one wonders if love can possibly prevail in this pastoral romance.  But I'll refrain from answering that question and let you find out by visiting the theater yourself.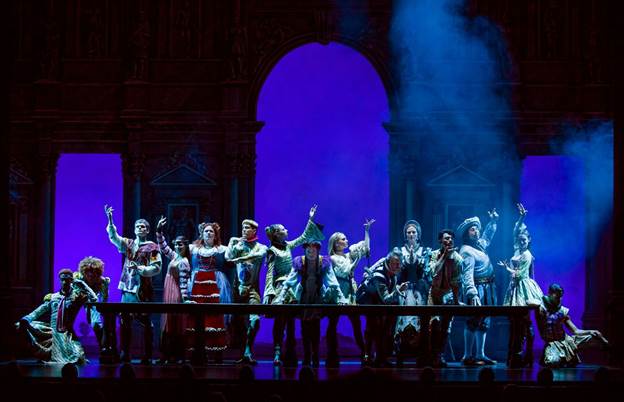 Julian Crouch's set is spectacular!  While there's much to feast your eyes on when the royals are in Arcadia, there's even more to marvel at when the royals and their entourage embark to Bohemia.  It's impossible to single out any given moment as the best-in-show, but the mermaid scene in Act 1 (with Mopsa and the female ensemble singing "Vacation") is pure enchantment and the supposed adultery scene executed in silhouette in Act 2 is equally mesmerizing.
Whitty's book deserves nothing but praise.  An arsenal of wit and word play, It hardly needs a musical note to embellish its brilliance.  Admittedly, the Go Go's songs do ratchet up the energy of this musical.  But it is Whitty's book that gives the production its spine.
Now about the Go Go's—and their catalogue of songs.  If you already are a died-in-the-wool fan, you'll love listening to the 18 musical numbers that are interspersed into the show.  The opening ensemble number "We Got the Beat" will get your pulse racing as the company belts out the lyrics, sending you on a nostalgic journey to when the Pony and Watusi were in vogue.  "Mad About You" is perhaps the most pastorally-correct song as it employs a flock of fake lambs to bleat out "mad about ewe" (get it?) in synch with the voice of the lovesick shepherd Musidorus.  Not all the songs are as good as these two, but "Heaven is a Place on Earth" in Act 2 will go straight to your heart and soul.
Okay, it's evident that the Go Go's songs are shoe-horned into scenes to amplify the action at large.  But isn't that de rigueur for most other jukebox musicals today?
It's good to report that the acting ensemble is brimming with talent and measure up as pseudo-Elizabethan thesps.  Jeremy Kushnier possesses enough chutzpah for playing the King of Arcadia, whose manipulative mind and philandering streak mark him as an alpha male with a dark side.  Tom Allan Robbins, as Dametas, is amusing to watch as the King's right-hand man.  Bonnie Milligan, as the older daughter Pamela, has a powerhouse voice and the comic flair to pull off her buxom character's surprising journey to a same-sex romance.  Alexandra Socha's Philoclea is ideal as the good girl who slowly ripens into a woman.   Taylor Iman Jones, as Mopsa, unabashedly brings Sapphic love into the musical.  And Andres Durand's Musidorus is one cross-dressed shepherd who is impossible to forget and hilarious to watch as he alternately becomes the heart-throb of Basilius, Gynecia, and Philoclea. 
Star-turns?  No question Peppermint steals the show every time she materializes on stage as the oracle Pithio.  Her Pithio has edge—and a New York attitude.  And, in case you are wondering, Pithio's pronounce preference is "they."  Or as the sooth-sayer parses it in the Temple of Oracle scene: "My qualities transcend your rude opinion! Pythio is a non-binary plural."
Okay, there's some flaws in the musical.  The Go Go's songs are catchy—but aren't of the same caliber as Whitty's book.  Moreover, several references to Greek mythology might have some theatergoers scratching their heads.  Remember the eagle of Caucasus who feasts on the liver of Prometheus?  How about Amazon woman warriors?  Perhaps these are small quibbles, in light of the musical's better qualities.  But be forewarned before going to the show that its songs fall short of the book--and you'd be wise to bring a pocket-sized text of Greek mythology that you can thumb through during intermission.
Don't be surprised if you detect strong echoes of Shakespeare's comedies in Head Over Heels.  Regendering, mistaken identities, old lovers rediscovering themselves, young lovers finding the nerve to love, and the juxtaposition of the court with pastoral life are all part and parcel of Shakespeare's dramaturgy and this new-fangled piece.
That said, this new jukebox musical, with its classically-culled story from Sydney and its post-modern high jinx, has a lot going for it.  And it offers one a rare opportunity to seeing history being made on Broadway with Peppermint, the first transgender woman, playing a principal role on the Great White Way. 
Brava to her, and bravo to the entire cast and creative team--who have brought this faux-Elizabethan show to vibrant life in the new millennium.
Open run.
At the Hudson Theatre, at 141 W 44th St, Manhattan.
For tickets and more information, phone 855-801-5876 or
visit online www.headoverheelsthemusical.com
Running time:  2 hours; 15 minutes, including intermission.