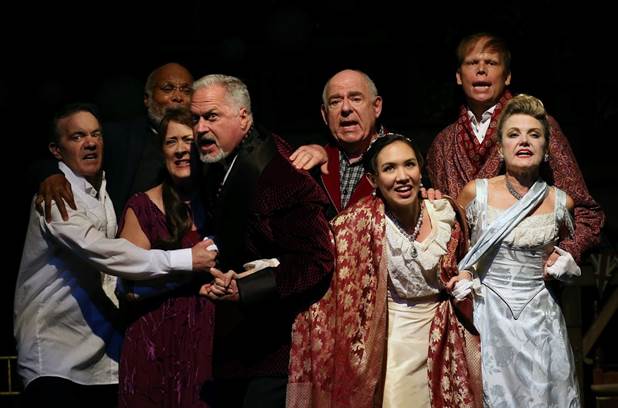 Derek Smith, Raphael Nash Thompson, Karen Ziemba, Tom Hewitt, Lenny Wolpe, Kimberly Immanuel, Jeff Hiller, and Alison Fraser, Photo Credit CAROL ROSEGG
                                           by Deirdre Donovan
Gingold Theatrical Group's ambitious new production of George Bernard Shaw's Heartbreak House takes the harlequinade and adds an original framing device that colors it with a World War II setting.   Directed by David Staller, this induction does come with a few hiccups, but it does allow us to see the farcical comedy in a fresh new light and makes the war-time theme much more palpable. 
Inspired by actual events during World War II when the first salvos of the war were being felt by the English during the London Blitz of September 1940, Staller draws on the historical moment and spotlights a situation in which thespians actually turned a horrific event into a golden one:  A theater performance is disrupted by an air raid, and the cast and audience band together to seek shelter in the theater's basement til the All Clear signal is given.  To keep spirits up, the actors put on a show that seems right for the topsy-turvy moment:  Shaw's Heartbreak House.  After all, with its menagerie of clowns who drift along in their dreams til a real war happens, it provides a ready education for everybody living in unsettled times (like ours).
If the framing device is original, so is the text used for this off-Broadway production.  Rather than use a homogenized script from yesteryear, Staller wanted to give a go to Shaw's original intent for Heartbreak House.  To achieve this, Staller has drawn on Shaw's original hand-written version of the play and other pertinent materials with the playwright's palm prints on them.
But, as they say, the proof is in the pudding.  And the pudding that is served at Theatre Row, however tasty, is not without its lumps.  First, the framing device is a bit confusing in the execution.  We see the entire cast clustered on the Lion Theater's small stage at the opener, and though they robustly ask the audience what play of Shaw's should be staged that evening, their words nearly get swallowed up in the scenery. 
True, a jaunty audience sing-a-along of "Pack Up Your Troubles" smooths out the opener and neatly transitions us into the play proper.  But the framing device never has time or space to breathe adequately and its raison d'etre is never altogether clear. 
Someone rightly said that "Heartbreak House" is a House of Truth.  But one must listen to a lot of lies being soft-pedaled by its characters before Truth finally steps in to call their game. Still, one can't help but feel for all these characters who are looking for a port to moor their bewildered lives.
We meet them in a country house in Sussex.  Captain Shotover (Raphael Nash Thompson) is a crazy old patriarch who is attempting to create a "psychic ray" to blow up the dynamite that he feels the warmongers of the world are hoarding.   Young and attractive Ellie Dunn has arrived at the Shotover home as a guest, and though she intends to dine with her rich fiance Boss Mangan, Hesione Hushabye, Captain Shotover's daughter, does everything she can to derail the engagement.  During a heart-to-heart with Hesione, Ellie reveals that she actually is in love with a dashing man that she met at the National Gallery.  When Hesione's husband Hector Hushabye (Tom Hewitt) shortly walks into the room, Ellie sees that he is the man from the National Gallery and damns herself for her foolishness.  Lady Ariadne Utterword, Captain Shotover's other married daughter, arrives from Australia after a long absence with hopes of being welcomed and kissed by her family.  But the Captain gruffly feigns that he doesn't remember her and Hesione remains coldly aloof.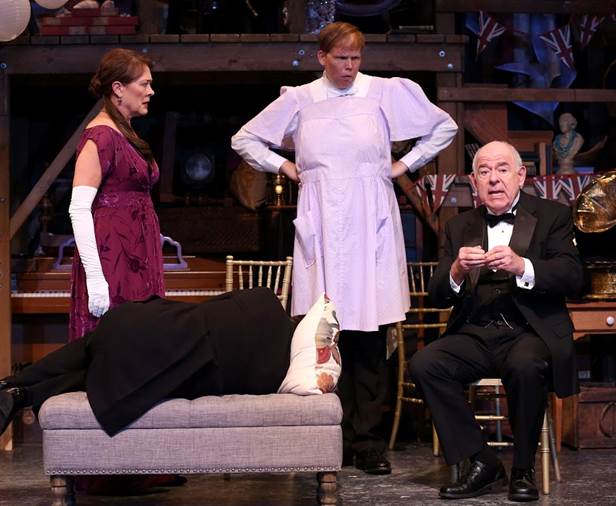 (standing) Karen Ziemba and Jeff Hiller; Derek Smith (with his back to the audience) and (seated) Lenny Wolpe
 The rest of the dramatis personae—Ellie's bumbling father (Lenny Wolpe), the leveler Nurse Guinness (Jeff Hiller), the flute-playing brother-in-law Randall (Hiller again), and a Burglar (Hiller again)--are equally eccentric and float through the Shotover home like lost souls. 
The eight-member cast is filled with veteran New York performers. There are some standout performances by the principals, namely Kimberly Immanuel as the minx Ellie and  Alison Fraser as the prodigal daughter Lady Ariadne.  And let's not forget Derek Smith as Boss Mangan, who brings a nonconventional spin to his part.  Mangan, a so-called Napoleon of business, is usually played as a fuddy-dud.   But Smith Imbues him with the urbane air of a man who unexpectedly finds himself down the rabbit hole and at a Mad Tea Party. 
Karen Ziemba, Tom Hewitt and Alison Fraser
Karen Ziemba, as Hesione Hushabye, is able but doesn't inject enough wild Bohemian color into her role to make it convincing.  Tom Hewitt plays the lady-killer Hector Hushabye with a good deal of swash and buckle.  Ralph Nash Thompson, as the rum-swillling Captain Shotover, needs to add more salt to his Captain.  And a shout out to Jeff Hillel who plays Nurse Guinness, Randall, and the Burglar with protean flair.
Brian Prather's set, in collaboration with Christina Watanabe's shadowy lighting, gets the air raid shelter right, though not the Shotovers' domicile.  The Shotover's country home is supposed to have the contours of a stern of a ship.  But Prather's set doesn't suggest that notion except for the marine décor in Captain Shotover's upper-loft room.  A better effect is achieved with Barbara A. Bell's handsome-looking period costumes, which add verisimilitude to the production and anchor us firmly in the World War II era.
Don't forget that Heartbreak House has a subtitle:  "Fantasia in the Russian Manner on English Themes." Verbose as it is, it's a tell-tale to what Shaw was thinking about as he penned his play.  Shaw, in fact, wrote Heartbreak House in the image and likeness of The Cherry Orchard.  What's more the subtitle can serve as a subtle warning to the audience, and readers, that the drama, along with its crazy denizens, tend to play fast and loose with reality.
The current production of Heartbreak House might not succeed on all fronts.  But Staller, who is the Artistic Director of the Gingold Theatrical Group, has certainly succeeded in keeping Shaw's catalogue alive in New York for the past 13 years with his Project Shaw, which presents staged readings of Shaw's, and other human rights-oriented artists', works at Symphony Space.  No question he's somebody to watch, and wish well.
Through September 29th.
At the Lion Theater (at Theatre Row), 410 W. 42nd Street, Manhattan
For tickets and more information, visit www.gingoldgroup.org
Running time: 2 hours; 40 minutes with one intermission