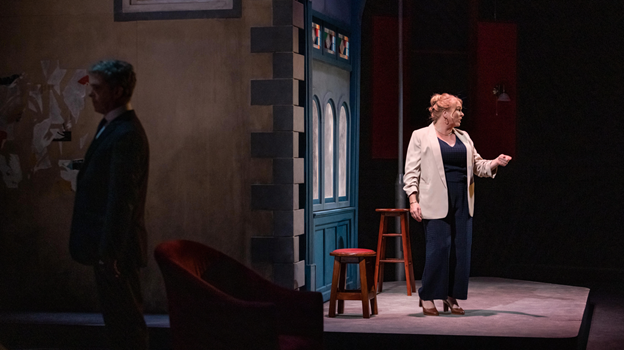 Andrew Bennett and Janet Moran in Heaven (Photo by Ste Murray)
Heaven
By Julia Polinsky
In Heaven, two people halfway through their lives attend a wedding in the middle of Ireland, ask themselves who they really are, and maybe find out.
Heaven is the kind of show in which an actor addresses the audience and tells a story, then walks away and another actor talks to the audience, then the first, back and forth. The two actors are on a simple stage – a street corner with what looks like a pub, an armchair off to the left, and considerable darkness to the sides and rear.
That darkness at the edges sits at the core of the lives of Mal (Andrew Bennett) and Mairead (Janet Moran). It also infuses their hearts, and their questions about who they are or could be. Mal and Mairead talk to the audience, but not each other; they've been married for decades, have one grown daughter, and are back in Mairead's hometown for her sister's wedding.
Each takes a turn telling his or her story : Mairead's, nostalgic for her party-hearty youth, proud of her forceful edge, her old boyfriend, and burning to know where fifty-plus years of life are leading her. Mal yearns for the love that dare not speak its name, after decades of being in the closet, yet married to his "best pal."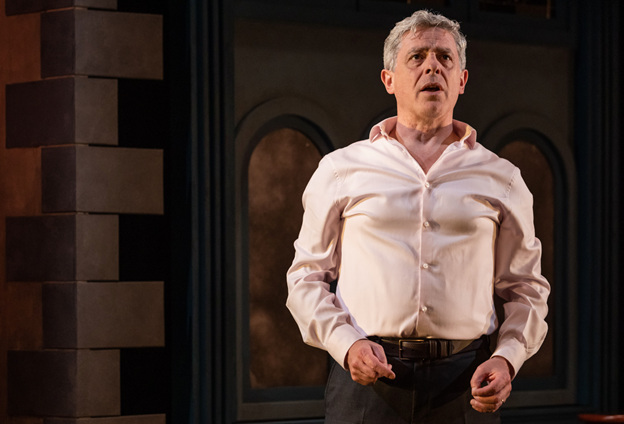 Andrew Bennett in Heaven (Photo by Ste Murray)
As Mal and Mairead talk their way through a stream of consciousness of memory and desire, director Jim Culleton moves them on and off the set so that they never encounter each other. That gets a bit awkward, as Mairead sits to the rear, on the curb near the pub, in half-darkness with her back to the audience,while Mal speaks, or Mal plants himself in the armchair off to the left, as Mairead has her say. Even in scenes during the wedding, where they "dance," they don't encounter each other.
It's easy to see the each feels at the isolation of their sexless marriage, and what each does over this wedding weekend, fueled by drugs and drink, the choices each makes at the end of the night or the light of the next morning feels inevitably sad.
Andrew Bennett's Mal is note-perfect at that most difficult of characters: the wishy washy, religious, closeted nice-guy loser with a deep secret. Janet Moran's Mairead is less successful; for someone who is proud of her edgy, foul-mouthed sharpness, she seems too soft and sweet to be completely believable as a scrappy bitch.
Janet Moran in Heaven (Photo by Ste Murray)
When she finds what she hopes will be the focus and meaning of the rest of her life, that softness works, though. When Mal reaches down into his own darkness and chooses to stay there, for all we hope, he doesn't seem tough enough to keep to it. At the end, Mairead searches for her pal Mal, and asks the hotel desk clerk for help, as she seems to have lost her husband, there is hope for Mairead.  Or is there?
Simple set design by Zia Bergin-Holly and lighting by Sinead McKenna help the cast out; sound design by Carl Kennedy cues the changes of narrator. A very helpful glossary of Irish terms is attached to the program; Heaven gives no quarter to those who don't know the turf. Listen carefully, and Mal and Mairead will break your hearts, even without the glossary.
Heaven
At 59E59 Theaters
59East 59th St
Through January 29
Running time: 90 minutes, no intermission
Tickets, $40; members $30: https://www.59e59.org/shows/show-detail/heaven/#schedule-and-tickets