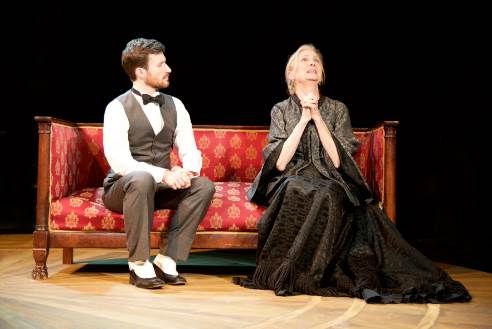 Photo Credit: Jeff Farkash
                                     by Julia Polinsky
Wandering Bark's speed-dating pace cuts Ibsen's problem play down to a 90-minute, high-concept version. Clickbait-worthy headlines on the promotional material ("Hedda Tesman (nee Gabler) has everything, but wants none of it."), and those parentheses around her name: these clues, among others, send you all kinds of signals that this is not your mother's Hedda Gabler.
For one thing, remarkably, the words "Henrik Ibsen" never appear in the program. Matt Minnicino gets an "adapted by" credit, and he definitely takes precedence as re-writer for this production. Minnicino's adaptation makes for a good-parts version, leaving in all the nasty incidents. Here, Ibsen's complex problem play gets pared to the bone, with none of that  tedious, long-winded exposition that just gets in the way of a good story. Not much Ibsen makes it into this Hedda – most remarkably, not the iconic end of the most famous unhappy wife in modern theater. 
Despite the lack of actual Ibsen, there is much to admire in this production. Hedda (Gabler) features an evocative black-box set that handsomely telegraphs "rich folks' house" with just a few props, some furniture, an implicit window and entranceway. David McQuillen Robertson's scenic and lighting design very nicely signifies expensive taste without having to display it, in a non-representational set that evokes stuffy propriety in black and red.
Director Joseph Mitchell Parks makes good use of his strong cast, especially the Nordic-remote Valerie Redd as a Hedda who can't seem to believe what's happened, is happening, will happen. She keeps touching herself, carefully, as if to establish that she's real, at least her body is.  Redd's Hedda destroys lives; brandishing pistols and burning manuscripts, betraying some people, belittling others, encouraging great gestures and kvetching about hair, she is at once petty and grand. If she tips over into an over-the-top moment or two, who can blame her? The production demands it, focusing as it does on what happens, not why.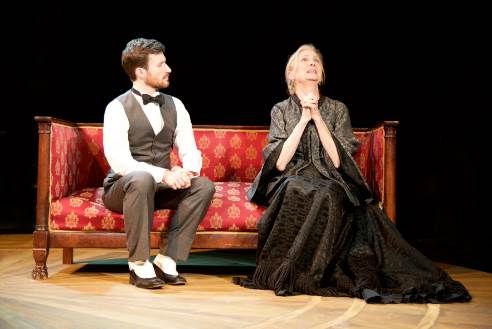 Kyle Schaefer as Tesman gives us a credibly tedious George; how the strongminded and desirable Hedda Gabler threw herself away on this fiddly, small-minded twit remains a mystery.
 Terence MacSweeny's Judge Brack gives a less than villainous performance, considering he arranges sexual blackmail to control Hedda; more engagement from him would have been more effective.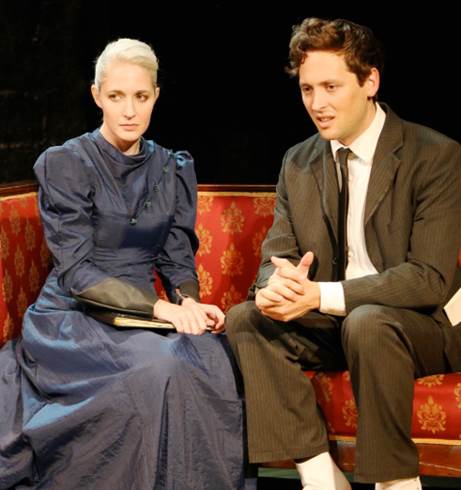 Quinn Franzen's Lovborg has an air of the jejune about him. Lovborg can be hard to like, or even understand; the mores of the time demand that he be ruined for behaving like 99% of NYU frat boys, so his troubles can seem laughable to a contemporary audience (yes, this audience laughed.) His counterpart, the terribly dedicated, terribly sincere Thea Elvsted (ably played by Susanna Stahlmann), makes even less sense to us moderns.
Costume design by Jason Frey reminds us that costume is character, particularly with Hedda's blue gown, Iits asymetrical seams and twisted draping remind us that Hedda herself is askew, does not fit where she is. The frumpy Aunt Julia ((Kathleen Marsh) gets grey, black, and dowdy clothing and the disparaged hat that Hedda uses to belittle her. Thea flits through in beige and pale pink; it's as if she's wearing an optimist's rose-colored glasses on her body. By contrast, the men's costumes are are dull reminders that conformity matters, complete with spats.
Some interesting choreography by Brad Landers creates atmosphere from the start.  Wait – what? Choreography? In a straight play? In Ibsen?
Yes, and it works like a charm. Hedda (Gabler) has been pared down to incident; it needs this choreographed, evocative opening to tell the backstory. That opening scene: mostly in the dark, the cast comes to the center of the stage, dances in a circle, and one by one, they come to the front, and preen, or cringe, or strut, or wither. They are spotlit, as if they were looking into a mirror, and pleased -- or not -- with what they see. We are treated to a full description of who they are and what they want, without a single word said, as they regard themselves, then dance, change partners, and change partners again. A splendid theatre moment.
Movement plays a strong part in other parts of the play, particularly when Hedda and Lovborg confront each other, either in memory or in person. We are deeply unsettled when each of them brandishes Something Important; that tips over into threat, as they move together in an excellent, confrontational dance.
If you've always wanted to see speed-Ibsen without the long-winded language and exposition, but all the drama of the unvarnished story, you'll be pleased with Wandering Bark's Hedda (Gabler). See it while you can; performances are brief, in more senses than one.
Wandering Bark Theatre Company's Hedda (Gabler)
IRT Theater, 154 Christopher Street, New York, NY
Through October 8; Tickets $15/18
By phone: 1-800-838-3006
brownpapertickets.com/event/2583072
Wandering-bark.org
Irttheater.org