By Michall Jeffers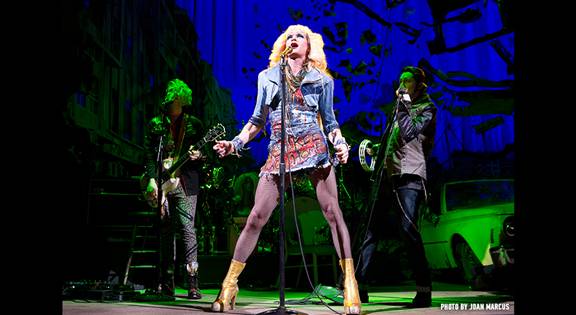 Neil Patrick Harris as Hedwig (Joan Marcus)
There's no doubt about it; Neil Patrick Harris is a rock star. His fans are out in force for his stellar turn as Hedwig, a transplanted "girly boy" from East Berlin who's had a tough life, including a botched sex change operation. The angry inch of the title refers not only to his ragtag backup band, but also to what's left of his penis. "It's what I have to work with," he explains to a shocked lover. Tommy Gnosis, the young American man who flees when he discovers Hedwig's deformity, is very much at the center of the story. NPH, as he's known to his following, is dressed in a glitter trash outfit, complete with spangled denim, yellow go-go boots, and fishnet tights. Hedwig sports wigs that the queen of excess, Dolly Parton, would consider in bad taste. "Yankee Go Home" is flashed on the  cutoff shorts . Harris sings, dances, and charms the audience even as Hedwig rants throughout the show about her difficult past and her lost love.
As soon a Hedwig is parachuted onto a detritus strewn stage, it's obvious that this is no ordinary night at the theater. The Julian Crouch set is, to say the least, unique. Battered debris is suspended from the ceiling, and on the stage sits a broken down old car. It's obvious that chaos has ensued here. The explanation given is that the surroundings are left over from a disastrous one night debacle based on the movie "The Hurt Locker," which didn't survive even one performance. The music is ear shatteringly loud; be warned that this never abates, and screaming fans boost the ear bleeding decibel rate even higher.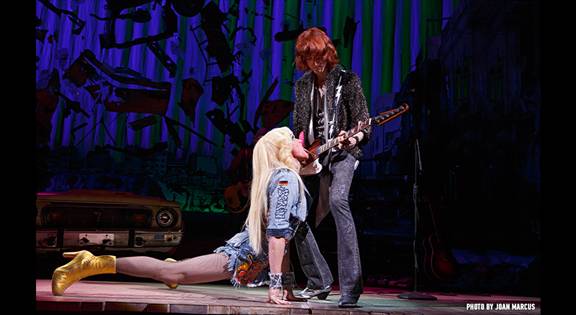 This is not a production for those of delicate sensibilities. Hedwig gives the audience the finger, graphically describes her sexual escapades (including the one that persuaded a Shubert bigwig to give her the theater for her one night performance), and at one point, spits on those in the first few rows. The humor is blackly sardonic; Hedwig describes her dreadful mother in non-glowing terms, and informs us she "taught sculpture to limbless children."
She recounts the legend of the theater; supposedly, the noted impresario David Belasco haunts it, and if he's present, he'll be in his favorite chair. Hedwig spotlights the gentleman sitting in that seat during the show, looking for assurances that the ghost has made an appearance. She banters with the audience in what seems spontaneous, but is actually scripted, dialogue. There are lots of in jokes about show folk and singers; when Hedwig address the main floor with "Hello, New York," and the balcony with "Hello, New Jersey," everyone laughs.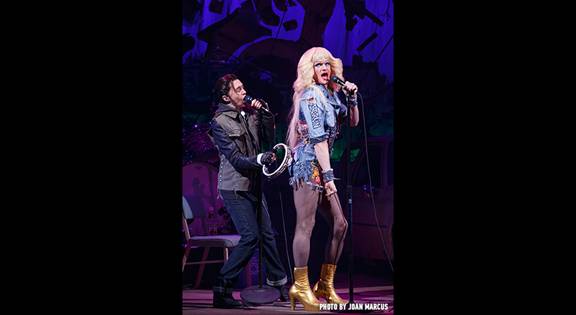 with Lena Hall
As the evening progresses, there are some rather stunning costume changes; every outfit by Arianne Phillips makes an  indelible impression, none more so than the final changes by Harris and the long suffering Yitzhak (Lena Hall), who is bandmate, partner, and adoring assistant. The gallery of wigs and the make-up design by Mike Potter couldn't be more dazzling. Harris makes a stunning woman, and he has plenty of help achieving the tough-yet-vulnerable façade that Hedwig affects. Indeed, it's pointed out that the leading lady's name is, quite appropriately, "head wig."
The men in Hedwig's lives have all done her wrong. Her surgery was performed at the request of Luther, a black G.I. who gave her candy in more ways than one. Tommy Gnosis, army brat, took not only the name Hedwig bestowed upon him, but also stole her music and creative ideas. Not so coincidentally, he's performing his wildly popular act next door;  Hedwig opens the door to hear Tommy's infinitely self-involved monologue, and to shout back at him. The fact that the chanteuse was stuck in Kansas as a down-and-out divorcee while Tommy became a huge success has fueled both her fury and her longing.
The book by the original Hedwig, John Cameron Mitchell, is thin to say the least. Mitchell appeared in the title role both onstage, in a much smaller, cheaper venue, and also in the less than successful movie adaptation. Harris deserves the much more expensive, glammed up venue. He not only looks terrific, but as he sweats (literally) through the intricate onstage moves, his body is fluid and his energy is impressive. The Stephen Trask music and lyrics are no great shakes, but Harris has a splendid voice, and he knows how to sell a song. It's interesting to note that while Harris adopts a German accent, he talks and sings in his male voice, not in falsetto. He's both a woman and yet, still a man.
The theme of reunification runs throughout the play. Hedwig yearns for her missing other half; in Kansas, she watches on TV as the Berlin Wall comes down at last. An enigmatic ending seems to back up this leitmotiv, but much is left to the interpretation of the onlooker.
This show definitely has the potential to become another Rocky Horror Picture Show to would be cultists. Word has it that the complete Neil Patrick Harris run is already sold out. But what will happen after the final performance on August 17th ? Will it have a continued life in the theater, or once again fade into obscurity?  The real test for Hedwig and the Angry Inch will come when the overwhelmingly charismatic current star is no longer playing the part, and someone else has to wear the platinum wigs. It remains to be seen whether or not this musical has legs, namely those in fishnet tights.
Belasco Theatre, 111 West 44th St., Manhattan; 212-239-6200; telecharge.com; 1 hour and 15 minutes.
Through August 17th.