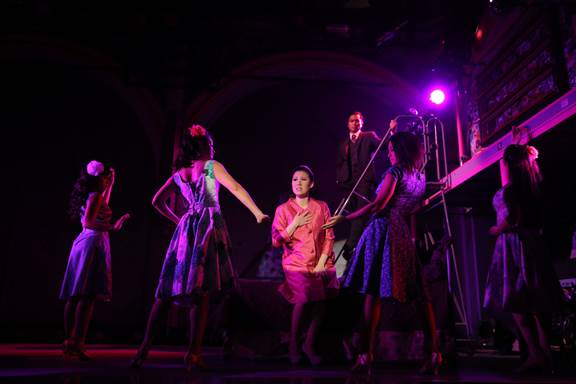 Ruthie Ann Miles, Jose Llana                                        Photo by Joan Marcus
                                                by  Stewart Schulman
There's a new trend in musical theater, and it seems to be taking the industry by storm.  It involves attempting to tell a story with as little traditional 'book' as possible.  For example:  String a libretto of pop-rock-style songs together.  Hire an energetic uber-talented cast.  Come up with some dynamic contemporary choreography. Direct what little actual book there is with a lot of smoke and mirrors—literally.  Pay for some top-notch costumes and lighting. Stage it all in a moving—literally—environmental setting.  Move your cast, and your audience, around in circles—literally—along with that ever-moving, ever-changing set-piece. And fill the surrounding walls with incredibly creative documentary projections.  And you've got your show.  At least you've got Here Lies Love, the show currently playing in The Public Theater's Studio 54-ish LuEsther Hall—complete with dance club lighting and disco ball. 
The story itself, what little there is, is based on the life and loves (or not), of Imelda Marcos, wife of the late Ferdinand Marcos. It follows the young Imelda from her days of incredible poverty in her hometown of Tacloban, to her disappointing relationship with politician Benigno Aquino, Jr., her rise in status as a beauty queen/super-model—"The Muse Of Manila", her marriage to the rising political star Ferdinand Marcos, and their rise and ultimate fall as the darling dictators of the Philippines—the beloved and hated Eva and Juan Perons of the Pacific from 1966 to 1986.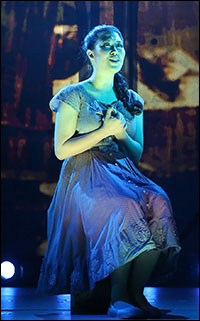 Ruthie Ann Miles Photo by Joan Marcus
The bullet points of her life are all there.  What is missing in Here Lies Love, (concept and lyrics by David Byrne, music by Mr. Byrne and Fatboy Slim, with additional music by Tom Gandey & J Pardo), are the details that might give more emotional and socio-political context to the outline of Imelda's life's story—which is a fascinating real-life tale of the poor little girl from nowhere who navigates her life to become First Lady of her beloved country.  This, according to the creators, is in part intentional.
In her own lifetime Imelda became a symbol for style, cultural reform and enhancement, (ie, the Arts – with the capital 'A').  And through those efforts, she put the Philippines on the map as it had never before been—beautifying her country and leaving a legacy of excess and fiscal corruption behind her that has made Marie Antoinette's 18th century excesses appear tame by comparison. Yet Imelda's legend stands.  Upon her return from exile in 1991 she served her people, at their command, and by legal election, in different posts at various times throughout the past twenty years.  Quite a feat for a dame who fled her own country for her life by U.S. chopper and has since been accused of robbing between five and ten billion dollars from her 'beloved' country-folk, not all of which could have been spent on the thousands of pairs of designer shoes she allegedly owned.  Spoiler alert:  Only two pairs are ever seen on her feet during this show.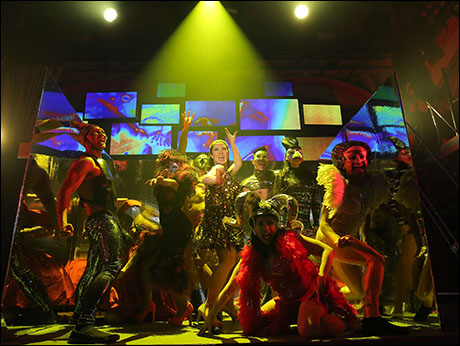 Ruthie Ann Miles and cast Photo by Joan Marcus
That said… audiences appear to love the piece.  The energetic choreography by Annie-B Parson, the effective design elements, (scenery - David Korins, costumes - Clint Ramos, lighting - Justin Townsend, sound - M.I. Dogg & Cody Spencer, projections - Peter Nigrini), the environmental staging by director Alex Timbers, all seem to please.  The audience also seems to enjoy standing for the 90-minute show and being shunted around en masse as the set moves—a little too much like cattle for this reviewer's taste—and mixing with the performers as they make their way through the happy crowd and the turbulent years of Imelda's colorful life.
There is something to be said for being 'part of' something as dynamic as this show is and feeling in some way 'part' of the incredible cast which brings the saga to life.  Ruthie Ann Miles gives a star turn as Imelda—going from a beautiful young innocent girl to the jaded fallen Mrs. Marcos some 40 years later.   Jose Llana's Ferdinand Marcos seduces not only his future wife and his 'people' but the members of the audience he appeals to on live TV, as well.  (A fun effect.)  And Conrad Ricamora's Aquino is a worthy adversary to the "conjugal dictators" he rallies against.  Melody Butiu as Estrella, Imelda's loyal maid, and Natalie Cortez, Aquino's mother, fill out the principal cast quite well.  The rest of the ensemble works overtime to bring zest and life to the piece. 
All in all, "Here Lies Love" is an energetic "immersive" theatrical experience with a great cast and a great true story, unfortunately mostly untold.  For all of its ebullient energy and exciting theatrical effects, it ultimately feels a little like:  love, loss, what I wore, and Manila, why don't you love me?
The Public Theatre, 425 Layayette St., NYC.  Box Office (212) 967-7555, or www.herelieslove.publictheater.org. Running time:  90 minutes