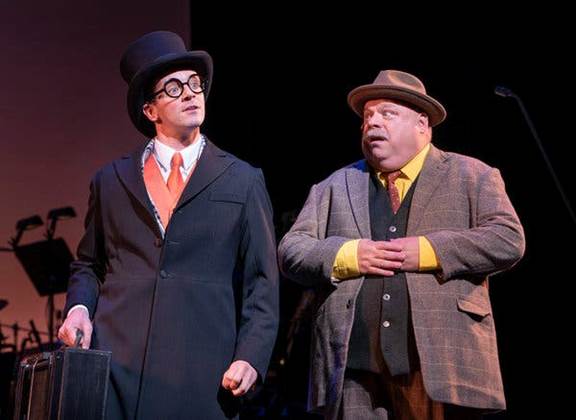 Michael Urie, Kevin Chamberlin                                   photos Joan Marcus
Encores! High Button Shoes
                       by David Schultz & Jeanne Lieberman
This is the 75th anniversary of Encores! the immensely successfuli concert series dedicated to performing rarely heard American musicals,  Presented by New York City Center since 1994, Its first production, Fiorello! (1959), was sold out in hours.
 Their selections have reached back as far as  the 1925 production of No,.No, Nanette.
When they first started all they had was the cast on book,  reading the script in simple black dresses or male equivalent, with no scenery and a very few minimal steps to indicate where the choreography was in the original.
It's come along way now from its primitive beginnings.
The concept of  having the 27-piece Encores!  orchestra, larger than most Broadway pit bands, conducted by Encores! Music Director Rob Berman, on stage indicates that it's all about the music. And they take pride in researching, replicating and preserving original scores.
The result is that the audience is rewarded by experiencing the initial sound of the shows, from whatever decade, a unique phenomenon indeed in these budget driven times.
There's just no music like this anymore (witness the severely truncated, guitar picking, banjo strumming handful of musicians in the current version of the formerly glorious Oklahoma!)
The Encores! typically savvy audience is buoyed by and  exults in the energy coming from the stage.  Where do you find happiness like this?
Additionally Encores! has somehow managed to produce some spectacular choreographic moments, evocative scenic designs and lavish costumes, so much so that some of its productions have traveled intact to the Broadway stage (Chicago is still running, a producer's dream, barely enhanced since its original Encores! 1975 production)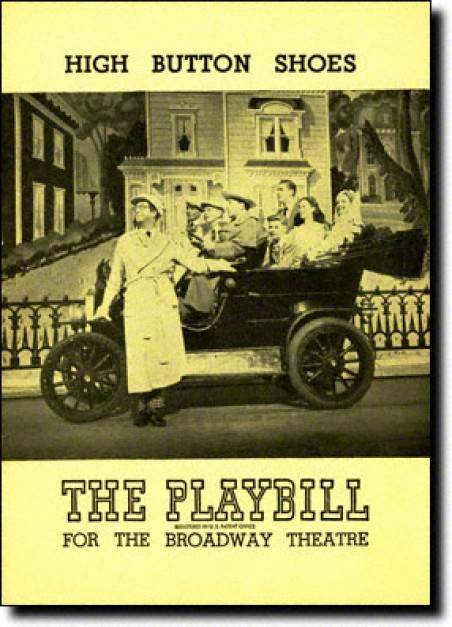 All this is evident in their most recent production of
High Button Shoes, Jule Styne's first Broadway hit which  won Jerome Robbins his first Tony Award for choreography ( years before West Side Story and Gypsy other Styne-Robbins collaboration).
the misad­ventures of two charismatic conmen—Harrison Floy (Michael Urie) and Mr. Pontdue (Kevin Chamberlin)—as they proceed to bamboozle Sara Longstreet (Betsy Wolfe) and her family—inciting a chase from New Brunswick, down the Jersey Shore, to Atlantic City.The cast also features Aidan Alberto (Stevie), Jennifer Allen (Shirley Simpkins), Carla Duren (Fran), Chester Gregory (Papa Longstreet), Mylinda Hull (Nancy), Marc Koeck (Oggle), Matt Loehr (Uncle Willy),and Wayne Pretlow (Elmer Simpkins)
Yes, indeed the musical is old fashioned in every aspect. Originally performed in 1947 the overture runs through all of the motifs that will play out in the evening. The sheer breadth of the orchestra is gorgeous.
From the moment that the curtain goes up and you hear the orchestra you get the full effect of the old-fashioned musicals that we seem to be missing these days, where the trend is to minimize rather than extol the score.
The show as a whole is, yes creaky and way, way dated for the current era of 2019. But if one can just relax, take a deep breath and imagine yourself back 60 or 70 decades ago, this light hearted romp is a nice tonic to remember a more innocent time. Was it ever that pure and innocent? Probably not.
Would that the actual music and lyrics when fully played out were as memorable. But there is much fun at hand nonetheless.
The structure of the show is so primitive, basic and obvious especially in the second act where every featured player is given their moment in the spotlight in a series of jewels. Among the highlights of the evening are an awkward, romantic tango danced by Matt Loehr and Mylinda Hull,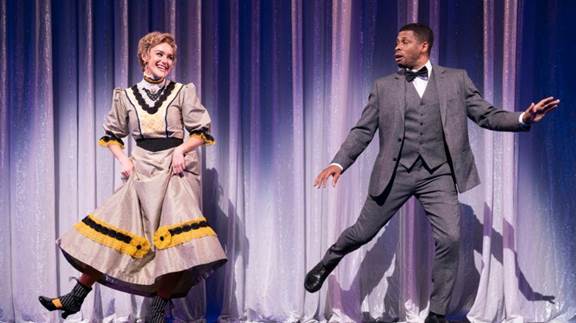 a lovely duet "I Still Get Jealous" sung by Chester Gregory and Betsy Wolfe between the husband and the wife and their tap dance, a number between the football player and the daughter, the Con Man and his sidekick. These are all democratic and they work but would such an obvious structure be excepted in today's sophisticated musicals? Fortunately the cast was up to it and each shown in the spotlight given them in numbers that have lived on like "Papa, Won't You Dance with Me" and "On a Sunday by the Sea." .
And the astounding Keystone Cop ballet "Bathing Beauty Ballet". Carefully reconstructed by Sarah O' Gleby from the original choreography by Jerome Robbins this 10 minute miracle is breathtaking in its complexity and one of the most amusing heart stopping outlandish set pieces in recent or past memory. All the principles descend at the beach in Atlantic City in a whirlwind of activity. Keystone cops, bathing beauties, the nefarious two con men, fellow denizens of the town, a large satchel of ill gotten money is chased and misplaced, and throw in a large gorilla into the mix and well....trust me...this 10 minute sequence will stick with you for a long time.
One wonders how so many people can avoid bumping into each other with only the slight four days that they have to rehearse encores is it truly a musical miracle
This ridiculously low brow bon bon might make you crave to have been there in audience back in 47'. Playing for almost 2 years after its debut, they must have struck a nerve with the populace back then. Forget the wafer thin plot, this High Button Shoes revival still sparkles with energetic choreography. That 10 minute ballet is sheer musical nirvana.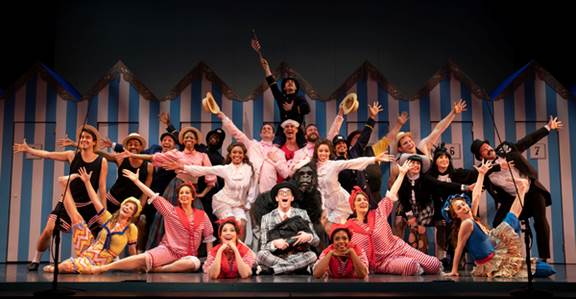 What a delicious way to end the 75th Anniversary season!
 Stay tuned for
Encores! Off-Center 2019 Season
Working
A Musical
June 26 – 29
Promenade
July 10 & 11 .
Road Show
July 24 – 27


Theater and Box Office
131 W 55th St (between Sixth and Seventh avenues)
New York, NY 10019
CityTix® 212.581.1212