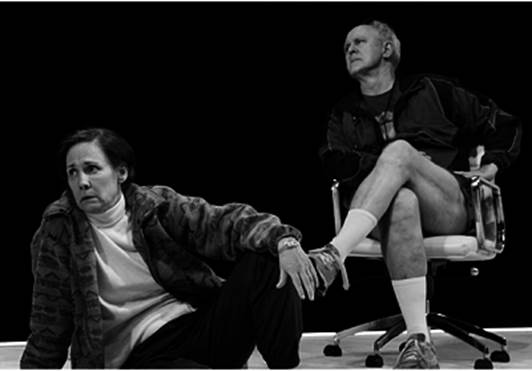 Laurie Metcalf, John Lithgow     Photos: Julieta Cervantes
Hillary and Clinton
                             By Fern Siegel
Hindsight is always 20-20.  That's especially true as history unfolds — and we see the consequences of presidential elections.
But before the insidious manipulation of social media or the Mueller Report, the presidential election of 2008 proved a study in sexism, political baggage and American caprice.
The Democratic candidates were particularly interesting that year — and two stars emerged. The familiar Hillary Clinton (Laurie Metcalf) and the unknown Barack Obama (Peter Francis James). (The play is directed by Joe Mantello; he also directed Metcalf to her second Tony in Three Tall Women.)
Their behind-the-scenes drama, coupled with a closer examination of the twisted Bill-Hillary dynamic, defines Hillary and Clinton, now on Broadway at the Golden.
The subject should be meaty; but playwright Lucas Hnath, who delivered a stunning A Doll's House, Part 2 in 2017, has failed to provide any drama. Hillary and Clinton, given the stakes, is curiously dull. It is a peek at marital discord — and the sad reality of capable women eclipsed by popular men and saddled with their sins.  
The setting is a hotel room in New Hampshire.  Hillary, known as a successful U.S. Senator and First Lady, feels it's her time in the political spotlight. She is smart, caring and eager to escape her husband's long shadow. Bill Clinton (John Lithgow) is a natural politician; he does meet-and-greet better than anyone alive.
But her 2008 campaign runs into early primary trouble — she lost Iowa and is behind Obama in the polls. Campaign manager Josh (Zak Orth) insists the underdog status will score. "So me losing is a strategy?" she snaps at him.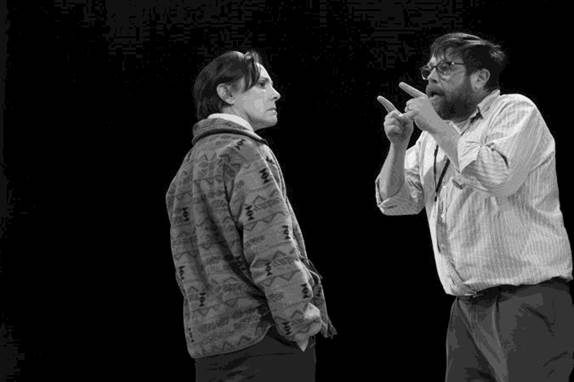 Laurie Metcalf & Zak Orth
Thus, she does the one thing she swears she won't do: call Bill. 
"People don't vote with their brains," he sighs, counseling more personal reveals. Like adults everywhere, she is horrified by pandering and suggests an alternative: "People should grow the fuck up."
But that's not the real world in America: Tabloids subvert truth; blank slates (Obama) are more digestible than experience (Hillary). Even Bill Clinton is angered by Obama's "Yes We Can" mantra, noting: "He's saying the same things I said 16 years ago!"
The play does nail one inescapable reality, however ignored by a fickle public: experience matters.
Several times in the play, Hillary ponders the scientific probability of other universes. In these far-off solar systems, she may be president. (And her presidency will be better, she tells her errant spouse.)
However, in ours, she grapples with a primary system that rewards personality over principles. It chews up merit, and gives others a pass, despite their failings.
That's a provocative subject — especially when the battlefield is played out along gender lines. But Hnath drops the ball; the product placement of Coke and Snapple get more airtime on stage.
And it's not for lack of star power — Metcalf and Lithgow, both versatile actors, are always interesting to watch. Metcalf encompasses all the frustration Hillary Clinton must have endured, while Lithgow portrays a more vulnerable Bill.
What they lack is a stronger script.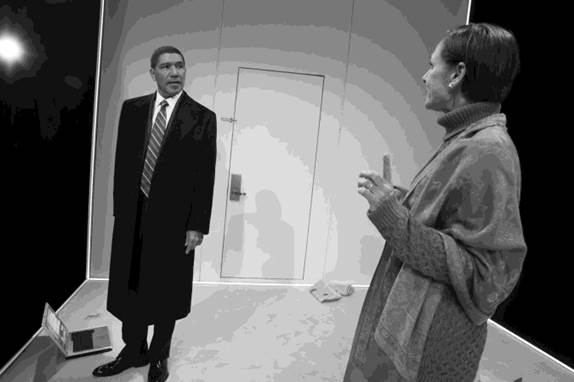 Peter Francis James & Laurie Metcalf
The ironies abound. Had Obama taken Hillary's offer of the vice presidency, given the future states and votes she won in the primary, it may have ushered in a new, more vibrant age in American politics.
But that's another play.
Here, it is the Clinton's singular marriage that commands center stage, alongside the debate over political credit and capability. In another universe, things might have been different.
Golden Theater, 252 West 45 St. Running time: 80 minutes
Tickets: goldentheatre.tickets/