Photos by Joan Marcus
                                        By Michall Jeffers
Christmas in October? Just fine this year, with the opening of Holiday Inn, The New Broadway Musical. Based on the hit 1942 movie, and best known for the classic "White Christmas," which won the Oscar for best song, it featured song and dance by Bing Crosby as Jim Hardy, and Fred Astaire as Ted Hanover. Here, Jim is played by Bryce Pinkham, who, it must be said, is a much better singer than crooner Bing. Corbin Bleu skillfully tackles the role of Ted, who loves performing almost as much as he loves himself. Both Pinkham and Bleu put their own stamp on the song and dance team, bringing joie de vivre and ample talent to the stage.
Jim is getting ready to leave show biz for a farm in Connecticut. He's proposed to glamourous Lila Dixon (Megan Sikora), who has agreed to be his wife. But Lila is appalled by Jim's plan to be a farmer, and instead takes off on the road to continue as a dancing duo with Ted. Heartbroken but still determined, Jim sets off for what he thinks will be an idyllic life. But there are numerous bills to pay, and the place is literally falling apart. Luckily for him, Linda Mason (Lora Lee Gayer) stops by to pick up a few things, and realizes that her old home will never survive until she gets some help for Jim. She brings in wise cracking handywoman Louise, who immediately moves in and sets things to right.
A huge pat on the back must be given to Jenifer Foote, who filled in for Megan Lawrence at this production. In the great tradition of understudies in Broadway theater, her performance was superb. She was funny, lovable, and added immensely to the show. While Ms. Lawrence is undoubtedly terrific, Foote was also  outstanding, and worked well with the rest of the cast.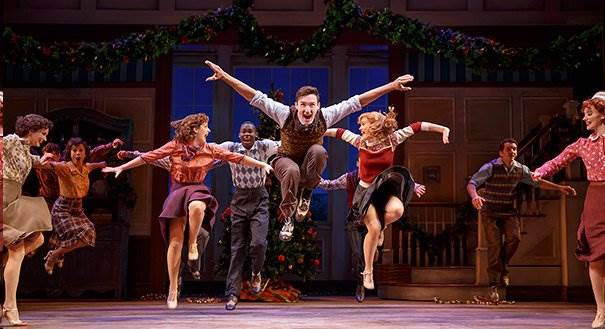 When Jim finds out that Linda once had aspirations to be on stage, and his old theater friends show up for a bash, a lightbulb goes off.  Why not open the Inn on holidays only, and invite all the New York big shots to take in the performances?  The willing suspension of disbelief doesn't end with this brainstorm. Jim and company manage to perform, with little or no rehearsal, spectacular productions with outstanding scenery. Set designer Anna Louizos has also done a mighty fine job bringing the farmhouse and surroundings to life. Add to this the glittery, amusing costumes by Alejo Vietti. They shimmer, they shake, and they reach the high point in the flashy orange-brown turkey outfits worn by the chorus girls. This avatar is set in the late 1940's, and a return to the glamour that was curtailed in the days of World War II is in glorious evidence here.  These people are ready to party on a grand scale.
Of course, the main draw of any production called Holiday Inn is the music by Irving Berlin. The audience would feel cheated without renditions of such favorites as "Blue Skies," "Steppin' Out With My Baby," "Heat Wave," "It's A Lovely Day Today," and of course, the aforementioned "White Christmas." But even the maestro laid the occasional egg. It's just all but impossible to warm to a lyric like "Be careful, it's my heart; it's not my watch you're holding, it's my heart." "Plenty To Be Thankful For" and "Song of Freedom" are two more less than stellar offerings.  But in the spirit of Thanksgiving, we must be grateful that the minstrel number and blackface have been removed, and we don't have to suffer through lines like "Is your names Miss Linda?" from the noble African-American actress Louise Beavers, who elevated her character Mamie into not just Jim's housekeeper, but a gentle, wise helper who convinces him to find his way back to Linda. So much better to have the sassy, exuberant  Louise in the mix. And it's a nice thought that the name may be a tribute to Ms. Beavers.
For anyone seeking an uplifting, tuneful show that can be enjoyed by young and old alike, you can't do much better than this production of Holiday Inn in the upcoming joyful season. 
Holiday Inn, The New Broadway Musical, Studio 54; 254 W. 54th St.;  212-719-1300
 www.roundabouttheatre.org/holiday-inn,  2 hours 15 minutes
Through 1/15/17
Author: Music and lyrics: Irving Berlin; Book: Gordon Greenberg & Chad Hodge ; Director: Gordon Greenberg; Choreographer:  Denis Jones
Sets: Anna Louizos; costumes: Alejo Vietti; lighting: Jeff Croiter 
Cast: Bryce Pinkham, Lora Lee Gayer, Megan Lawrence, Megan Sikora, Corbin Bleu, Lee Wilkof, Jenifer Foote